Written By: Paola Sacerdote 
  In what no one suspected would be the final We Stand Against Hate event of the spring semester, the Brooklyn College library held a panel for the Jewish Refugees in Shanghai exhibit at Woody Tanger Auditorium.
   Brooklyn College Professor Frank Xu made the exhibit, located at the entrance of the library, to expand the awareness of this secret history.
   "Anti-Semitism seems to be in certain in areas like New Jersey and New York, an issue spoken weeks ago at that press conference," said Xu. "People should go against anti-semitism."
   Vanessa Perez Rosario, chair of the Modern Languages and Literatures Department, introduced the panel. Rosario informed the audience that Professor Xu would host the panel in its entirety since speakers Lily Blake, Aileen Jacobson and Fredy Seibel could not appear due to the then-emerging threat of the spreading novel coronavirus.
   Professor Xu was born in Hongkou, the Shanghai district where Jews and Chinese lived together back then. Xu explained the history of how the Jewish migrated to Shanghai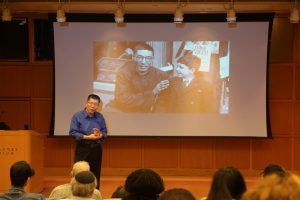 . 
   On the night of Nov. 9, 1938, "Kristallnacht" (also known as "The Night of Broken Glass") took place, an event in which Nazis in Germany ignited synagogues, vandalized Jewish homes, schools and businesses, killed close to 100 Jews, and sent 30,000 more to concentration camps overnight. Fleeing from Adolf Hitler's dictatorship, about 18,000 European Jews migrated to Shanghai, the last place where they took Jewish refugees.
   Arriving with just the clothes on their back, Jewish refugees lived an impoverished life but were able to exercise their beliefs and find labor to build a comfortable life amongst the Chinese. 
   "Most cultures respect natural law and ancestors, follow the ruler and obey the orders of seniority, maintain a harmonious relationship with wife and children and make friends with your neighbors," said Xu. "Those cultures share those similarities and reduce the emotional distance and force a mutual understanding". 
   Observing the unusual and unexpected Chinese-Jewish bond in Shanghai, Xu decided to share this unknown history to inspire a feeling of responsibility to refugees and show how different cultures help each other in a time of urgency.
   Students seemed surprised to learn of this unknown excerpt of the Jewish history in Shanghai. 
   "It was very touching. It also had a lot of information that I didn't know about," shared Rivka, a Computer Science major. "Shanghai specifically and especially keeps open about that part of the community here in Brooklyn College. I look forward to more events such as this one in the future hopefully."
   "I thought it was interesting because I'm Chinese and I didn't know this existed and they talked about how it's similar to migration. I understood that," says Megan, a multimedia computer student.
   In 2007, to commemorate the Jewish refugee migration, a historical museum was built in Shanghai by the Tilanqiao Historic Area of the Hongkou district, where the Jewish found refuge all those years ago.
   The exhibit is also located through the Brooklyn Public Library in collaboration with the Amud Aish Memorial Museum. Location and dates are listed on the Brooklyn Public Library website.  
More articles of the exhibit can be found in the New York Times, the Atlantic, and the Daily Beast.
"How do we treat people and what happens when our community is suffering and what other communities should do, that's the basic" says Professor Xu.