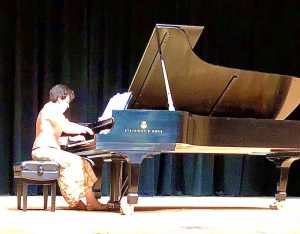 When you think of classical music, the likes of Brahms or Beethoven may come to mind. On March 11, Dr. Deborah Nemko visited Brooklyn College's Tow Center for a lecture recital based on what some may consider an unlikely source of music.
Co-sponsored by Brooklyn College's Judaic Studies department, the Wolfe Institute, and Hitchcock Institute for Studies in American Music, Nemko treated students to both a discussion and recital of "Music in the Time of Anne Frank," a project that Nemko has been working on for quite some time. Nemko's performance focused on the Nazi occupation of the Netherlands during World War II and the Holocaust in the 1940s.
"We talk about the Netherlands as a place of hope for these Jewish people," Nemko revealed.
"It just so happens that the Nazis were incredibly effective and efficient at killing Jews because 75-80% of these Jewish souls were murdered by the Nazis as a result of their terrible occupation."
Anne Frank, known for her diary, was among this group as a German-born Dutch-Jewish girl who hid from Nazis during the German occupation of the Netherlands. After two years of hiding, Frank was eventually found and killed, posthumously becoming one of the most notable victims of the Holocaust.
Despite the Anne Frank namesake, this lecture recital was more general, focusing on various composers from this time in which they all faced persecution. This included the works of Frid, Bosmans, Belinfante, Chapiro, Brickman, Smit, and Kattenburg.
Dr. Deborah Nemko, a distinguished scholar and pianist, is credited as "an interpreter of twentieth- and twenty-first-century music," as well as a dedicated educator, who often records music and offers clinics, master classes, and lecture recitals. This lecture recital, however, was personal to Nemko.
As a student at the University of Illinois, Nemko was inspired by her mentor, Dr. Alexander Ringer, who was a survivor of the Holocaust and "a brillaint, brillaint man."
"There are very few days that go by where I don't think about him. He has influenced my life as a musician and my life as a thinker," Nemko said.
"I think that all of us need to find a person like that in our lives. It changes you and it molds you."
From her studies with Ringer, Nemko came to learn of his story as a concentration camp survivor and German Jew who hid in the Netherlands during the invasion. In the lecture recital, these stories of hiding and fighting for survival are a common theme among the composers Nemko has studied.
The recital began with Nemko performing different pieces from Frid's "12 Caricatures musicales." Geza Frid, a Hungarian Jew and musician, joined the resistance movement and forged identity cards to help others avoid Nazi surveillance. He ultimately survived the war.
While playing Frid's music, Nemko established a theme using repetition and created tension with strong dynamics and a faster melody. It was obvious that this piece required a lot of technique, as Nemko often shifted between playing with one hand and both hands. Throughout, Nemko expressed an intense focus, but eased up with a satisfied smile upon a strong finish to the pieces.
Next, Nemko played "Six Preludes for Piano" composed by Henriette Bosmans. A child prodigy, Bosmans was half Jewish and considered the most important Dutch woman composer of the 20th century. Like Ringer and Frid, Bosmans survived the war. 
Bosmans' preludes date back to 1917-1918, which is about 20 years before the war began. As Nemko played them, however, their overwhelming relevance to the war became very apparent. Her first prelude was very gloomy, expressing a feeling of intense sadness and audible despair. The second prelude, however, sounded gloomy but much more celebratory. With a louder, faster, and more upbeat approach, it was almost as if there was a sense of hope in face of all the sadness and trauma during the time period.
After Bosmans, Nemko shifted to "Lento Mystiek" by D. Belifante, which she referred to as "the big focus" of her research. Nemko revealed that Belifante's music is actually not published, and she hopes it will be within the next year. Unlike the others, however, Belifante's story does not end happily.
Belifante, a Jew who lived in Amsterdam, went into hiding and moved from place to place, which separated him from his wife. He assumed various aliases and continued to compose, but was eventually discovered by the Nazis while giving transmissions to warn people. As a result, he was sent to Auschwitz where he endured hard labor and grew very ill. In 1945, when the Nazis knew they would be caught, they decided to destroy the evidence, which included burning down a hospital– the hospital Belifante and many others were residing in. They were all murdered that day.
Like Grid's music, "Lento Mystiek" builds tension by progressively getting faster and utilizing repetition. Similar to Bosmans' preludes, you could hear a somber tone in the music, promoting feelings of pain and despair.
Similar to Belifante, Nemko expanded on the various works of F. Chapiro, another composer whose music is not published nor finished. A child prodigy like Bosmans, Chapiro had a Russian Jewish father and refused to join a club that promoted Nazi culture. Unfortunately, Chapiro's early compositions were lost when she was forced to flee from her home due to a fire.
The first piece Nemko played by Chapiro reflected her life after the war in which she moved to the United States, but didn't fall in love with it like everyone else did. This led her back to the Netherlands where she spent the rest of her life.
Chapiro's compositions were straight forward with occasional changes in the pacing. These changes, however, often simulated what typically sounds like a dream sequence. As a result, the piece created this feeling that she was recalling a memory or reminiscing about the past.
Pressed for time, Nemko quickly summarized the last three artists, but still managed to play their works with great impact. This included "Girl Dancing in a Meadow" by S. Brickman, a recent release based on a drawing done by a child in a concentration camp and sounded free of any specific form with a changing meter, as well as shifting dynamics and speed in the music.
This was a shared quality with "Suite pour Piano" by L. Smit and "Deux Valses" by D. Kattenburg, the pieces that followed. With an American Charleston feel, Smit's piece was very upbeat and played fastly, but it also shifted from high to low and changed speed from time to time. Kattenburg's piece also utilized shifting dynamics, but started off slow and built up to it with what sounded like moments of improvisation. 
After a strong finish, Nemko thanked the audience for attending and was happy to answer questions and hear some feedback. 
"It was very meaningful," one student said. "A great entrance into understanding what happened in the Netherlands with the Nazi occupation."
Unbeknownst to both Nemko and the audience, Governor Cuomo in that moment had announced the plan for CUNY and SUNY schools to move to distance learning for the remainder of the semester in response to the Coronavirus. This meant "Music in the Time of Anne Frank" was the last arts event to happen on campus this semester..for now at least.