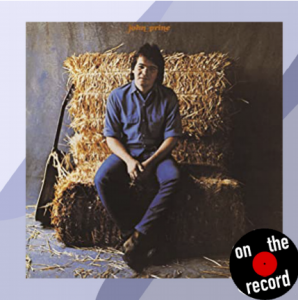 John Prine could have very well been the perfect poster child for humble beginnings. Long before he became a household name, he served overseas in Germany, and upon his return in the late 60s, took a job as a mailman in his home state of Illinois. He began to fool around with writing and playing songs — tunes he would often conjure up on his long mail routes — as a mere hobby. 
   After some prodding, he played a few bar gigs in Chicago, and despite a positive reception, there were still no elaborate plans in sight. But one evening, Prine caught the attention of Kris Kristofferson, who was in town playing shows of his own. Kristofferson, significantly impressed, invited him to open for him at The Bitter End in the West Village of New York City. In the audience that evening was Jerry Wexler of Atlantic Records, who recognized folk talent when he saw it, and signed Prine the very next day.
   His first record, plainly self-titled, was released in 1971, and included several of what would become Prine's most beloved songs: "Illegal Smile," "Sam Stone," and, of course, "Angel from Montgomery." A clever mixture of Jim Croce-esque lyrical humor, social and political commentary the likes of which Bob Dylan would approve of, and good old-fashion midwest twang, Prine's songwriting appealed to a wide array of audiences. 
   He was unpretentious and honest, clear and concise — the precise kind of person you could envision chatting with on a nice, long walk. The solitude of his mail carrier trips no doubt offered Prine something many of us don't get enough of: quiet time to think about the world around him. 
   "Strolling down the highway with my shoes in my hand / I don't talk much I'm a quiet man /
Beauty and silence both run deep / And running like crazy while you are asleep."
   Still, kind and agreeable as he was, Prine knew the difference between right and wrong. His  time overseas meant he was fully aware of the unrelenting hypocrisies of war. It left him concerned, but not bitter.
   "But your flag decal won't get you into Heaven anymore / They're already overcrowded from your dirty little war / Now Jesus don't like killin', no matter what the reason's for / And your flag decal won't get you into Heaven anymore."
   Prine would go on to write and record dozens of albums through his career, each uniquely sweet, but his name hit headlines in a major way earlier this year when it was announced that he had contracted COVID-19. He fought for his life on a ventilator until finally succumbing on April 7. 
   His name is just one of the many musicians and artists the world has lost due to the virus — Tommy DeVito, a founding member of The Four Seasons, Bruce Williamson, a former lead singer of The Temptations, Trini Lopez, the iconic singer behind "If I Had A Hammer," Adam Schlesinger, co-founder of Fountains of Wayne and writer of "Stacy's Mom," and Ellis Marsalis Jr., a legendary jazz pianist. The list goes on.
   When 2020 began, no one had a crystal ball on hand to see what the future would hold, but there is still one certain reality: it didn't need to be like this. John Prine, along with thousands of others, did not need to contract this virus and did not need to leave us so soon. It's likely he would have continued touring and playing for fans for another several years — years that are now missing. 
   The current "leadership" of our country, in effect, killed John Prine. When you go to the voting booths this year, I encourage you to consider the people that have been lost, the music and art we will now never experience with them, and the idea that it could have been different. Consider also that your flag decal won't get you into heaven anymore, and neither will choosing to ignore the facts. 
   "Just give me one thing that I can hold on to / To believe in this living is just a hard way to go."