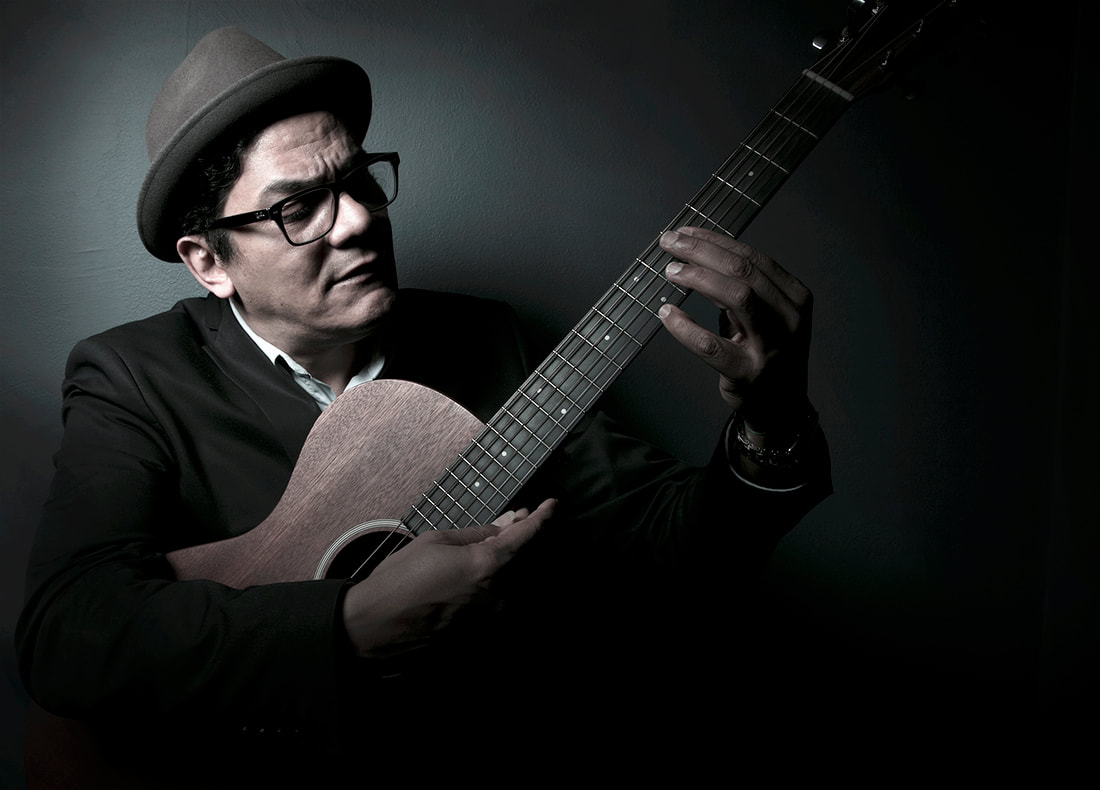 Written By: Carlos Daniel Martinez
His website describes him as "a unique artist, presently living in vibrant New York City where he draws inspiration from the enormous melting pot of cultural, visual, and sound impressions. Poveda's music is recognized both for its underrated, sensual sounds and for its humorous and profound lyrics."
Before teaching at Brooklyn College in the Puerto Rican and Latino Studies department, Roberto Poveda went to school at Miami Dade College in 2005, taking classes in Music Business but didn't graduate, later those credits put into his major in Film Production at Brooklyn College in 2008. Years later returning back in 2014 and graduating in 2018 with a Masters of Science in Special Education and Teaching. Currently, he lectures Brooklyn College students in his Intro to Puerto Rican and Latin Studies class online. Before that, he's worked as a substitute teacher, videographer, director and producer, performing in theatre and television, and music tutor.
With published albums: Son Electrico (2004), Brooklyn Nights (2012),  and Destino Manifiesto (2017)  furthermore many compilation albums with various artists, Poveda continues to write songs and produce music with fervent energy of that of a person whose job is also his passion. He's also collaborated with producers like Zlatan Nikolic and Alfredo Triff, and world-renown musicians like Kip Hanrahan and Fima Ephron in the past.
Born in Cuba, Poveda's music is infused with styles of Cuban music, mixed with other Latin sounds of salsa and boleros. Poveda grew up influenced by his grandfather, folk singer Marcelino Lopez, and later the Nueva Trova Movement; a musical movement that emerged after the Cuban Revolution, blending traditional folk music with modernized styles of rock and jazz of the era, with it carrying politicalized lyrics in its music. While growing up, some of his favorite artists at the time were Grateful Dead, Black Sabbath, James Brown, a varied assortment of rock and soul music that has come to show his long range of sounds. He employs into his ensemble: drums, bongos, electric and acoustic guitar, trumpets, piano, anything that symbolizes the diverse Latin culture.
"I'm not interested in Cuban music. I'm rooted in Cuban music. But interested by Brazil and Latin America, blues or jazz, a little bit of rock, of funk, 
However, life in Cuba was hard under Fidel Castro's rule. Despite a passion for music, there weren't a lot of opportunities for the young Poveda to take advantage of, nor being able to make a living doing what he loved. In a low-wage economy and lack of funding for arts and career programs, Poveda had to leave for a better life elsewhere. Through people he met and experimenting in acting and filmmaking, he'd soon move to Colombia in 1989 for a career in television and theatre.
"I found acting by accident. I had a little training in theatre at the Havana International Film School in 1983, where I met this girl who was an actress. We didn't meet at the same school, as she one day watched me perform in a play. Later she became my girlfriend. We're still together to this day. She also pulled me into theatre as that was her passion."
He was a member of the Grupo Buendía theatre group directed by Flora Lauten.
"It wasn't a big theatre company, but it was a stepping stone for me. A real experiment that I learned a lot from."
His girlfriend's mother came to Havana to see them and their living situation.
"She didn't like the way me and my girlfriend were living. The environment was really toxic. We were struggling and couldn't rely solely on playing music. There were not enough opportunities for everybody at that time. For the first four years we were together, we were absolutely in love, but eventually we wished and planned for a better life elsewhere."
By 1989, Roberto Poveda and his girlfriend moved to Bogotá where he later became a television and theatre actor, not yet publishing his music but would go on to write hundreds of songs in the eight years he resided in South America.
Poveda met with Carlos Mayolo, a Colombian actor and director who produced shows in Colombia. From there, Mayolo got Poveda acting gigs in telenovelas and Spanish programs, one of those programs a Colombian-version of the telenovela, Doña Flor Y Sus Dos Maridos. Another program titled Azucar, that details the life of two afro-Colombians who go to the United States and later return to Colombia in the height of the salsa music boom across the country.
By 1997, Poveda made his next move to Miami to continue perusing a musical career by signing with music publishing company Peermusic. However, Poveda ran into more financial obstacles that he needed to find regular jobs to supplement his passion all while not having an education, nor a high school diploma.
"I signed a contract where they paid me in advance and was able to write songs. I was writing songs but I was still struggling. I was livin' la vida loca for a while in Miami when rality soon set in. I went job-hunting a lot. One time driving my car, delivering pizzas, doing construction work, working at a sanitation factory. I saw myself in twenty years, thinking to myself, 'I need to get an education because this is not enough for me'."
He finished his GED, enrolled in classes at Miami Dade College, where he then made the move to Brooklyn, where he has been living and teaching ever since.
In 2004, he did publish his first solo album, Son Electrico, which comprises of all his musical influences and experimental sounds into one collection.
Very notably, in the album features a song, "Caminando", that Poveda wrote and collaborated with a very young and still-unknown singer/songwriter named Juanes.
He finished his studies at Brooklyn College while still writing songs.
"I have a lot of life experience in Latin American culture and art. Of course music, that can express a lot of political and social issues. Born in Cuba, starting in Cuba, then moving to Colombia, spending eight years in Colombia, giving me the vision of two different contrasting and similar environments. One of a socialist society, another of a different governmental body. I take in all these experiences and share them in my classes."
In 2017, he returned to Colombia to produce the album Destino Manifiesto, that is heavily inspired by Colombian style music.
"That album, I completely surrendered to the Colombian traditional afro-music. I went back to Colombia, I went to Bogotá with Colombian teachings. It's very based on percussions and guitars. In that album, you can hear a lot of trademarks of Colombian music."
In the end, Roberto Poveda is proud of the career he's had, proud of being an educator to the younger generation, and proud of his Latin heritage.
"I consider myself a great bolero singer. Not in the traditional way, but in an experimental way".