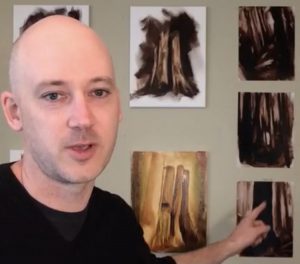 With the COVID-19 pandemic still looming and large gatherings remaining a thing of the past, the Brooklyn College Art Department has continued to livestream a series of "Virtual Open Studios" via @BrooklynMFA, the Instagram page for MFA Art students.
   On Saturday, Apr. 17, the department continued this trend with Peter Gynd, a fifth-generation artist from Canada and a first-year MFA student. 
   "It's a new exciting chapter for me," said Gynd, who also works as an independent curator. 
   For the last several years, Gynd has spent his time on a series of paintings "centered around blankets." This came to an end this past fall when Gynd decided to focus his attention elsewhere.
   Gynd had lived in New York for the last 10 years, but when the pandemic came about, his classes moved online and he and his partner both lost their jobs. Because of this, the two decided to move back home to Canada, and this would prove to be crucial to Gynd's art going forward.
   "Where I am right now…it's a very rural setting so there's a lot of forest around," explained Gynd. "There's all these old cedar stumps everywhere…and they're just kind of these massive almost monuments that are out there in the forest."
   As he passed these stumps daily, Gynd decided to photograph and paint them, exploring their different forms in his work since November. 
   "The way I work is…I'll dive right into a subject and so I like to do a lot of studies," said Gynd. "I think that work comes through work."
   Initially, the stump paintings began with watercolor methods, but Gynd's vision was informed by his previous art experience and the different art mediums he has encountered throughout his journey. This began when Gynd was classically trained by his mother in oil painting.
   "I think my mother and I share some similar themes in our work. We've actually done two exhibitions together," said Gynd. "Her work is primarily landscape-based…she'll kind of go off into the forest often by herself and a couple dogs and do some paintings there."
   Aside from painting, Gynd earned his BFA in Glassblowing from the Alberta College of Art and Design in 2006. In many ways, glassblowing has been a passion for Gynd, but it proved to be a challenging thing to constantly pursue.
   "It's an incredible medium to work with. There's nothing else like it," said Gynd. "But it is also insanely expensive to work with, especially on a studio level."
   Despite this, Gynd has tried to utilize all of his experiences and apply what he has learned to whatever he is working on at that moment. This has been the case for his stump paintings
   "A lot of processes from everything I do…everything from glassblowing to curating to running a gallery, it all circles around to inform the way I approach my studio practice as well," said Gynd. "I try to produce a lot of work that really tries to understand the subject that I'm approaching."
   Specifically, Gynd's glassblowing background proved to be especially useful when it came to deciding to work in a series, using multiples and exploring how exactly he should paint the stumps. For Gynd, this approach is especially important.
"I think the professionalization of art has definitely been a little bit of a detriment to art in general," said Gynd. "Take the time to mess it up…try and fail!"
   Going forward, Gynd does not want to be tied to one medium as his artistic vision continues to morph. He also remains passionate about his original artistic interests: sculpting and wood carving.
   "My ideal would just be to have some massive studio workshop where I could have a woodshop, a glass studio, a ceramic studio, clay studio, painting studio, [and] welding studio," said Gynd. "Use what you need to use to tell the story that you need to tell."
   For Gynd, this story has a lot to do with not just creating to create but creating with purpose, and the cedar stump paintings are representative of this motivation. 
   "My goal is kind of just to make something that has some sort of cultural relevance…some sort of connection to life and expression of life," said Gynd. "What is it ultimately that we're doing?"