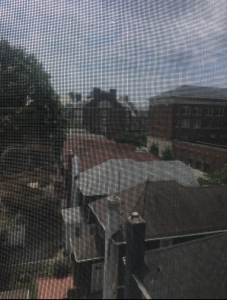 To my fellow graduates, students, friends, and anyone's paths that I've crossed at Brooklyn College: goodbye everyone. I'll remember you all in therapy.  
   I should put that on my cap, right? But genuinely, I'll really miss my days at Brooklyn College. And although the campus was literally falling apart, I regret that my last time on campus was March 2020. I know it is a cliche at this point already, but I never would have thought that would be my last time on campus. If I had known, I definitely would have taken a turtle from the lily pond home with me…(kidding, obviously).  
   When I first joined the Excelsior (who even remembers that old rag) in Fall of 2017, I thought that I would grow as a journalist and writer with the paper. Boy, was that turned on its head when Brooklyn College's two long standing newspapers ended their decades long runs, and a new publication called The Brooklyn College Vanguard was born. Soon after, I became digital editor for the Vanguard.
   To summarize, nothing went as planned. And that's ok. Like so many others, I had my entire life planned out as an incoming freshman. I am humbled that life rocked my shit, and I learned to not expect things to go as planned.  
   So if any incoming freshmen are reading this, ignore this advice so that your shit too, can be rocked by life. 
   A special thanks to the rest of the staff of the BC Vanguard. Thank you for your guidance and advice; I would not have been able to do my job without it!