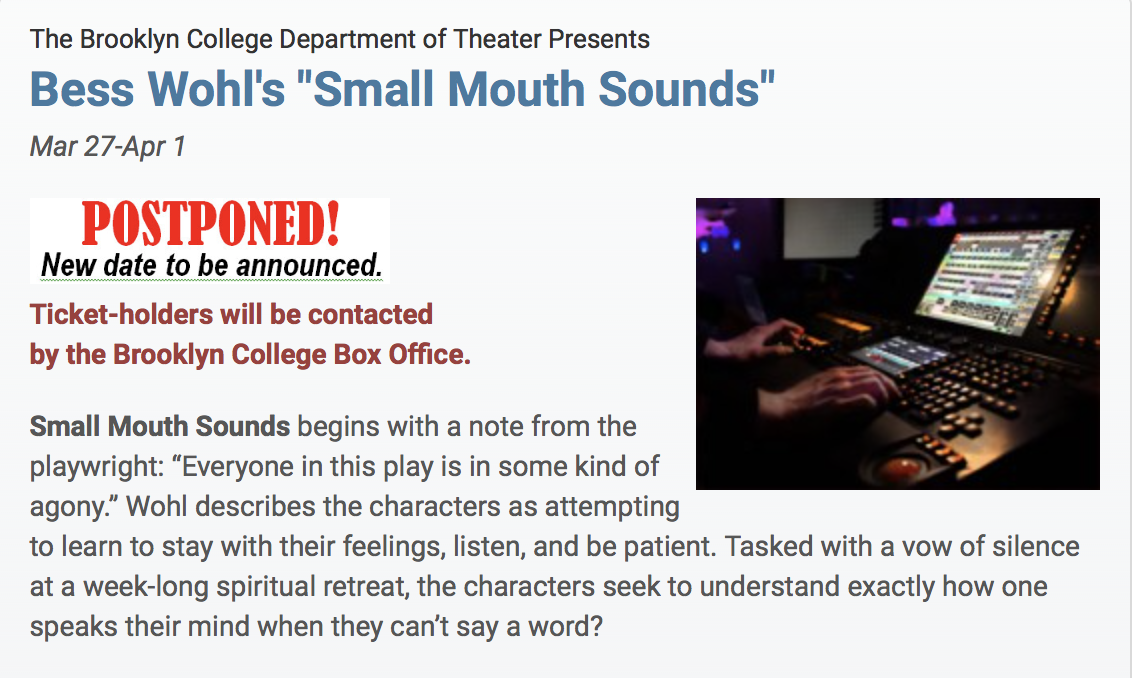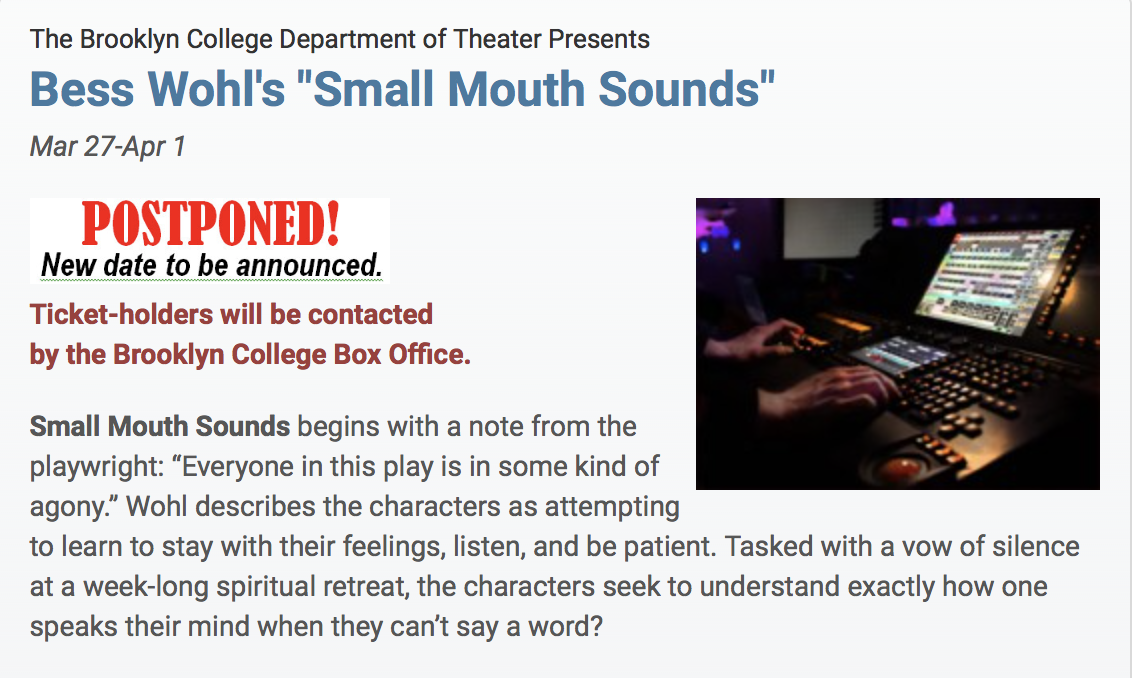 By Michela Arlia
   Earlier this summer, the Brooklyn College Department of Theater officially unveiled their plans to continue productions for the 2021-2022 season. 
      In an email sent out to students within the department, eight productions were announced and for the first time in over a year and a half, shows were listed with a venue as the BC theaters seem to be opening up again. This news comes with hope for a more normal production season with live shows and in-person audiences. 
   The entire season includes six full-length plays: "Small Mouth Sounds" by Bess Wohl and directed by Ann Noling; "Everybody" by Branden Jacobs-Jenkins and directed by Duane Bouttè; "Water by the Spoonful" by Quiara Alegria Hudes and directed by Francisco Solorzano; "Antigone" translated by Anne Carson and directed by Zachary Tomlinson; "By the Way, Meet Vera Stark" by Lynn Notage and directed by Patrick Sabongui; and "Concord Floral" by Jordan Tannahill and directed by Nicholas Browne. The season will also include a short works festival featuring shorter pieces directed by students within the department, and a one-act festival of shows led by first-year MFA directing students. 
   "Small Mouth Sounds," a piece about six runaways who flee city life for the quietness of the deep woods to fight their internal demons and connect with one another, will be opening up the season in mid-October. For the department, finally putting production up has been a relief, after COVID-19 forced everyone to leave their set and costumes just two weeks before opening night. 
   But while theaters are booked and directors are set for all of the performances, the department's administration says that nothing is set in stone. 
   Patrick Sabongui, head of the BFA Acting program, says the plan right now is to have live, in-person performances. He hopes the department will be able to mirror their return to the theater to that of Broadway's.
   "Broadway has found ways to welcome audiences back into their seats, and we hope to do the same," said Sabongui in a statement. "Our priority remains the safety of all of our community members and our audiences, so we will always defer to guidance and protocols from the CDC and CUNY."
   Before stepping down, Kip Marsh, the previous Department of Theater Chairperson, said that the format of production depends on any new guidance from the college that may arise in the coming weeks. 
   "We are planning on producing our season in the theater spaces in the PAC [Performing Arts Center] in person, and if able in front of an audience," Marsh wrote in a statement. "We haven't received any guidance yet from the college as to how or if we will be able to include an audience yet, but hope to have more clarification soon."
   The department has not announced whether they will require audience members to follow the guidelines that students on campus must follow, such as proof of vaccination, weekly negative COVID tests, or mandatory mask-wearing. 
   Sabongui says the situation is fluid right now, with things changing daily, but students will be notified of all guidelines as soon as possible. Either way, Sabongui is confident in the department and its mission. 
  "We will continue to do what theatre has done since its creation," said Sabongui. "Innovate, adapt and tell stories that reflect and comment on the times."