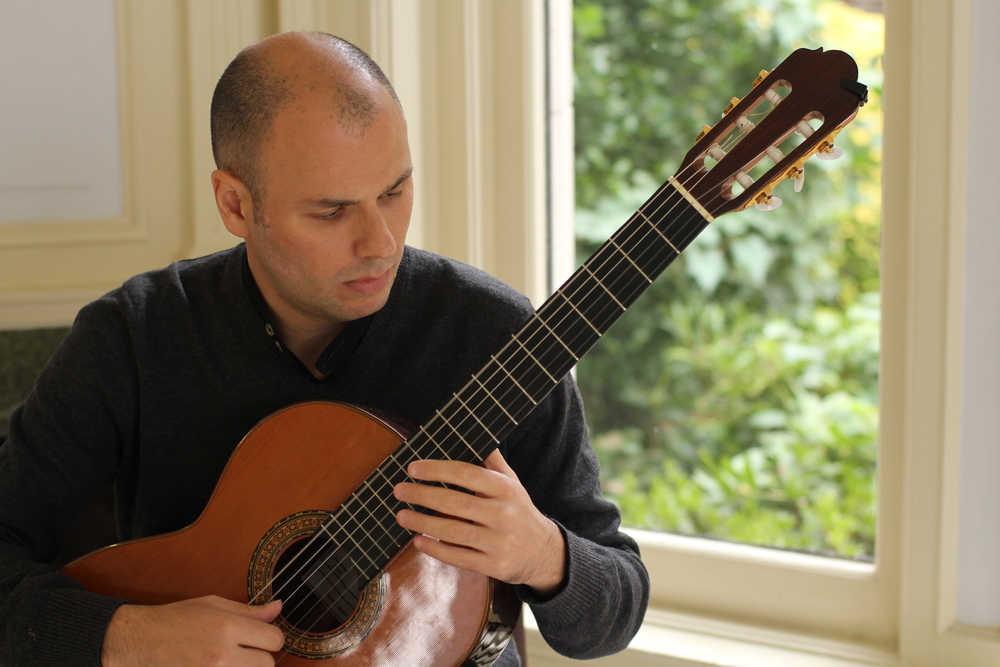 By Gabriela Flores
   Growing up in Argentina during the 80s and 90s, musician Carlos Pavan found his melodic footing by drawing influences from jazz and northern Argentine traditional folklore. Last Thursday, Sept. 23, Pavan joined Brooklyn College in celebrating Hispanic Heritage Month by playing a selection of tunes that showcased his Argentine roots, tango's diversity, and the guitar's fullest capabilities.
   "Our roots remind us about the gifts we've received from our families and communities, and how they lay the groundwork for our success and really shape who we are," said Moraima Smith, BC's Assistant Dean of Student Life. 
   The intimate musical event, hosted by the Immigrant Student Success Office, Puerto Rican and Latin Studies Department, Sociology Department, the Puerto Rican Alliance, and the I Am BC Committee, was BC's kickoff into the nation's month-long celebration that started on Sept. 15. This commemoration of Hispanic and Latinx culture dates back to 1968 when it first began as a week under President Lyndon B. Johnson. Once Ronald Regan arrived in office, it extended to 31 days, encompassing the national independence days of numerous Latinx countries, like Costa Rica and Chile, and Día de la Raza that commemorates indigenous people. 
   "We wanted to make sure that this day, and this month, did not go unnoticed," ISSO's Director Jesús Pérez said. "We are starting very humble, very small, and we hope to grow every year from now on."
   Pavan, a Brooklyn-based artist, opened his virtual performance by introducing listeners to the rhythmic composition of southern Buenos Aires's milonga. Closing his eyes, he began to pluck his guitar's strings gently. Smoothly, he transitions into lower notes that steadily return to the song's hip-swaying melody. 
   His second act was of traditional northern Argentine folklore, one of his favorites that reminds him fondly of his mother, who's native to the region. With this piece channeling Bolivian, Peruvian, and indigenous rhythms, Pavan drew inspiration from renowned Argentine literary writer Jorge Luis Borges. 
   His third performance had developed similarly, but with Uruguayan candombe, which descends from liberated African slaves, and Argentina's milonga. Once the event reached "waltz time," Pavan gave listeners a heads up about his modern take on two traditional versions of the feet-sliding sound. 
   "You will notice some jazz influences. I played jazz for ten years, my first ten years in the United States," Pavan said. Jazz gave Pavan the ability to modify tango melodies on the guitar. "That's why jazz is so great: the freedom in the harmony and the improvisation." 
   Pavan's melding of jazz and tango continued into his play of "El Choclo," a song that carries renowned trumpet player Louis Armstrong's Kiss of Fire as its melody. Listeners were also treated with "Por Una Cabeza," an old tango featured in the movie "Scent Of A Woman" that actor and singer Carlos Gardel composed. Pavan later delved into "La Cumbarsita," a tune traditional to Uruguay and one of his mother's favorites. 
   Towards the end of his final performances, Pavan shared a composition given by his deceased maestro Jorge Morel, a prolific Argentine musician who taught him classical guitar and composition. Before his passing, Morel arranged different folklore pieces for the song and told Pavan to put his jazz and modern flair. 
   "And that's what I did, and in a way, to portray three generations of Argentine folklore, semi-in-the-middle, and contemporary," Pavan said. 
   From an early age, Pavan set out to think differently than those around him. Seeing his father working as a lawyer, stressed with his workload, Pavan knew he wanted to pursue a distinct route that only musicians and artists could obtain. 
   "(…) I always saw that musicians or artists were the ones who thought differently. And I said, 'I want to think differently,' and that was when I was a kid," said Pavan. 
   When he arrived in The States and delved into the wonders of jazz, Pavan decided to dedicate himself solely to music. With his performances in Borough Hall, Brooklyn Society for Ethical Culture, and other venues across different countries, including Japan and Ireland, Pavan and his guitar have exposed different ears to the world of tango, jazz, and folklore. Amidst all of his creative demands, he never encountered any burnouts because he stuck to his general rule of thumb: stay clear from pop culture, and keep in touch with good books, cinema, and music. 
   "Nowadays, they call culture 'entertainment,' and entertainment 'culture.' No, no, no," said Pavan. "You can watch comedy, but it has to have quality."
   While the artist continues composing and performing his music, he ensures that he remains true to his Argentine roots and does not compromise his originality for the music industry's trends or demands.
   "Don't sell your soul and keep it. Put your energy in the good hours, and give entertainment and [its] destruction zero tolerance," Pavan advised the audience. "Refine your art and try to keep it original with your tradition plus your influences."