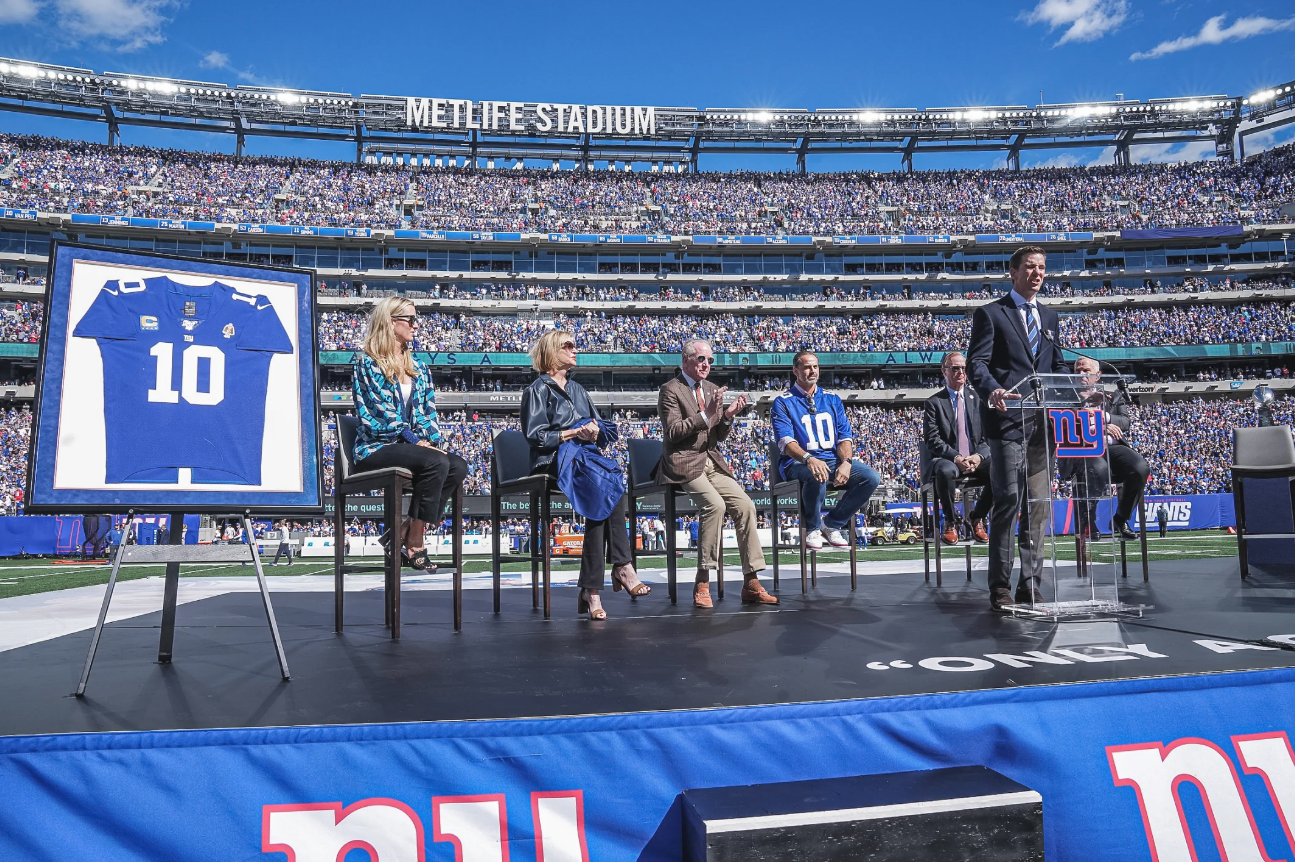 By Fawaad Farooq
After 16 noteworthy years, New York Giants legend Eli Manning announced his retirement from football back in 2020. The future Hall Of Famer took the field one last time on Sept. 26 to be inducted in the Ring Of Honor at halftime, when the Giants took on the Falcons at home. 
Manning's retirement speech last year was an emotional one, with him closing his statement that he will always be a Giant. The day began with statements from John Mara, the owner of the Giants, who thanked Manning for everything he's done for the franchise. Mara promised that Manning would be the last Giant to wear the number 10, retiring the number. 
Mara fulfilled his promise this past Sunday afternoon, as the sea of blue looked on to pay their respect to one of the greatest quarterbacks to ever wear a Giants uniform.  
Manning received a massive standing ovation from the crowd as he walked out on the stage set up on the field. His banner was raised in the Giants' Ring of Honor, right next to Justin Tuck's, with whom he won two Super Bowl titles in his tenure with the team. 
Manning holds nearly all of the Giants' key passing records, along with two significant Super Bowl victories over Tom Brady and the New England Patriots, where he was also the game's MVP.  
Manning addressed the crowd at MetLife Stadium and went on to say, "This day would not be possible without the love and support of my family. It was easy for everyone to celebrate the wins, but you were the ones that were with me all the time and had my back and picked me up when I was down." Despite some tough losing seasons, the Big Blue fanatics still love Eli.
The Giants crowd was electrified throughout Manning's speech as he closed off by saying, "And last but not least, a big thank you to the great New York Giants fans. I'm going to miss running out through that tunnel and hearing your cheers. And thank you for this incredible journey."
One thing's for sure, Manning sure did put many smiles on the faces of Giants fans over his 16 years with the Giants. He did once again as the crowd roared with excitement at his closing statement: "Once a Giant always a Giant."