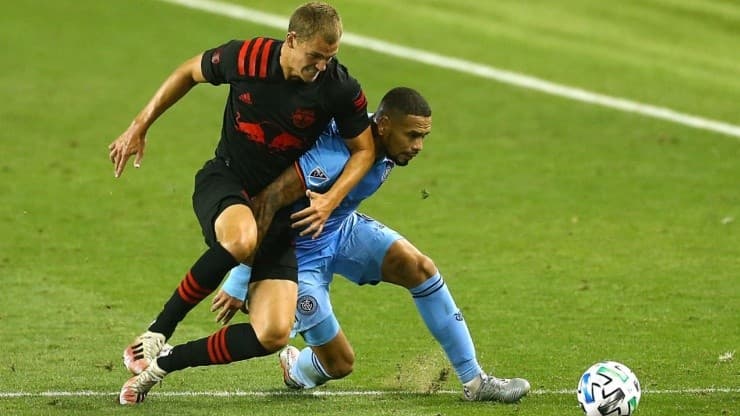 By Billy Wood 
    The New York Red Bulls gained four out of a possible six points against local rivals, New York City FC. Those four points are vital for the Red Bulls as they are on a mission to make it to their 22nd Major League Soccer (MLS) playoffs within their 26 year history.
   Both of the derby games took place at Yankee Stadium, NYCFC's home stadium.
   The first game took place on Wednesday, Sept. 22. NYCFC scored first in the 31st minute as Valentin Castellanos tucked the ball in on the goalkeeper's far left side. As the game progressed, NYCFC would find themselves down a man as Keaton Parks picked up a red card for a hard tackle on Dru Yearwood, who was forced to be substituted after coming on at half time. 
   The Red Bulls were able to salvage a point out of the game with a penalty scored by Patryk Klimala late in stoppage time due to a handball by Maxime Chanot. That resulted in his second yellow card, which put NYCFC down to nine men.
   "We deserved this point," said Gerhard Struber, Red Bulls head coach. "I am 100 percent convinced–also the stats now, they confirm it," continued at the post match conference. 
   Their second local derby of the week took place on Saturday evening. This game was not as wild as their previous encounter. Their last game consisted of a goal a piece, eight yellow cards, and two red cards. This game saw four yellow cards, two for each team. The only goal of the game came right before halftime in the 43rd minute as Bronx native Omir Fernandez scored to secure all three points for the Red Bulls. 
   "In the end, a big win," said Struber. "I feel a big relief right now," he said at the post match conference.
   Kyle Duncan, a Brooklyn native and right-back for the Red Bulls knows the importance of every win as they push for a playoff spot. 
   "We know that the few games that we have coming up are important ones and they are also the teams that are in front of us," Duncan said. "We know if we beat these teams, we will get back into that seventh spot or maybe even sixth spot or fifth spot. It is really important to us right now," he continued to stress at the post match conference.
    Nine games remain for the Red Bulls in the regular season and they currently sit in 11th place with 30 points. They are currently seven points off of Montreal for a playoff spot. If they fail to make the playoffs, it will be the Red Bulls' first time since the 2009 MLS season. Since then they have reached the playoffs 11 times and are working towards their 12th. 
    Their next game is at home against the Philadelphia Union on Sept. 29. They will also play NYCFC again at home on Oct. 17, and their final season game will be away at Nashville SC. By that time, the Red Bulls will have a better idea if their late push will take them to the playoffs  or not.