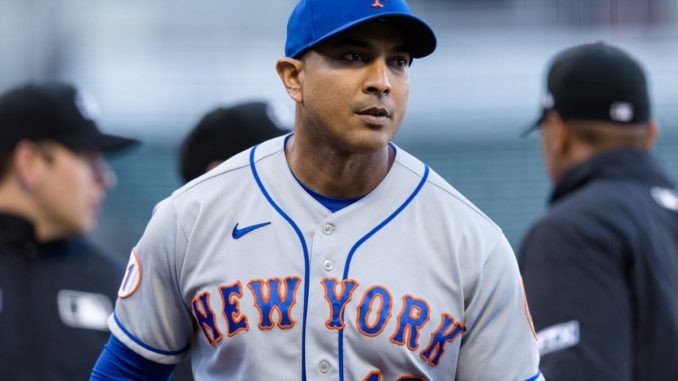 By Owen Russell
   On Monday, Oct. 4, the New York Mets announced that Luis Rojas will not be returning as manager next season. Rojas managed the team for two seasons, his first being the 60-game COVID season. He leaves the organization with a losing record of 103-119.
   "I want to share such heartfelt gratitude to so many in the Mets Organization for not only the last two seasons as manager, but for the last 16 years in a variety of roles," Rojas wrote in a statement released by the Mets. Before managing the Mets, Rojas worked in the Mets organization in a variety of different roles. He was the manager for multiple minor league affiliates including the High-A St. Lucie Mets, who he led to the top of their division.
   "In each and every position I held, striving for excellence was our daily mission," Rojas said, "We live in a results oriented business and I am deeply disappointed for our staff and fans that we didn't reach our goals this season." Despite Rojas' success in the minor leagues, he struggled to find his footing in the majors.
   After a disappointing 2020 campaign, the Mets began the 2021 season in promising fashion. The team led the National League East before the All-Star break, but the good times did not last in Queens. After the All-Star break, the Mets' record began to slide, capped off by an abysmal August which saw them go 10-19, losing control of their division. As the season came to an end in early October, the Mets finished with a 77-85 record, placing third in the NL East.
   The firing of Rojas marks what may be the first of many changes for the New York Mets, a team with all the pieces to be a playoff contender. This offseason brings many questions to the table, including what to do with some of New York's biggest stars.
   Noah Syndergaard's contract has just expired, and the team will have to decide whether or not he will be back in the Big Apple. The 29-year-old pitcher has spent much of the past two seasons rehabbing from Tommy John surgery and only recently pitched his first inning of big league baseball since 2019. Along with Syndergaard, the Mets will have to make a decision on Javier Baez, the defensive superstar they acquired from the Chicago Cubs this summer.
   The Mets are gearing up for what will be a pivotal season for them. The team has not sniffed the playoffs since 2016, and in the past 10 years, they have only made it to the playoffs twice. With stars like Jacob deGrom, Pete Alonso, Francisco Lindor on the roster, the time for action is now. With Rojas gone, is there a manager out there who can lead this group to the promised land? Only time will tell.