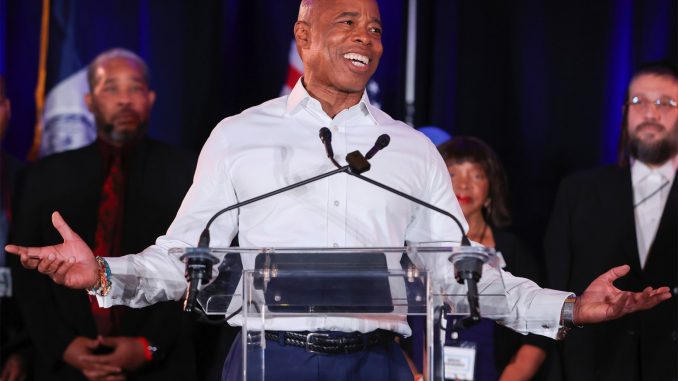 By John Schilling
   Brooklyn Borough President and former police captain Eric Adams is the new mayor of New York City, defeating Guardian Angels founder and Republican talk show host Curtis Sliwa.
   As of press time, with 78 percent of the precincts reported, Adams, the Democratic candidate, secured a sound victory with 66.5 percent of the vote over Sliwa's 28.8 percent.
   "We are so divided right now, and we're missing the beauty of our diversity," said Adams in his victory speech. "Today we take off the intramural jersey and we put on one jersey, Team New York."
   To replace Adams in Brooklyn is Democratic City Councilman Antonio Reynoso from District 34, who was elected with 73 percent of the vote based on 79 percent of the precincts reported. Reynoso defeated Menachem Raitport, who received only 23 percent of the vote and previously ran for the New York State Senate from District 20 in 2016. Reynoso's District 34 city council seat will be filled by Jennifer Gutierrez, a Democrat who defeated her opponent, Lutchi Gayot, with over 90 percent of the vote.
   This election, two Brooklyn College alumni were on the ballot: Jumaane Williams and Shahana Hanif, two Democrats who ran for New York City public advocate and city council, respectively, and won.  
   Williams, who graduated from BC with his B.A. in political science in 2001 and his M.A. in
urban policy and administration in 2005, was first elected public advocate in 2019 and was re-elected comfortably this time around. He received over 67 percent of the vote compared to his Republican challenger, Devi Nampiaparampil, who received 24.1 percent. Despite the win, Williams is considering challenging New York Governor Kathy Hochul in 2022 but has yet to announce his candidacy.
   Hanif, who graduated from BC in 2014 with her B.A. in women's and gender studies and television and radio, made history as the first Muslim woman elected to the New York City Council, according to the New York Times. She will serve Brooklyn's 39th District, replacing City Councilman Brad Lander, a Brooklyn native who was elected New York City Comptroller and won with 68.8 percent of the vote over Daby Carreras.
   In addition, Farah Louis, the City Councilwoman for District 45, which BC falls under, was also victorious, winning reelection and defeating Louis Cespedes with over 90 percent of the vote.