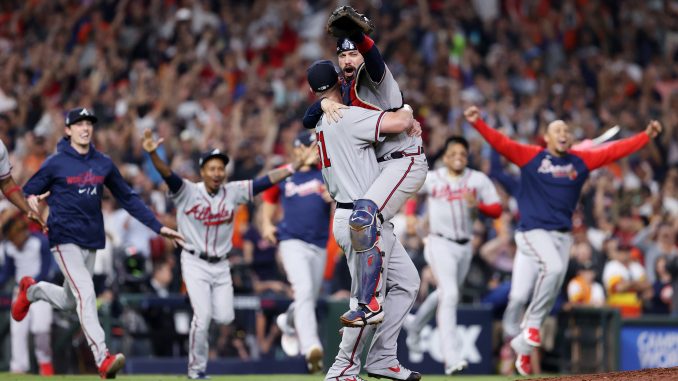 By Owen Russell
   After 26 years, the Atlanta Braves are World Champions yet again, winning their fourth championship in franchise history after knocking off the Houston Astros on Nov. 2. The 7-0 win gave Atlanta the clinching fourth win in the best of seven series, beating Houston on their home field.
   Atlanta's win can be boiled down to some excellent pitching and timely offense. The Braves and Astros traded the first two contests. Despite having a broken leg, Atalanta ace Charlie Morton set the tone for the Braves' pitching staff in Game 1, striking out Astros' Jose Altuve. Game 2 saw Houston strike back, crushing five earned runs off of Braves' starter Max Fried. 
   Games 3 and 4 saw Atlanta pick up steam, holding the Astros to a combined two runs. The stage seemed set for Atlanta to close out the season at home in Game 5. Houston had other plans as they came back after giving up a first-inning grand slam, winning 9-5 and forcing Game 6 in Texas. 
   With thousands of loyal Astro fans rooting for them to fail, all the pressure was on for the Atlanta Braves. Backs against the wall, the Braves rose to the occasion. A 456 ft. three-run blast by Jorge Soler got the ball rolling for Atlanta, and it didn't stop there. In the fifth inning, 12-year Braves veteran Freddie Freeman blasted a solo shot, looking elated as he rounded the bases. Stellar pitching by Max Fried and Atlanta's relievers held the Astros scoreless. The game closed, 7-0, and Braves fans could celebrate once again.
   The season was storybook-esque for the Braves. At the trade deadline, Atlanta sat at 52-54, and many thought the loss of star player Ronald Acuna Jr. due to injury would keep this team out of the playoffs. Desperate to get back on track, the Braves completely retooled their offense, trading for multiple key contributors down the stretch. Perhaps none more important than Jorge Soler, the eventual World Series MVP.
   For a city that's been waiting over two decades for another World Series, it seems only fitting that their manager be waiting just as long. Brian Snitker has been with the Braves organization since he played minor league baseball for them in 1977. After retiring as a player, he joined the organization as a coach, rising through the ranks and finally becoming the Major League Manager in 2016.
   Atlanta's World Series win closes out what has been a very emotional season of baseball for many. After COVID-19 forced fans out of the stadiums for the 2020 season, 2021 saw the return of hundreds of thousands.