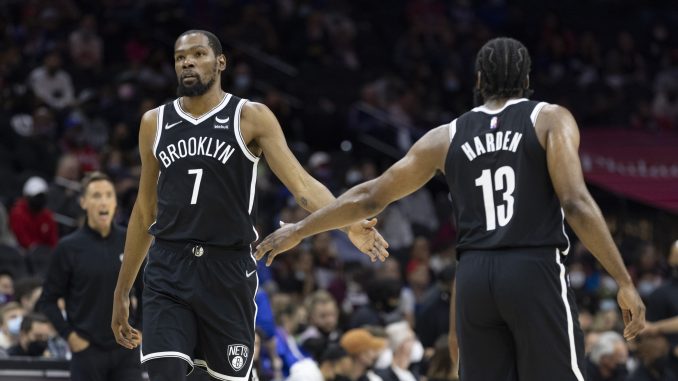 By Johan Abdu
   This year marks the 75th anniversary of the NBA's inception, and with 4 wins and 3 losses so far, the Brooklyn Nets are delivering some memorable highs and some controversial lows while trying to figure out their style of play.
   The biggest talking point for Coach Steve Nash's Nets has come in the form of Kyrie Irving, who has been absent this season. On Oct. 12, Nets General Manager Sean Marks made the announcement that Irving will not be eligible to play or even practice with the squad until he is vaccinated, due to New York City's COVID-19 vaccine mandate. 
   Since then, Irving has been relatively silent in response to the announcement, but many have criticized the point guard for his decision against the mandate while others have supported him.
   On Oct. 25, just hours before the Nets were set to play against the visiting Washington Wizards, thousands of unmasked anti-vaccine protestors gathered around and attempted to storm into the Barclays Center in support of Irving. Despite this, the game went on as scheduled with some delays and the Nets went on to win against the Wizards 104-90.
   Without Irving, the Nets' play has been up to individual performance from Kevin Durant, who put up 25 points against the Wizards. On Oct. 22, Durant led by example with an impressive triple-double against the shaky Philadelphia 76ers, winning 114-109. The 76ers are still without star point guard Ben Simmons after he expressed his intention to leave last season and has missed several practices and meetings in the process. 
   Defensively, however, the Nets have shown some wear and tear. The Nets faced the young and charged-up Charlotte Hornets, who have won their first three opening games for the first time in franchise history. Ish Smith, Miles Bridges, and LaMelo Ball linked up beautifully to score a combined 65 points against the Nets with Charlotte winning at home 111-95. 
   The Nets also lost 104-127 to current NBA champs, Milwaukee Bucks, away from home in their opening match of the season.
   There is promise coming out of the Nets' increasingly defensive mindset as the games continue. After a tough loss to a strong Miami Heat on Oct. 27, they would collect back-to-back wins with superstar guard James Harden finding form again. Harden put up 18 points, 10 rebounds, and 12 assists in the Nets' win against the Detroit Pistons on Sunday, Oct. 31, beating them 117-91, after a 28 point performance against the Indiana Pacers just a few days before.
   "I kind of knew I was going to have a slow start because I wasn't playing a lot [during the off-season] but I knew the work was going to catch up and, ultimately, I was going to get back to where I need to be," Harden told reporters after the win in Indiana. "Game by game, I'm just feeling better, more confident, extra pep in my step."
   Currently sitting eighth in the Eastern Conference after these seven games, the Nets are set to face similarly-placed Atlanta Hawks this Wednesday, Nov. 3 at the Barclays Center.