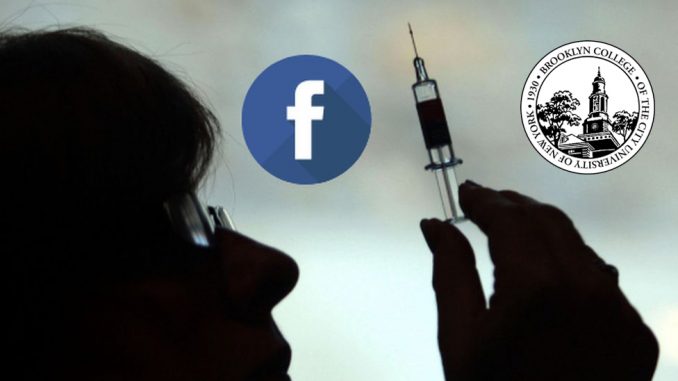 By Radwan Farraj
   Brooklyn College faculty recently argued publicly on Brooklyn College In The Know 2, a student-monitored Facebook group, about the COVID-19 vaccine and CUNY's mandate that took effect in May under former Governor Andrew Cuomo's orders. Accusations of vaccine misinformation and censorship were exchanged between Computer Science Professor Gavriel Yarmish and Chemistry Professor Dr. Maria Contel's comments before group administrators intervened.  
    A series of posts by Yarmish, who did not initially identify himself as a faculty member, discussed vaccine side effects and CUNY's decision to withdraw students from in-person and hybrid courses should they not comply with the university's mandate. The posts included several articles that claimed serious vaccine risks, with one post being removed by administrators for containing vaccine misinformation. 
   "I just want to know if there are other students because I only have the students in my class that I'm basing this issue [on]… That was the real purpose of the initial posts," Yarmish told The Vanguard, expressing his concern for his students that did not yet receive their first shot and are facing academic withdrawals. 
   Yarmish was still receiving emails from students voicing their concerns more than two weeks after the CUNY deadline for submitting vaccine verification. One of Yarmish's biggest concerns about the vaccine is its safety, to which he said CUNY, "should not be forcing people to take a medical procedure if they're not willing to take any responsibility for the side effects." 
  In some rare cases, some people may experience a severe allergic reaction to the vaccine called anaphylaxis, according to the CDC. About seven per one million women between 18 and 49 who get the Johnson and Johnson vaccine experience blood clots with low platelets also known as thrombosis with thrombocytopenia syndrome (TTS.) 
   Dr. Contel, who responded to Yarmish online, told The Vanguard that generally, however, vaccines are effective with most experiencing minor side effects. "It can save lives, it's not only if you can get COVID or not. It's your life and those around you in your household [that] are affected, and at least, if you're going to make that consideration, use real data, real science," she said, noting that Yarmish's posts lacked scientific backing.  
   While Yarmish did post an article linking the vaccine to myocarditis, Contel stressed that this was only one paper with flaws, and in response to Yarmish, she posted an article directly from the CDC. 
   "I trust CDC, we should all trust CDC. CDC, FDA, those are the agencies that take care of the health and safety of all vaccines, not only COVID," said Contel.  
  Contel and other professors are also very aware of the challenges that face students. "It's not that we don't care about the students – professors argue about this topic in the proper place," said Contel, noting that faculty channels are available for professors to discuss CUNY's vaccine mandate.
   Aharon Grama, President of Brooklyn College's Undergraduate Student Government, personally became involved in the discussion, and was very supportive of the group as a means for members of the Brooklyn College community to have open discussion about issues like these. "[…] I'm trying to understand from how students respond to stuff, how I should respond to stuff, because I'm representing them," he told The Vanguard. 
   As Grama explained, both him and his fellow USG members were originally conflicted with Yarmish's post and whether it qualified as vaccine misinformation. Even with the group policy change that is meant to prevent the spread of vaccine misinformation, Grama hopes that it will not be necessary to enforce.