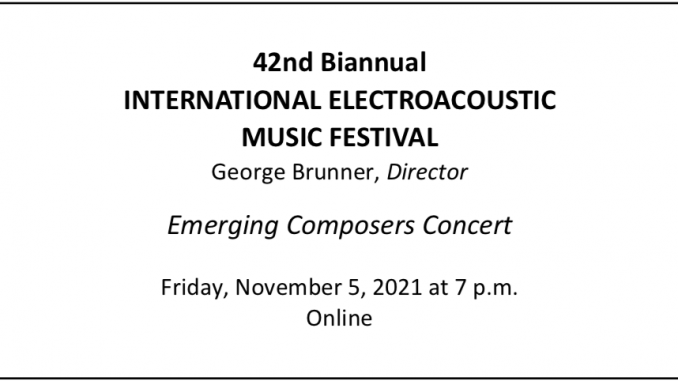 By Michela Arlia 
 The BC Music Conservatory hosted its Biannual International Electroacoustic Music Festival online on Nov. 5 under the direction of  Professor George Brunner, the director of music technology.
   The conservatory first advertised the event as a "cornucopia of cutting-edge works by masters and emerging composers," as per their website. 
   Following a welcome address by Brunner, the festival kicked off with composer and jazz pianist Zhi Chen playing his electronic dubstep sound piece. While composing his work, Chen found inspiration from surfing and his personal experience of being wiped out in a wave.
   Being a native of Rockaway Beach and having a passion for the sport, Chen was able to combine sampled sounds from the beach, interviews from big wave surfers, and even a snippet of dialogue from the movie "Finding Nemo" to create his original sound.
   Chen, who described his piece as "like you're falling into water and then it's completely calm and silent," blended his sounds, masking dialogue with up-tempo beats and creating a mix perfect for a nightclub setting.
   Multiple pieces then followed, all pre-recorded either with just audio components or audio and visual components together. 
   In a piece titled "Eight Different Themes in My Life" by Parker Helen, twenty-four minutes of environmental sounds from one single room were compiled into three minutes of a layered multi-track. 
   The soothing sounds of birds chirping and airplanes passing brought peace and quiet to listeners. Helen's piece embodied tones of the night shift, becoming much softer than the previous works until that point. It drew sounds that we often take for granted when simply sitting in a room, making it a great piece to stop and center yourself when listening. 
   Second-year student Emmanuel Ortiz offered a very unique outlook to the world we are still currently living in, the online virtual world. 
   "It's supposed to be a sappy love song produced by a computer to the user," said Ortiz, when speaking about his piece entitled "Echo."
   By sampling sound bytes from Windows desktop error messages and physical sounds from the computer itself, this piece was the first of the night with lyrical accompaniment. With witty lyrics that only a computer could say such as "1001 means I love you" and "32 gigs of potential," Ortiz was able to make a computer sound musical. 
   In what Ortiz also describes as quantization, the sounds come across as though the computer is glitching as it speaks, which creates an eerie feeling to the listener. 
   Following all the original works was a talkback session with the composers, where hot topics included origins for each piece, diversity of the sounds, and sound levels, as most pieces came with warnings for audience members to lower the volume outputs on their computers due to the infusion of digital and sometimes screeching (yet purposeful) sounds. 
   The festival created a night of original works with pre-existing undertones to offer audiences relaxed and informed listening by students. Enjoyed by all, Brunner said there is hope for in-person concerts in the spring semester. 
   "I told [the department] we're doing in-person no matter what," said Brunner. "And we can do it in a way that, you know, physically distanced and hopefully we can have a nice audience like this, or bigger."