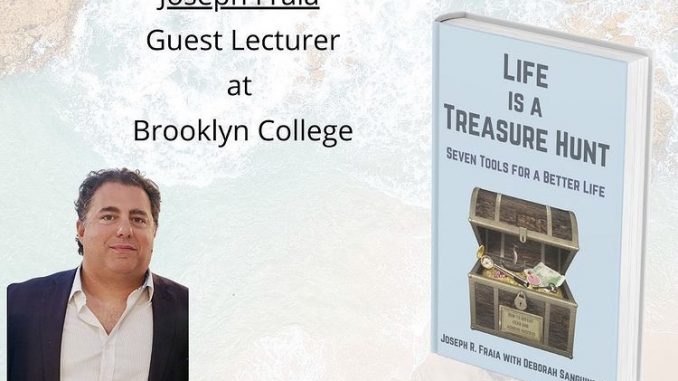 By Mary Zakharova
   Since October, Brooklyn College students have been able to attend coaching sessions on "Campus Anxiety and Stress" with Joseph Fraia, the author of "Life is a Treasure Hunt," a book that discusses practical tools for anybody who wants to achieve self-awareness, self-realization, and healthier life.  
   During the 15-minute sessions, Fraia discusses the most common problems students face during their life in college. There are four types of problems, Fraia told The Vanguard: being far from home, strict deadlines, social life and facing a new environment, and financial issues.
   For each problem, Fraia uses the two-part method he created and discussed in his book.
   "[…] Everything starts with introspection, so everything starts from getting to know yourself… and then, after that, you need to assess your goals and your purposes," said Fraia. For each trouble, there is one way of dealing with it, but the key is to know the specifics of your character and your goals.
   Fraia's idea was not only to create a system that would help people come to a better life but also to create a community where "treasure hunters" can communicate with each other and Fraia himself any time they need assistance. "I don't want to be any filter, any barrier between myself and a reader," he said. 
   Fraia said that many Brooklyn College students who visit the sessions reach out to him during the week.
   "It's all about taking that first step," said Fraia. "Unfortunately, in our society, the pressure is a lot of times about 'you have to figure things out by yourself' –  it's part of the challenge, a part of growing up." 
   What Fraia wants to show is that this "do it yourself" thinking is very far from human nature, while having elders teach the youth is normal and natural. With his sessions, he is trying to teach young people the fundamental rules of life, without pressuring them to figure everything out by themselves.
   "We are not supposed to figure things out by ourselves, we are supposed to be structured, we need help," added Fraia.
   This idea became the main purpose of his book: to create a society where previous generations can help new ones, and that is also what Fraia does during his meetings.
   The Campus Anxiety and Stress events have proved to be very popular among Brooklyn College students. Every week, there are around 30 students contacting Fraia, and during the 15-minute session, he usually has two or three students with whom he discusses their issues and progress, advising them on the next steps.
  Apart from his work at BC, Fraia is planning to host events on Taoism, a belief system from ancient China that revolves around humans and animals living "in balance" with the "Tao," or the universe. Fraia wishes to explain how some things you would never think are connected to Taoism actually are.
   "If you have a hero or a superhero you like, it's very likely that that superhero is a Taoist," said Fraia.
   Through all of his events, Fraia is trying to build a connection between him and students, encourage them to think about their life and future and teach them methods he uses himself.
    "I don't want the conversation to stop with the book," said Fraia. "I want the conversation to start with the book."