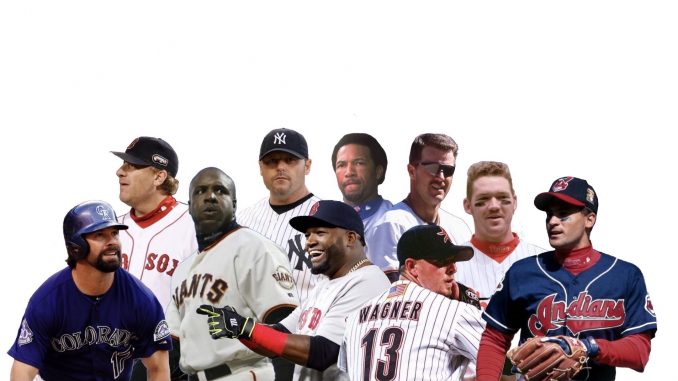 By John Schilling
   Every year, the Baseball Writers' Association of America (BBWAA) is tasked with the responsibility of voting on which retired Major League Baseball players should be elected to the National Baseball Hall Of Fame in Cooperstown, New York. Members of the BBWAA can earn a chance to vote for the Hall of Fame if he or she remains on a baseball beat for 10 consecutive years among other things. 
   Until then, my ballot does not count, but this has not stopped me from filling out the official ballot each year and acting as if I had the honor to cast it. As per the rules, I can only vote for up to 10 players, and for a player to be elected, he must receive 75 percent of the votes from all the ballots cast, a very hard feat to accomplish. Last year, none of the players on the ballot were elected, but each player is permitted to stay on the ballot for 10 years unless he falls below five percent of the votes. Without further ado, here is who I would vote for if I were able to vote:
Barry Bonds, Final year on the ballot (2021: 61.8%).
   If you are a baseball fan, then you know very well just how great of a player Barry Bonds was. The left fielder's talent was so immense that over his 22-year career, he earned seven National League MVP Awards, eight Gold Glove Awards, won two batting titles, and was selected to 14 All-Star Games. He is currently the all-time MLB home run king with 762. Based on these numbers alone, you could argue that Bonds is the greatest player of all time, but all of these accomplishments have been watered down by Bonds' alleged steroid use even though he never tested positive for anything. 
My issue with this, however, is that even if Bonds did use steroids, they were not officially banned until 2005, and he was clearly already a Hall of Fame-caliber player before he touched the stuff. I also take issue with the notion that the Hall of Fame is heaven or the Hall of Morally Good People. It's a museum – a museum that should reflect Baseball's history. As you will see, I take issue with steroids much more when they clearly made the player as good as they were, which is why I would not vote for Sammy Sosa. I also take issue with repeat offenders and positive tests, which eliminates Alex Rodriguez and Manny Ramirez from earning my vote…for now, at least.
Roger Clemens, Final year on the ballot (2021: 61.6%).
   Over his 24-year career, the right-handed pitcher won 354 games, played in 11 All-Star games, earned an MVP award, won two World Series, and won seven Cy Young Awards, the most of any other pitcher. Clemens is arguably one of the best pitchers to ever play, but like Bonds, his rumored steroid use has kept him out of Cooperstown. Nonetheless, he earns my vote because he never tested positive and was already a Hall of Famer before he would have touched the stuff.
Todd Helton, Fourth year on the ballot (2021: 44.9%).
   Helton is not nearly as slam-dunk as Bonds or Clemens, but there is something to be said about his 17-year career. With the Colorado Rockies, the first baseman earned four Silver Slugger Awards, won a batting title, led the league in seven offensive stats in 2000, played in five All-Star games, earned three Gold Glove awards, and led two playoff teams. Helton never won an MVP Award and only recorded 2519 hits and 369 home runs, but he finished his career with a .316 batting average and .539 slugging percentage, and only two of the 21 first baseman in the Hall of Fame have over 3000 hits. It wouldn't be a travesty if he was denied entry into Cooperstown, but I think his offensive efforts and contributions to Colorado earn him a spot even if his stats may have benefitted from Colorado's high altitude.
Jeff Kent, Ninth year on the ballot (2021: 32.4%).
   Based on statistics alone, Kent is the best offensive second baseman of all time, and his career is one I believe the BBWAA has completely misunderstood year after year when considering his candidacy. In his 17-year career, Kent recorded 2461 hits and 377 home runs, won an MVP and four Silver Slugger Awards, and played in five All-Star games. We can get into the nitty-gritty of Kent's defense, as he finished his career with 236 errors, but many of his offensive numbers topple that of Hall of Famers Ryne Sandberg and Craig Biggio, which is good enough for me.
David Ortiz, First year on the ballot.
   Over his 20-year career, Ortiz was beloved by baseball fans on and off the field. The designated hitter/first baseman often referred to as "Big Papi," played in 10 All-Star games, won three World Series, and earned seven Silver Slugger Awards while recording 2472 hits and 541 home runs. Though Big Papi never won an MVP, he finished within the top 10 of the voting six times and even led the league twice in runs batted in and once in home runs. Ortiz is a no-doubt Hall of Famer, but he was accused of testing positive for performance-enhancing drugs in 2003 by a New York Times report in 2009. This test was never made public nor was it ever determined to be legitimate, but Ortiz gets my vote anyway without question.
Scott Rolen, Fifth-year on the ballot (2021: 52.9%).
   Similar to Helton, Rolen is far from a slam-dunk Hall of Famer, but the third baseman's 17-year career was far from mediocre. Rolen recorded only 2077 hits and 316 home runs but earned eight Gold Gloves, played in seven All-Star games, and was an above-average player for most of his career. Among third basemen, Rolen ranks ninth all-time in Wins Above Replacement (WAR) with 70.1. I do not love WAR nor do I think it's a great statistic to use when evaluating how good a player was, but it makes clear that Rolen was among the best at his position, a position that is heavily underrepresented in the Hall of Fame. Rolen's numbers are very similar to Hall of Fame third baseman Ron Santo, and he even tops Santo with his career triple-slash and Gold Glove wins. Also, as Chris "Mad Dog" Russo, radio sports personality, likes to say, there is an "eye-test" when it comes to certain players, meaning that fans can tell that a player is Hall of Fame-caliber simply by watching the games and seeing him play. For me, Rolen passes this eye test even if the stats are not enough.
Curt Schilling, Final year on the ballot (2021: 71.1%).
   As of now, I have no knowledge of being related to Curt Schilling, but either way, the guy is one of the best postseason pitchers in the game's history, and his regular-season stats are nothing to sneeze at either. In his 20-year career, Schilling won 216 and lost 146 games, finishing with a 3.46 earned run average (ERA). This is not bad, but it is less than ideal for a pitcher looking to be enshrined in Cooperstown. Schilling, however, had two 20-win seasons and led the league twice in strikeouts. As for the postseason, Schilling was dominant with an 11-2 win-loss record and a 2.23 ERA across 12 series, five years, and 133.1 innings pitched. This success would earn him three World Series championships, one of which he was named World Series MVP. Schilling's legacy is further helped by his iconic "bloody sock" moment in Game 6 of the 2004 American League Championship Series. 
   The issue with Schilling, however, is that he is an outspoken conservative who has been criticized multiple times for things he has said about LGBTQ issues, Islam, journalists, the U.S. Capitol insurrection in 2021, and many other things. After falling short last year, Schilling publicly requested to be removed from the ballot, citing that his support of former President Donald Trump was being used against him. Many writers have opted not to vote for Schilling because of his outspoken conservatism, claiming some of the things he has said have violated the Hall of Fame's character clause. 
   As far as I am concerned, the character clause means next to nothing as it only began to be brought up by writers when the steroid guys started appearing on the ballot. It's also rumored to have been written by a segregationist in the first place. Not to mention, the Hall of Fame has already honored colluding owners and known cheaters, making Curt Schilling the least of the Hall of Fame's problems. From a pure on-field performance standpoint alone, Schilling gets my vote.
Gary Sheffield, Eighth year on the ballot (2021: 40.6%).
   In his 22-year career, Sheffield was an excellent hitter with 2689 career hits, 509 home runs, a batting title, and five Silver Slugger Awards, as well as nine All-Star appearances and a World Series championship. Sheffield never won an MVP but finished in the top 10 of the voting six times. The issue with Sheffield is that he played three different positions for eight separate teams, none of which he particularly identifies with legacy-wise, and is also linked to steroid use. Sheffield never tested positive but was named in the Mitchell Report, an investigation into doping in MLB and claimed to have unknowingly received steroids in 2001 from his personal trainer, who was also associated with Barry Bonds. In any case, Sheffield's numbers did not significantly improve in the aftermath of when this would have happened, and he had already enjoyed a bulk of his career success.
Omar Vizquel, Fifth-year on the ballot (2021: 49.1%).
   Vizquel's 24-year career spans four decades, and many have discredited the shortstop as being an accumulator with his 2877 hits. Had Vizquel hit just 123 more hits, however, there would not be a single question about his candidacy. While Vizquel is generally considered to be a below-average hitter, he makes up for any offensive shortcomings immensely with his defense. As a shortstop, Vizquel played more games than anyone at the position and won 11 Gold Gloves, the second most behind Hall of Famer Ozzie Smith, whose offensive numbers are worse than that of Vizquel. 
   The same is true for the shortstop with the third most Gold Gloves, Luis Aparicio, who also happens to be a Hall of Famer. To be fair, Omar's longevity certainly plays a factor in all of this, but I believe his success as a shortstop is significant enough to earn him a spot in the Hall, especially since I think Keith Hernandez and Gil Hodges are just as deserving of enshrinement in Cooperstown for their defense as first basemen, but that is a whole other conversation for another day.
Billy Wagner, Seventh year on the ballot (2021: 46.4%).
   As of right now, I am not entirely sure if Wagner is deserving of the Hall of Fame, but I do think his 16-year career is worth a closer look for further consideration. The problem is that relief pitchers, especially when it comes to Hall of Fame consideration, are generally limited to ERA and saves. There are other stats to consider, but none nearly as prominent as these two. 
   Wagner's ERA is a respectable 2.31, and he earned 422 saves, which is sixth on the all-time saves leaderboard. There is much to be said, however, about the seven-time All-Star, who I think has suffered from being in the shadow of Mariano Rivera, the all-time saves leader and best closer to ever pitch, and Trevor Hoffman, the second all-time saves leader. Why punish a guy for not being Mariano Rivera? There has to be a better way to evaluate relievers, and when you compare Wagner to Hoffman in other stats, he really holds his own. The two are almost identical in WAR, but Wagner beats Hoffman in ERA, walks and hits per innings pitched (WHIP), and strikeouts per nine innings pitched (K/9). And Wagner was much more dominant against opposing hitters with a career slash of .187/.262/.296 compared to Hoffman's .211/.267/.342. 
   Wagner also happens to be a lefty, which is something to consider as well. At this moment, I cannot definitively say that Wagner should be a Hall of Famer, but I think he is the best reliever to be considered since Hoffman and Rivera, and I am curious to see how evaluating relievers will evolve as the years go on, and my vote for Wagner would at least support the effort to keep him on the ballot should something be decided about that.
   Aside from the ten I voted for, I also considered outfielder Andruw Jones and pitcher Andy Pettitte when filling out my ballot. The rest of the ballot, in my eyes, is made up of very good players but none that I think are deserving of being inducted. 
   Nonetheless, out of all these names, I think only Ortiz will get the call when the results are announced on Jan. 25. I could also see Bonds, Clemens, and Schilling making it, but I think their controversies will ultimately keep them out.