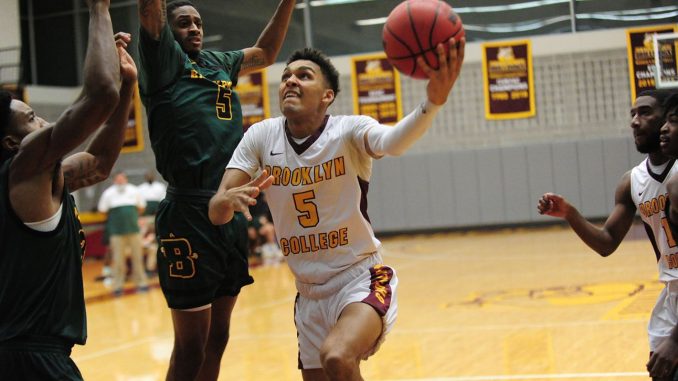 Women's Basketball Dominates The Court 
By Owen Russell
   The women's basketball team had only one game this past week. The team found themselves in CUNYAC competition for the first time this season against Lehman College on Friday, Dec. 3. The Bulldogs did not face much of a challenge against the Lightning. It was pure domination from the jump. The Bulldogs' staunch defense held Lehman to only 4 points in the fourth quarter. As the game went on, Lehman never scored more than 15 points in a single quarter. The Bulldogs applied constant pressure, stealing the ball 10 times and forcing 24 turnovers. 
   Brooklyn's offensive juggernaut was out in full force as well. The team dropped 94 points on Lehman's head in a game that saw seven players score double-digit points. Forward Chanel Jemmott led the way, scoring 16 points and securing 9 rebounds, one short of a double-double. Brooklyn's convincing thrashing of Lehman earned them their fifth win of the season, putting their record at 5-1.
   The Bulldogs will look to secure their sixth win against FDU-Florham on Wednesday, Dec. 8 at 7PM.  
Men's Basketball Continues Losing Streak
By Elijah Hamilton
   Coming off of Thanksgiving break, the Brooklyn College men's basketball team tried to end a two-game losing streak, seeking their second win of the season. Things did not go according to plan, however, as the Bulldogs lost their last two contests.
  In their Dec. 3 matchup against Lehman College Lighting, a CUNYAC rival, at the West Quad, it was a slow night for the Bulldogs, who lost 76-82. Junior Kayin Olajide led the way with 22 points to go along with five steals for the Bulldogs. Senior Noah Shy also scored 14 points to go along with four assists.  
   However, their worst loss of the season came on Monday, Dec. 6, at home against the Yeshiva Maccabees. The Maccabees, who is currently ranked number one on the D3Hoops.com national poll, came to play Monday night, holding the Bulldogs under 50 points throughout the contest.
   Brooklyn went on a 7-0 run and held Yeshiva scoreless. Yeshiva's Ofek Reef, however, scored a running layup as the buzzer expired, allowing the Maccabees to take a 42-25 lead at the half. 
   YU would continue to dominate the matchup, winning the contest 94-48. Junior guard Olajide led the way for the Bulldogs, scoring the team 10 points.
   The Bulldogs will come back from a 1-8 start to the season, with their matchup against Farmingdale College on Wednesday, Dec. 8.