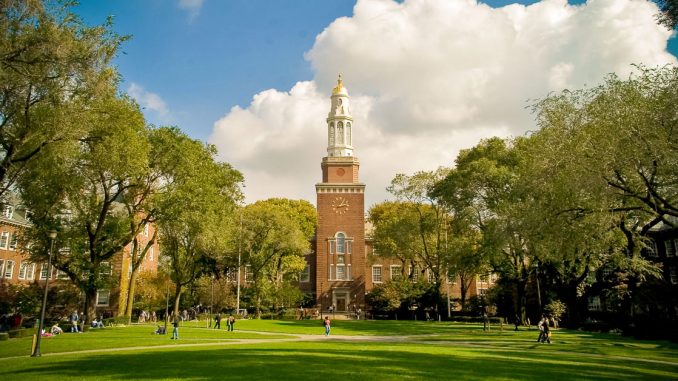 By Gabriela Flores
   Most updates on the incoming spring semester depend on CUNY Central's plans as more information releases on Omicron, the new COVID-19 "variant of concern" that pushed Governor Kathy Hochul to declare a state of emergency in New York. With 70 percent of BC spring courses currently scheduled for in-person, and 30 percent running hybrid or online, administrators and student leaders are preparing for different possibilities. 
  "The College has been through many scenarios since March 2020," Alan Gilbert, Brooklyn College's Senior Vice President for Finance and Administration, wrote in a statement to The Vanguard. "The University makes the determinations on the percentage of in-person classes. We are prepared for any possible changes." 
    As Omicron continues spreading to over three dozen countries, the New York Times reported, public health experts have noted there's not yet any firm evidence to prove the variant is more dangerous than Delta. While studies on Omicron develop, CUNY Central is "working with State and City health officials to develop guidance on how campuses should respond to new variants," BC President Michelle Anderson wrote in a college-wide email on Dec. 6.
   CUNY's random testing program for vaccinated individuals across the university will continue into the spring, Gilbert confirmed. Within seven days of testing notice, a randomly selected CUNY student or employee must get tested at a university testing site. If those selected do not comply, they will not be allowed on campus. Those who test positive for COVID will be allowed to return once they test negative, according to CUNY's website.  
  Students enrolled in hybrid and in-person courses for spring 2022 must be vaccinated, unless their medical or religious exemptions are approved by administrators, per CUNY's vaccine mandate. Vaccine verification forms must be uploaded to CUNYFirst by Jan. 14, two weeks before the term's official start, or those who do not comply "will be subject to potential academic withdrawal," CUNY's official website states. Those opting for Johnson & Johnson must get their jab by Jan. 14, while those receiving Pfizer or Moderna must have their first dose by Dec. 24 and Dec. 17, respectively. 
    As of press time, Student Affairs will remain in charge of verifying vaccination status on CUNYFirst during the spring, confirmed Ron Jackson, BC's Vice President of Student Affairs.
     Come spring, if initial in-person plans are not affected by Omicron, the Student Affairs office will have an increased staff presence and remain open during regular business hours. Different virtual services will also remain, Jackson explained in a statement to The Vanguard. 
     "[…] We now have a multitude of modalities for communicating with students which don't require them to come to campus to conduct business," Jackson wrote, noting that his department intends to revamp existing resources. "Therefore, we want to be sure a number of options are available from which students can select the mode of communication that works best for them." As Student Affairs works on hosting an in-person fair to inform students of available resources, they will continue their focus on academic advisement, financial support, and mental health concerns. To continue addressing those needs and others students may have, the department created the BC Cares Students in Distress Survey. 
     Student Affairs and the Undergraduate Student Government (USG) are also currently collaborating on a series of events to welcome students back on campus. 
    From hosting more Movie Nights to tabling events hosted at the Student Center, USG intends to increase its presence and promote student life at Brooklyn College. 
"I look forward to directly interacting with a larger group of Brooklyn College students and connecting them to all the resources we have as USG, all the resources we have at BC," Iqura Naheed, USG Co-President, told The Vanguard. USG members will continue following up on resolutions they passed down to administrators, addressing student issues such as registration and in-person class concerns. Naheed noted that the organization will request more access to its office from BC administrators, with the hopes of allowing students to speak to USG representatives directly about their problems and ideas. 
    "It's going to be a different sort of challenge next semester, we'll see how the semester unfolds," Naheed said. "And we're ready to take that on and make sure student voices continue to be heard."