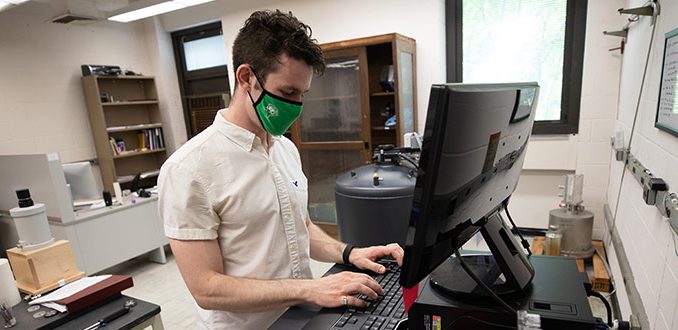 By Radwan Farraj and Gabriela Flores
   CUNY campuses have opened with 70% of courses scheduled in person since the shift to online learning nearly two years ago. Under New York State Governor Kathy Hochul, the university has implemented a vaccine mandate for all CUNY faculty and a new booster mandate for fully-vaccinated students. As the spring semester approached, the new guidelines left some students opting for limited remote courses and others calling for the university to implement remote accommodations. 
   "They definitely need to hear students from all walks of life, with or without disabilities, or whether they come from other marginalized backgrounds," said Austin Dragos, the president of Brooklyn College's Student Organization for Every Disability United for Progress (SOFEDUP), who is currently unvaccinated due to medical reasons. "And if they're not going to take that into consideration of any kind, then basically they're not really caring what students have to say." 
   Following the mandate established for students in May 2021, the updated COVID vaccine protocol now requires the vaccine for faculty returning to campus this spring. Professors are not currently mandated to be fully vaccinated before entering campus.
   "There's been very little clarity on what the vaccine mandate means for the faculty and staff side," according to Carolina Bank Muñoz, Chapter Chair of the BC Professional Staff Congress. Besides informing faculty of the requirement for the vaccination, there is "no news on the staff and even for the faculty, there's no clarity on timeline, exemptions. We don't know any of that," said Muñoz.
   The decision to require fully-vaccinated students to obtain their booster came in late December, with many students facing a deadline of Mar. 1, provided that they received the second dose of the Moderna or Pfizer vaccine five months prior, or the Johnson & Johnson single dose two months before Jan. 28. Students that have not met the five or two month requirement, and are attending in-person or hybrid classes, have up to thirty days to receive their booster once they become eligible. Those who remain not fully-vaccinated, however, are unable to register for in-person or hybrid courses this spring without medical or religious exemption, leaving a formerly pregnant Brooklyn College student struggling to return on campus. 
    "I just wanted to delay just until after my due date," said a student who wished to remain anonymous. Before knowing she was pregnant, the student had received her first vaccine dose, but wanted to postpone her second dose. 
   "Being a mom, especially a new mom, I ended up overthinking. I did research and some people say that's the worst thing you could do for yourself, but I couldn't help it," she said, listing the different anecdotes she read of the side effects pregnant women had after vaccination. "It was not something I was even willing to risk or put a thought into." The pregnant student was denied medical exemption after filing twice. 
    As of press time, CUNY "has total oversight over the medical and religious exemption process," according to BC Vice President of Student Affairs, Ron Jackson. Enrolled students could file for medical or religious exemption via CUNYFirst, where the university would evaluate their claims on a "case by case basis," per CUNY's website. 
    "I think they're very, very strict on the whole medical exemption vaccine. And I do understand why, there [are] probably other people who are finding any way possible to not get the vaccine or they're anti-vaxers, you know," said the anonymous student, who noted she supports vaccines. "But I feel like it's just not something that should have been denied or looked over," she stated, regarding her request for medical exemption due to her pregnancy. 
    Before the start of the spring semester, students across CUNY have signed and sent a letter to CUNY Chancellor Félix V. Matos Rodríguez calling for remote options to in-person classes. For Dragos, who worked alongside the University Student Senate's Disabilities Division that contributed in writing the letter, remote accommodations for students with or without disabilities/diagnoses are necessary. 
  "If CUNY's not gonna be flexible in any way, then why should people still have to continue spending so much money on tuition for an education that's just gonna keep flip flopping every time the administration wants to keep making changes that just don't even have any student consensus or anything of that sort," he said, noting that enrolled students may be immunocompromised, employed, or have other challenges. 
  CUNY has provided a weekly case tracker across its campuses, with 210 total positive cases across the university and 16 reported for Brooklyn College during the week of Jan. 24.