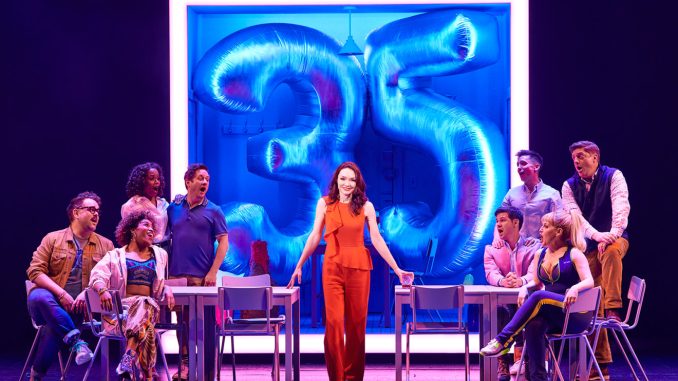 By John Schilling
   What am I doing with my life? Why aren't things working out the way I planned? How come it's happening for my friends but not for me? These are the questions that Broadway's recent revival of "Company" tackles, but does the stage classic hold up even 50 years after the original production? Yes and no.
   When Broadway shows resumed performances this past fall, "Company" was one of the most anticipated shows of the season, having first opened on Broadway in 1970 and winning the Tony Award for Best Musical. With music and lyrics by Stephen Sondheim and a book by George Furth, it is no wonder why the show is considered a classic and revered by many, especially as of late with the passing of Sondheim in late November.
   In this respect, "Company" is no doubt a showcase of Sondheim's finest work, but the rest of the show has been slightly reimagined to represent today's worldview. This is honorable as we see the inclusion of cell phones, weed vapes, a racially diverse cast, a gay couple, and further genderbent casting in which the 1970 show's main focus, Robert, also known as "Bobby," is now "Bobbie" (Katrina Lenk) in 2022. 
   Like before, "Company" focuses on Bobbie, her 35th birthday, how she is not yet married but all of her friends are, and how she tends to be the third wheel for many of them. It is through these friends, represented by five distinct couples, that Bobbie realizes marriage is not all what it is cracked up to be, and each couple has encountered a different struggle in their respective marriages. 
   Because the character of Bobbie has been reimagined as a woman, the context of a lot of the scenes have changed greatly; some for better and some for worse. The chauvinistic and perhaps misogynistic undertones that existed in the 1970 version are no longer present, and instead, take on a more feminist, empowering approach to the conversation of marriage. 
   What fails to resonate in this version, however, is that Bobbie is afraid of intimacy, and that is why she hasn't settled down yet. For those unfamiliar with the show's original context with Bobby as a male character, it now comes across as Bobbie trying too hard to find someone in an effort to get her friends off her back about being alone. You are left wondering: Why do they care so much about her being alone? Why should we care? The internal struggle of the character is not made as apparent as it once was.
   With this in mind, Katrina Lenk offers a fine performance as Bobbie, but she only stands out when she is the only person on stage for her three solo numbers: "Someone Is Waiting," "Marry Me a Little," and "Being Alive," all of which are sung excellently by Lenk.
   Lenk, however, tends to fade into the background during Bobbie's various interactions with her couple friends, as their comedic timing and rich chemistry with each other take up the spotlight and demand the audience's attention. Matt Doyle, Christopher Fitzgerald, Christopher Sieber, Jennifer Simard, and Patti LuPone, of course, are notable scene-stealers in this production. 
   These interactions are actually what works well for "Company" as they are the source of many notable moments in the show, including a comedic jiu jitsu match between Sieber and Simard; a stoned Fitzgerald blurting out obscenities; a show-stopping number sung mostly by Doyle called "Getting Married Today;" and a solo from LuPone called "The Ladies Who Lunch," which serves as nothing more than a chance to see LuPone do her thing and flaunt her talent. 
   Bobbie's interactions with all of these people, however, becomes superfluous as she heads from couple to couple back to back and so on. The show runtime is two hours and 45 minutes, and you feel the length as it makes you wonder why the show is called "Company" and not "Crowd."
   "Company" is largely helped by the fact that the show is actually funny, and the set is visually stunning and well-executed with what are essentially moving boxes, representing rooms, that connect with each other. You are bound to have some laughs when watching the show, but these laughs get tiring quickly and you may end up looking at your watch. Not because the show is torture. Far from it. The pacing is just hard to grasp, and you find yourself looking for the scene to move on and the show to continue so you can make your dinner reservation. 
   "Company," therefore, is too much of a good thing and lacks the essentials to help it reach its full potential and reclaim the praises of the original production.