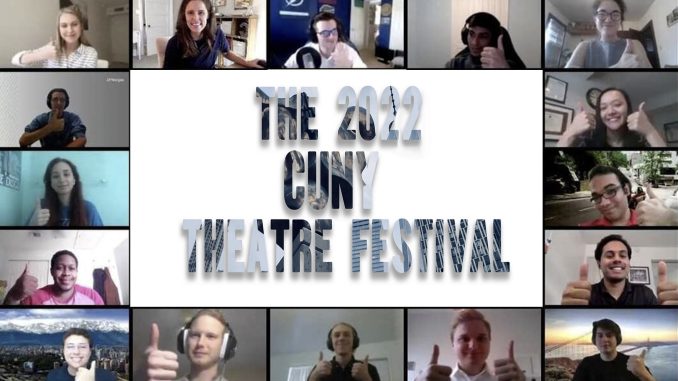 By Gabriela Flores
   In a night filled with freshly written work, monologues, and theatrical performances of all sorts, CUNY students showcased their talents and wits despite the pandemic's odds. This year's CUNY Theatre Festival remained virtual on Mar. 26, with creators making the best of their zoom stage – bringing everything from a reflection on Brooklyn's gentrification to a chilling play on cannibalistic siblings. 
   "These theater-makers from CUNYs all over the city have created new work, some upcoming works that are personal, true, and raw," said Amanda Santiago, a LaGuardia Community College student who was the event's master of ceremonies. "And especially after coming out of a pandemic, there's so much spiraling within us that we just want to let out, right?"
   Playwrights, directors, actors, and everyone in between the night's production represented different campuses, including Borough of Manhattan (BMCC), Brooklyn, Lehman, York, and others. 
   To kickstart the several performances, students Kayla Greene and Maite Martin from LaGuardia opened with original pieces that were created that morning during a devised theater workshop with Stefanie Sertich, a professor from their college. Greene performed "Are You Happy?," a reflective piece on the pressures that weigh on adults in American society. From earning a bachelor's degree to having children, adults are pushed to live with an absence of passions, according to Greene's piece. 
  "When I'm alone in the dark, I ask myself, 'Am I happy or am I pressured?'" recited Greene, later emphasizing her desire for putting happiness first. 
   In her own performance, Martin delivered "Memories Best Kept The Brooklyn Way." Backdropped by a photo of herself as a child, Martin reminisced about Bedford-Stuyvesant, when she and her dad went to Underwood Park for the day and got pizza after, all while living 15-minutes away from their former brownstone. As gentrification seeped into the neighborhood, she noticed just how much Brooklyn has changed. 
   "If I woke up tomorrow with amnesia, the memories I would want to return are my childhood memories in Bedford-Stuyvesant, Brooklyn, before gentrification hit the fan and ruined the charm," Martin opened, later ending her piece on how to spread love the "Brooklyn way."
   Followed by the two self-written works were monologues. The first on the night's schedule was Joshua Newkirk from BMCC, who played Enzo from "The Lotus Eaters Anonymous," a play written by BC student Nolan Patrick Frontera. With his zoom camera set up vertically, Newkirk wore a black sweater while performing as a recovering drug addict whose faith in God pulled him out of his darkest days when he shot up heroin. 
   "As I got higher and higher, the world just kept getting darker and darker – until it became too dark, and it took Narcan and a few slaps to the face to revive me," Newkirk recited. This snippet of Enzo allowed viewers to hear his arc, from being the one who needed help to now being the helping hand that aids those with similar struggles. 
   Right after Newkirk's Enzo performance was Avinash Nandlal with a self-written piece called "The Truth." Nandlal spewed his own truths and reflections of different issues that make up society, dictating his words with accompanying rhymes. 
    "[…] I'm giving a contract to my soul, but I refuse to sign. Cuz I define my life by every letter, word, and line. And I live for something I'd die for – what you find, what you're willing to go to war, for what's real is the truth," he closed his piece. 
    Shatisha Bryant from BMCC followed with three back-to-back performances that highlighted her greatness as an actress and undeniable talent in embodying each of her characters. In her first monologue from "Look At Me," by LaGuardia student Sheila Gilot, Bryant sported an orange bob wig and a black trench coat. She looked off-camera to address "her dad," and spoke of liking a man and being more than a good girl. For her second act, derived from Kayla Greene's "More Than That," Bryant took off her coat and wig to portray a character that was upset about being ridiculed for every little mistake she commits. Moving to the verge of tears, viewers saw just how versatile Bryant is as an actress. 
   With her third performance "Maybe I Was Meant to Survive," written by Myrlevens Adrien from York College, Bryant scrambled to her desk that sat in front of the camera while addressing her audience eye-to-eye. Though it is unclear where exactly her character was, one can tell she's undergoing suicidal thoughts and has swallowed her traumas without fully healing from their harms. 
    "[…] I've been constantly stabbed in the back by those who were supposed to protect me and love me. I swear…I don't have a victim's mentality," Bryant recited. "I know I'm at fault for what's happened to me. Whose fault would it be? I was always at the wrong place at the wrong time, and yet I survived." Though her character thinks of ending her life, she is adamant on staying on the track of survival again. 
   In the night's final set of acts, four 10-minute plays were curated and cleverly shown, each adapted to zoom screens. First up was "Bill," written by Jake Okula and directed by Mu-Hsi Kao. The piece centered around a former therapist named Billie, or Bill (Anabel Lugones), who quit her profession after a traumatic session with a patient. As she retells her experiences with Nick (G'Maeri Clarke), her own therapist, Bill has flashbacks speaking with her patients like Catherine, a "sex-crazed granny," played by Erica Jeudy.
  When Nick presses Bill on why she called it quits to her profession, Bill looks back on Dylan (Myrlevens Adrien), a patient who cried during her first therapy session but became stone-cold after. Similar to the Catherine flashbacks, Dylan's presence on the zoom screen comes as Nick's turns off. There, viewers were immersed into the day that pushed Bill to the edge: when Dylan brought a loaded gun (which actually turned out to be a water gun) to the appointment. 
    Dylan pushed Bill to tell her "the truth" of why she chose to be a therapist. As Bill rehashed the details to Nick, she was told what she'd always tell her patients: "Our problems, however big or small, will pass."
    Cutting the tension with even more drama was "Glory Whole," a play that was written by Leonardo Gonzalez Dominguez and directed by Curtis Howard. The night's attendees were the only ones able to catch an intimate look at foreplay gone wrong since the organizers paused the event's recording for the play's duration. 
    "Utica Ave" by Chelsea Allison followed, and was directed by Doreen M. Nemorin. Set on an empty subway station at Utica Avenue in January 2021, the play centers around Shan (Talimah Murphy) and Tracey (Za'Qerrah Wilson). Viewers catch Tracey leaving solo for Washington at 11:58 pm, with her girlfriend Shan asking why she wants to run away. Moments before she decided to buy a one-way ticket, Tracey explained she argued with her father about the same old issues. 
    "Same shit, different bark. Yelling about how I – look. How I talk. How he prayed for a son and got a dike for a daughter – said he wanted me to be a man so I can have some power," Tracey said. Though the audience didn't catch a glimpse of Tracey's father, it wouldn't be far-fetched to conclude he was abusive towards his daughter. 
    Though Tracey asks Shan to skip town with her, she declines. Murphy and Wilson's performances show the undeniable young chemistry between the two partners, but their unfortunate reality and circumstances are what audience members can assume will separate them. The scene closed with the train's arrival. 
    To conclude the eventful night filled with theatrical twists and turns, Maite Martin (Kira) and Shatisha Bryant (Shawntay) returned to deliver a chilling performance called "Family Meal."
    The production, written by Georgina Woo and directed by Jill Alday, was set in a post-apocalyptic world with two siblings sitting around a bonfire with meat cooking. Shawntay is the youngest sister, having just turned 12 the week before. Her sister Kira seemingly becomes her caretaker after their mother dies. On the zoom screen, viewers saw Bryant encapsulate a scared little girl, with a screen showing a bonfire placed right in the middle between her and Martin. There were no visuals of what creatures were attacking mankind in this fictional world, but Shawntay and Kira kept referring to them as "monsters." As the younger sister gets more scared, and the other tries comforting her, some secrets start to unravel. 
    While Shawntay describes how she knows that their mother killed their pet, presumably a dog, for food, Kira is taken aback. "She said we had to eat, or we'd die, and you ran away," Shawntay recalled. One thing led to another and Shawntay aired out another secret Kira hid from her: how the meat they were eating is their mother's flesh.
    "I wish you didn't bury the rest of her," Shawntay said, throwing audience members into a silent shock. "[…] Mom had more meat anyway," she said, closing the night's final act.