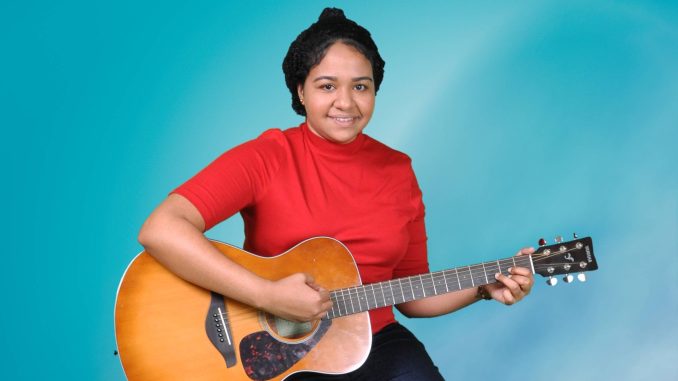 By Gabriela Flores
   After the pandemic caused many to deal with their own battles, BC student Christie Balcombe is looking to inspire others through her upcoming, self-written gospel album that will release on Monday, Apr. 18. Though this was her first time recording as a self-described "Christian artiste," her connection with music dates back to her choir singing days as a young girl. 
   "I think that music – it helps us to overcome things and to get into a happy place," Balcombe told The Vanguard. "It calms us. And I feel like sometimes the world revolves around music. You can't imagine life without music […]."
   Now at 24, hailing from the musically-enriched island of Saint Vincent and the Grenadines, Balcombe created 10 songs for her album "Victory in Jesus" alongside her producer Ryan Dodge. While she never recorded nor written music before embarking on this latest project, she is hoping this album will kickstart her musical career. Despite her newness to the recording scene, Balcombe seems to have tapped naturally into songwriting for "Victory in Jesus." 
   "I [was] just inspired by the spirit – as I pray, I write," Balcombe said, noting that her inspirations are "a gift from God."
   The album contains a title song, which Balcombe described to be about overcoming and calling onto God for help – a theme that carries itself throughout the remaining nine tracks. 
   "This song basically means everything to me because it's just like there were times in my life when I felt alone and God just came and was there with me," Balcombe said, "he reached out to me."
   Outside of her musical work, Balcombe is pursuing her bachelor's degree in philosophy at Brooklyn College, after transferring from Kingsborough Community College where she graduated with honors in liberal arts. Now in her second year at BC, Balcombe's first album will release the day after Easter Sunday, a holiday that celebrates Jesus Christ's  resurrection from the dead after being crucified. 
  "I put it on Easter Monday, which is the 18th – which speaks [to] victory because Christ conquers death," Balcombe said. After "Victory in Jesus" releases next Monday, Balcombe plans to continue devoting herself to her Christian music.