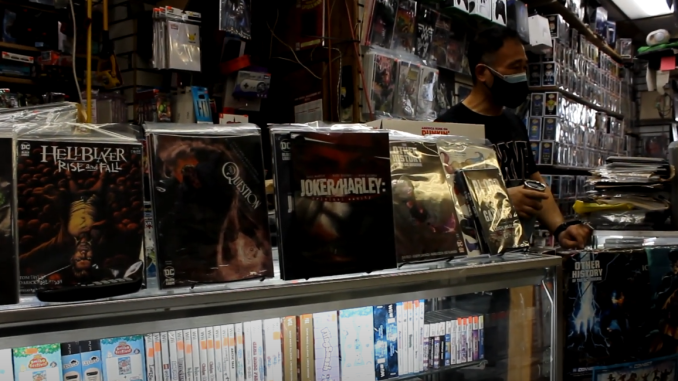 By Matt Hirsch
   On June 10th, 1992, Bulletproof Comics opened its doors for the first time. In the decades since, Hank Kwon, the owner of Bulletproof, made the storefront a home away from home for customers. Everyone who walks through his doors is greeted with a warm welcome. When the pandemic hit in March of 2020, the future of Bulletproof became uncertain. But after a thirty-year relationship with the local community, Kwon's regulars were prepared to support him in any way they could.
   "When COVID hit, there was a brief period for like a month, people were breaking into shops. Some people I knew well and some people I just knew casually and they came, and said, 'Hey, we're willing to defend the store for you,'" Kwon shared. "I was literally moved to tears. I was so touched. I mean just the outpour of support. People were buying stuff they didn't even need just to keep us going. I really appreciate that and I'll never forget it."
   According to research conducted between May 2020 and Oct. 2021 by the Office of the New York State Comptroller, nearly 30% of small businesses in New York reported "large negative effects from the pandemic." And in August of 2020, the New York Times reported that a third of New York's small businesses could close forever.
   When the lockdown came in March of 2020, Kwon knew he had to pivot quickly. As a business that depended on foot traffic to generate revenue, no storefront meant no income. "I didn't think it would hit us that fast. That it would actually affect businesses and shut us down," said Kwon. "But when they had a mandate to close the store, I was a little bit worried. There was no plan. We shuttered the gates and we went to social media and we started to sell stuff online." But the community that Kwon built wouldn't allow Bulletproofs doors to close forever.
   Finally, after Bulletproof was able to reopen, Kwon got right back to business as usual. Except, something had changed. Instead of people happy to be out in public again, Kwon noticed there were more problem customers than ever before. People that would act aggressively towards other customers or Bulletproof staff. The odd confrontation that would happen once every few months or so became a weekly occurrence.
   "We're in a very central area of Brooklyn, a very busy area. And we get thousands of people passing in front of the store. And we used to get somebody with an issue maybe three times a year," said Kwon. "But now we are seeing it on almost a weekly basis. Sometimes two, three times a week. When they start bothering the customers and being aggressive and I would have to ask them to leave in a very respectful manner. But sometimes they get violent, so I would have to literally, physically remove them."
   The reopening experience wasn't completely negative, though. Even though Bulletproof has exclusive deals with industry titan DC Comics, he's built relationships with up-and-coming comic authors and artists. Kwon was able to forge new connections in the comic book world during the pandemic. In August of 2021, Kwon set up a signing for indie comic author Patrick Hickey Jr for his book Condrey.
   "Local comic book shops are everything…Hank is one of those people that, not only gives opportunities to independent creators to do signings, but he also mentions them on his [Facebook] Live," said Hickey. "Someone showed him my comic book and he asked that person to send me down to the store. He didn't know me from a hole in the wall and he wanted to arrange a signing."
   Though Kwon displays and sells the work of small comic creators and huge industry names alike, it's the customers that walk into his shop that make Bulletproof special to him.
   "It just flew by so fast. And I keep mentioning it, and it's so true. It's been a 30-year love affair with my customers and you know, customers no longer become customers. They become friends. Not just casual friends, we become really good friends," said Kwon. "One day if I retire, and it's gonna happen. I'm not getting any younger. I'm gonna miss the customers the most."