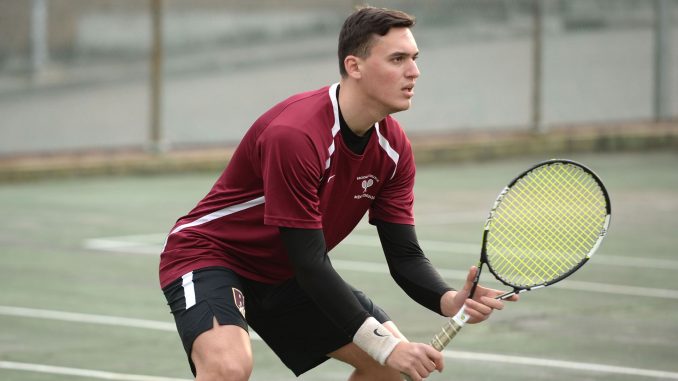 Men's Tennis Looks To Rally After Rough Week
By Owen Russell
   After starting the season with a 4-1 record, the men's tennis team stumbled this past week, dropping two of their three matches.
   The Bulldogs hosted Lehman College for a conference matchup on Apr. 12, showing out against their conference rival and securing a 7-2 win. Brooklyn did its work in the doubles competitions, winning all three matches. Sophomore Aymen Kuc secured victories in #1 doubles and #4 singles, which helped Brooklyn defeat its CUNYAC competitor.
   After winning its fifth straight, Brooklyn dropped its next two decisions starting on Apr. 13 against Baruch. The normally strong Bulldogs could only capture one victory on their way to a 1-8 loss. Brooklyn's only victory of the day came in #6 singles, as John Kondouroudas beat his opponent after three tightly contested sets. It was a rough day for a Brooklyn team that has experienced plenty of success this season.
   The Bulldogs would yet again lose 1-8 against Ramapo College on Apr. 20. For a second straight time, the Bulldogs swept in doubles competition. Brooklyn's sole victory of the day came in #5 singles as senior Christian Pena handled his opponent in two straight sets. It was another tough loss for the team that looks to rally in the coming weeks.
   Brooklyn marches towards the playoffs now and will get a chance to build momentum on Apr. 26 against Farmingdale State College.
Women's Softball Wins Two, Loses Ten
By Owen Russell
   Brooklyn had its hands full these past two weeks, playing a total of twelve games (six doubleheaders) and winning only two.
   Brooklyn's first doubleheader came on Apr. 11 against Lehman. The Bulldogs battled hard against the Lightning but eventually came up short, losing both games by three runs or less. First base Stella Witkowski lit up the scoreboard for Brooklyn, totaling four RBIs, six runs, four walks, and a stolen base over the two games. The Bulldogs lost game one 8-10, and game two 10-13. For a Brooklyn team that has had trouble scoring runs this season, the showing was not all bad.
   Two days later, on Apr. 13, the Bulldogs suffered another two-game sweep. This time against John Jay. The Bloodhounds beat the Bulldogs 9-3 in game one and game two. Shortstop Chanel Jemmott led the way for Brooklyn on offense this time around, scoring four hits, two RBIs, and two stolen bases over the two games. With the loss, Brooklyn found itself falling even further in the CUNYAC standings.
   Brooklyn's skid would continue on Apr. 15 against Baruch in yet another doubleheader. The Bulldogs had already suffered a two-game sweep to Baruch earlier this season. Brooklyn lost the first game 1-9 in five innings with its sole run coming on a passed ball in the fifth inning. Brooklyn bounced back in game two, but ultimately still lost 9-10. First base Stella Witkowski led Brooklyn's offensive charge with three RBIs, including one home run. The Bulldogs showed their scoring capabilities despite the eventual loss.
   Brooklyn's skid didn't end there. On Apr. 20, Brooklyn squared off against Lehman for the second time in ten days, losing another doubleheader to the Lightning. In game one, Brooklyn lost 5-12. Catcher Zoey Van Vleet was responsible for Brooklyn's three earned runs, with two hits and three RBIs. Brooklyn also scored twice on errors. Game two saw Brooklyn lose 2-14 in six innings. The game started well for the Bulldogs. Brooklyn scored its only two runs in the first inning and held Lehman scoreless. After that, the Lightning poured it on, scoring 14 unanswered runs. With the loss against Lehman, Brooklyn had suffered an eight-game losing streak.
   The Bulldogs finally found a victory on Apr. 21 against York College. The Bulldogs swept the Cardinals and beat them by a combined 27 runs. In game one, pitcher Danielle Guzzardi held York scoreless and only allowed two hits. She also struck out ten batters along the way. Brooklyn won game one 15-0 in five innings. Game two saw another impressive offensive output. The Bulldogs compiled 15 runs and only allowed two, beating York in five innings once again. Stella Witkowski hit a home run along the way, her second in one week.
   Brooklyn could not build upon its success against York when the team faced Hunter College on Apr. 22. Brooklyn was held scoreless on its way to two double-digit losses. Game one saw the Bulldogs lose 0-13, and game two saw them lose 0-10. It was not an ideal outcome for a Brooklyn team that needs as many wins as possible heading towards the postseason. 
   The Bulldogs will look to rack up as many wins as possible before the end of the regular season. Their next chance will be a doubleheader against York College on Apr. 27.