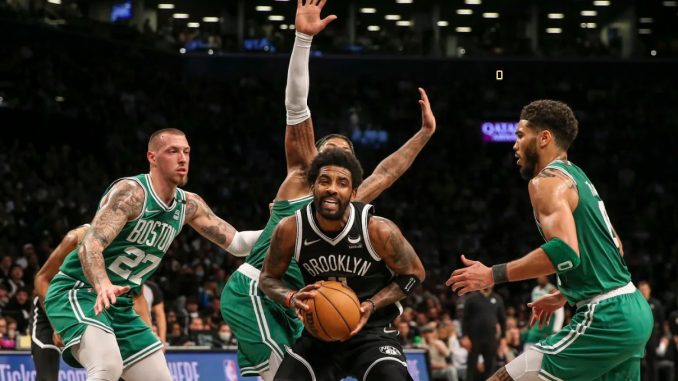 By Johan Abdu
   Bring out the broomsticks, Boston, because the Nets have been swept. 
   The Nets looked hopeless on Monday, Apr. 25, losing 116-112 in their fourth game in a row to the Boston Celtics, being eliminated from 2022 NBA Playoffs' fourth round.
   After a close 115-114 loss in Game 1 two weeks ago at the Barclays Center, the Nets were still a bit more confident that they could challenge the Celtics. The game was tight and nearly went Brooklyn's way: its 53.8% field goal percentage beat Celtics' 47.2%. The team also made more three-pointers than Boston did and generally played better. 
   It was Game 2 last Wednesday, Apr. 20, that showed why Celtics' defense is considered the best in the league. The trident of Jaylen Brown, Jayson Tatum, and Marcus Smart has been sensational in one of the most dominating playoff performances in modern-day NBA Playoff history. This young trio has the stamina and versatility to box out and challenge some of the best scorers in the NBA, to the point of forcing turnovers. Game 2 ended 107-114, with coach Steve Nash saying their loss proves their lack of continuity. 
   "We just haven't had any continuity for the two seasons," Nash told ESPN. "That's our challenge, and we've got to embrace that. And see what reward there is in embracing that challenge and trying to overcome."   
   Saturday night, Game 3, was just more of the same: all talk was on this stellar Celtic trio playing against the Nets. Despite a solid performance during the game's second half by Blake Griffin, both defensively and offensively, sloppy possession led to 18 turnovers and 22 personal fouls. Tatum and Brown outscored Nets' Kevin Durant and Kyrie Irving 62-32, and Smart's ability to match the pace of the Nets attack and his playmaking earned him NBA's Defensive Player of the Year. Smart is the first guard to win it since Gary Payton in 1995-96 and the sixth guard in NBA history to earn the title.
   With James Harden traded to the Philadelphia 76ers – and Ben Simmons essentially ruling out Game 4 because of back pain issues along with poor team chemistry – the future of the Nets, with or without a Fourth Round Playoff exit, seems to be falling out of whack.
   Two days later, on Monday, Apr. 25, the Nets were in desperate need of a championship-winning performance just to compete with Boston in this playoff series. From the first minute, there were glimpses of a better overall performance. Durant didn't go down without a fight, bouncing back with a solid offensive performance and game-high 39 points: 13-of-31 shooting from the field and 3-of-11 from three-point range. He also made seven rebounds, nine assists, a steal, and four turnovers in just 47 minutes of play.
   Irving, who was pretty passive on the offensive end for a majority of the contest, finished with 20 points on 6-of-13 shooting overall and 2-of-3 shooting from behind the arc. In the end, Boston's hulking defense and nimble counter-offense were too much. Boston had won all four games and swept the Nets for the fourth time in playoff franchise history – and the first time for both Durant and Irving. 
   As the Nets recuperate from one of their worst performances, Irving, who missed most of the season due to his refusal to be vaccinated against COVID-19, stated his intentions to stay and rebuild the team amid rumors of exiting the Nets.
   "I don't really plan on going anywhere," said Irving to reporters after the game. "I'm just looking forward to the summer, just building with our guys here." 
   For a team that was tipped to reach the Playoff Final this season, only time will tell if this star-studded squad can bring a title to the Big Apple soon.