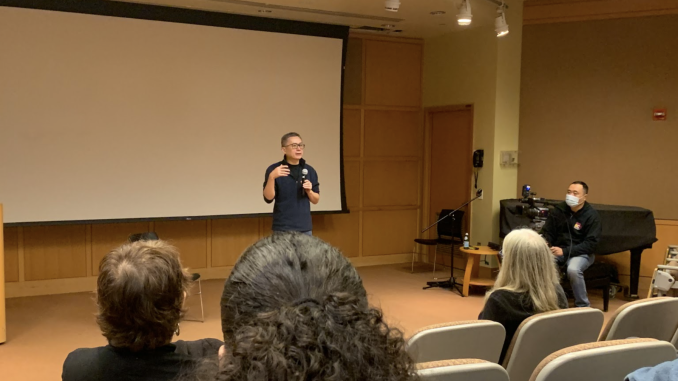 By Johan Abdu
   It's been 40 years since the tragic 1982 murder of Vincent Chin, an Asian-American beaten to death by two white autoworkers in Detroit, Michigan during the height of the American automotive industry recession and the rise of Japanese cars. On Monday, May 2, film producer Curtis Chin, who's unrelated to the victim, came to Brooklyn College to screen his documentary "Vincent Who?" and discuss the case's significance. 
   "I grew up in the inner city of Detroit," said Curtis. "His death actually had the biggest impact on me because it really shaped my identity as an Asian-American because it forced me to ask questions about where we sit in the justice system."
   The murder sparked outrage and activism around the country as the killers served no jail time, and were given a $3,000 fine and three years probation. Judge Charles Kaufman explained his decision at the time by saying "these weren't the kind of men you send to jail."
   The majority of prominent politicians and government officials ignored the case, as it predated most hate crime laws in the United States. However, Vincent's death spawned protests in the months following by members of the Asian-American community all over the country, who demanded justice and civil rights. Today, Vincent's murder is still seen as a turning point for activism.
   "There were so many stories that humanized the two killers, about the auto industry having a tough time," said Curtis. "And I just feel like as Asian-Americans or people of color in general, the more we could take these different modes of controlling our own story by videotaping things and showing the truth, then we can control our own narrative and I believe now that's sort of happening."
   Curtis wrote and produced his documentary "Vincent Who?" in 2009, detailing the case, its aftermath, and whether or not the Asian-American community is even aware of its significance. 
   The film has been screened in colleges nationwide, with "Vincent Who?" receiving the 2009 Multicultural Media Award by the National Association of Multicultural Education. 
   The film has since been used in many Asian-American Studies classes in the United States, including at Brooklyn College, reminding the public of an example of a historical event that depicts racism against people of color during a turbulent time for civil rights in the country. 
   The film featured Curtis himself as well as prominent activists, actors and actresses, lawyers, and creatives who were massively inspired at the time or later in life by this event. They collectively sought to remind others in the Asian-American community to speak on their own rights and not standby as witnesses.
   When speaking about how activism in today's political sphere can continue, Curtis expressed that people shouldn't wait for the next person to suffer first before taking action.
   "Part of making this film is that we don't need to wait for the next awful thing to happen to remind ourselves and that's why you have to remind yourselves to continually do the work," said Curtis. "The reason we do this is so they don't happen again."
   Curtis has since been a leader in activism in his community and served on President Barack Obama's Asian-American Leadership Council in 2009.
   He continued his documentary work after attaining success as a television writer with works like ABC's "According to Jim" and Disney Channel's "American Dragon: Jake Long." 
   Curtis is currently working on a memoir of his childhood entitled "Everything I Learned, I Learned in a Chinese Restaurant." He is also in production for "Our Chinatown," a documentary about the different Chinatown communities in America as seen through their members.