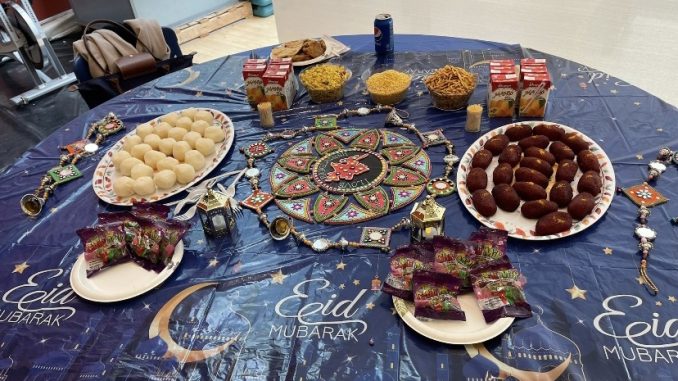 By Serin Sarsour
   Brooklyn College held a CUNY-wide Eid al-Fitr community celebration on Wednesday, May 4 with the efforts of several clubs. 
   "The Eid celebration was great!" said BC junior Fatimah Kezadri. "I met many new people and enjoyed the food, music, and socializing. Looking forward to another one."
   Eid al-Fitr is one of the two main holidays that Muslims celebrate every year, the other being Eid al-Adha. Eid al-Fitr, in particular, is when Muslims celebrate having fasted for 29 to 30 days prior to that day; the month that Muslims fast annually is called Ramadan. Along with their fasting, Muslims pray five times per day and read their holy book, the Quran, in order to further their connections with God. Muslims also partake in good deeds, such as donating money to charity. Donating money to charitable efforts every year is one of the five pillars of Islam called zakat.
   "My favorite part about Eid is getting dressed up and going to Eid prayer with family," added Kezadri.
   The event was held at the West Quad and was put together by the Muslim Women's Leadership Project (MWLDP) and the Women's Center with help from several clubs, including Bridges for Yemen, Students for Justice in Palestine (SJP), Muslims Giving Back, the Islamic Society, Muslim Women's Educational Initiative (MWEI), the Office of Diversity and Equity Programs, the Bangladesh Students Association (BSA), and S.A.I.L.
   Similar to Ramadan, one of Eid's purposes is to bring the Muslim community together. "It [Eid] brings families and friends together to have a great time full of fun and happiness," said Eman Saleh, a junior at BC who forms part of Bridges for Yemen and serves as the treasurer of SJP.
   This year, Ramadan lasted 30 days and Eid al-Fitr fell on Monday, May 2, which was celebrated for three days. During the holiday, Muslims wear their nicest clothes, usually from their specific cultures, exchange gifts, and pray and eat with their loved ones.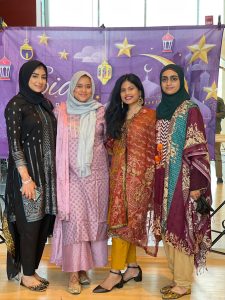 At BC's Eid celebration, games, a photo booth, henna, club tabling, and food were offered. "The framework was sort of like an Eid bazaar where we get to see and showcase different cultures and practices that take place during Eid," said Fahria Orine, the president of Muslim Women's Educational Initiative (MWEI). A bazaar is similar to a marketplace where multiple shops and stands are available to the public. Each table that was present at the event represented different clubs and cultures at BC.
   "My favorite part about the celebration was seeing the entire Muslim community from different cultures celebrating Eid together with their own cultural spirits," Saleh said. "Also, it was great trying the dessert from all the different cultures that attended the events."
   Over 80 people attended the event and represented their cultures proudly through their attire. The event was meant to celebrate and highlight the cultural diversity at BC, all while bringing the community together.
   Although the celebration was a success, the clubs and organizations involved in the planning and assembling of the event faced a couple of obstacles. 
   "I would say the only challenge was timing since it was on day three of Eid and we were all trying to plan what to bring to the table," said Orine. "In the future, we hope to showcase the cultures of a lot more of our members and also provide history as to why we celebrate Eid as Muslims."
   Students like BC senior Shuma Easmin look forward to attending future Eid celebrations at BC. "I am able to learn about so many different cultures and [being] able to interact with them is an experience that I always look forward to," said Easmin, who is also a member of the BSA.
   Those involved with the celebration have a few suggestions for similar events in the future. "Having it outside so non-Muslims can see the way different cultures/Muslims celebrate Eid would be nice," Saleh said.