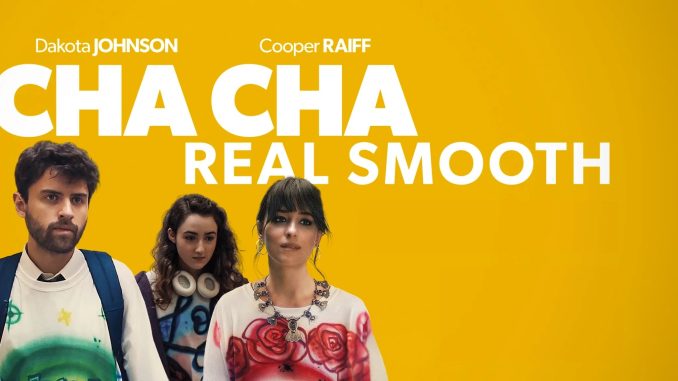 By Alexandria Woolfe
   "Cha Cha Real Smooth" was released on Apple TV+ along with a limited release in theaters. The movie, which runs just under two hours, deals with various themes, but the most striking being what comes next for post grad students?
   The title is a lyric taken directly from the party song "Cha Cha Slide," setting the tone for the story of Andrew (Cooper Raiff), who is fresh out of a bachelor's program and fighting to keep the fun, youthful energy of college after graduation. 
   Andrew returned to his hometown New Jersey after his years at Tulane University in Louisiana, taking a fast food job to keep money in his pockets. On an outing to a bar mitzvah with his little brother, opportunity rises and his dreams come true when he becomes a "jig conductor," as he cheerfully dons. 
   During his first gig as jig conductor, he meets Domino (Dakota Johnson) and her autistic daughter Lola. As they sit in the corner, locals spin the rumor mill about Domino's history and what kind of mother she is, prompting Andrew to want to get to know her even more. As the film goes on, he takes on other jobs centered around the girls as an occasional babysitter to Lola and shoulder to cry on for Domino.
   Other themes explored are raising a child with a mental disability, living with a loved one who has a mental disorder, as well as fertility issues. In a scene in which Domino has a miscarriage and is severely ashamed of discussing it, coincidence strikes as the hushed tone of the scene feels more intense with the fact that the film's release came one week before Roe v. Wade was overturned by the Supreme Court.
   Though the film has a general feel good energy, there are still numerous plot points that fall short. Domino is regarded as the town "slut" even though she has a fiancé (Raúl Castillo) she apparently cares for and doesn't come across half as loose as others portray her.
   Domino and Andrew's relationship also carries a strange tone. For Andrew, she's intriguing and more adult than him so the appeal as a fresh adult is there but Domino's interest in Andrew is left almost completely up to interpretation until the end of the movie. At that point, she is also not willing to explore the obvious feelings she has for Andrew because he's not mature enough in her eyes and her fiancé can do more to help her support Lola.
   Circling back to Domino's fiancé, Joseph, he is introduced as a hardened lawyer based mostly in Chicago with allusions to cheating on Domino. This inference is made through Andrew's eyes as his perspective is the sole view we get to see. 
   Another major flaw that is brushed over is that Andrew's mother is bipolar, which is mentioned in passing for the first time in the third act of the film. Even when Google searching the film, the plot doesn't reveal that everyone treats her like a glass object because of her diagnosis.
   The ending as well feels poorly constructed. Andrew and Domino go their separate ways like they never met, with Andrew now having a more stable footing in life and Domino as well, being able to commit to and marry Joseph. It is thought that the two never see each other again, even though they each have a relative attending the same school.
   The film could have been stronger in terms of plot but where it lacked in plot strength it definitely made up for in characterization. The characters are all very easy to love and laugh with. A highlight of the film is the child actors. Especially Evan Assante and Vanessa Burghardt who play Andrew's brother David and Domino's daughter Lola, respectively. 
   The portrayal of Lola as an autistic child didn't feel gimmicky or like she was a token character. She is an autistic child, played by an autistic actress, alienated by the students in her grade for it but also a really beautifully written character in a film that would fall a bit flat without her addition. 
   "Cha Cha Real Smooth" ends up being very heartwarming in the end, despite its flaws. It doesn't have to be a strict and complex storyline to be enjoyed. It felt fresh and fun given the state of the nation currently and really relatable to myself as someone soon to graduate with a bachelor's degree.