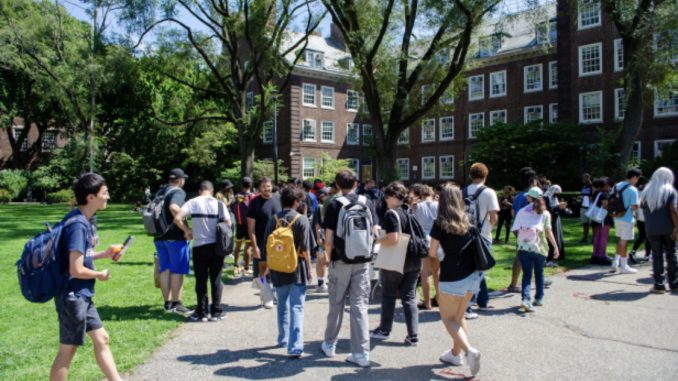 By Michela Arlia 
     Common hours on the quad were vibrant once again as the Involvement Fair returned for the second time in person since CUNY's COVID-19 shutdown. Pathways on the lawns of campus were lined with tables on Tuesday, Aug. 30, where students could learn about active student clubs and organizations at BC. Organized by the Student Activities, Involvement, and Leadership Center, students were able to speak with various clubs, student government, sororities, fraternities, and even our very own BC Vanguard.  
    Leading up to the start of the fair, the Undergraduate Student Government held a formal assembly in the Claire Tow Theater of Whitman Hall, where students were introduced to USG members with more than enough pizza to go around. 
    "The idea was basically for people to know that student government exists," said USG President Aharon Grama, noting the convocation had a high turnout. "I know that unfortunately on many campuses in CUNY, people don't know about it." 
    Grama continued to comment on the shift USG has taken this year, saying goals have been put in place to increase student life and events so that there is more community involvement on campus. 
    "The way that I'm looking at it, USG last year or even the year before, we were building the foundations," said Grama. "Now it's time to play game, to be a team player to make sure the student events actually work, so we made sure that the cabinet, the team, they all know the emphasis right now is on events and letting clubs as much freedom as possible to create their events that they need to do."
    Initial reactions from the success of the club fair left some clubs and organizations surprised with how many people showed up, linking turnout to pre-pandemic times. 
    Skyla Medina, president of Stuck in the Library, a literary magazine for poetry and short stories on campus, said turnout was a lot more than she expected. 
    "We even ran out of some merch cause we didn't think we needed to bring all of it out,    which was crazy," said Medina. "At some points there were three of us talking to separate groups at a time so it was pretty cool and reminded me of before COVID a lot."
    Adri, president of the LGBTQ Alliance on campus, was thrilled to open up her first semester in her new role with such a vibrant campus event. 
    "I was a bit involved in my first year here, but then obviously there was a big downturn in club activity because of COVID, lots of people were doing distance classes and feeling very disconnected of campus life," said Adri. "Now that people are returning, there's a lot more activity, which we're hoping to capitalize on."
    The focus of most, if not all groups on campus this semester is to increase involvement, and to pull students out of the virtual world they have come accustomed to in the past two and a half years.
    "The LGBTQ Alliance was almost dead a long time ago with a lot of clubs over the COVID period, but we're hoping to revive it going into 2022," said Adri.
    Along with the excitement of meeting new students and exposing them to the various student opportunities BC has to offer, club members expressed that it was their first time meeting their fellow board members in person. 
    "My first time meeting all the new staff was [today] at the Involvement Fair… but it is nice to know [the] staff in person now cause I never met the majority of the staff cause they all joined from March 2020 to March 2022 so it is pretty odd but nice," said Medina.
    The S.A.I.L. Center on campus did not respond to the Vanguard's request for comment on time for publication.