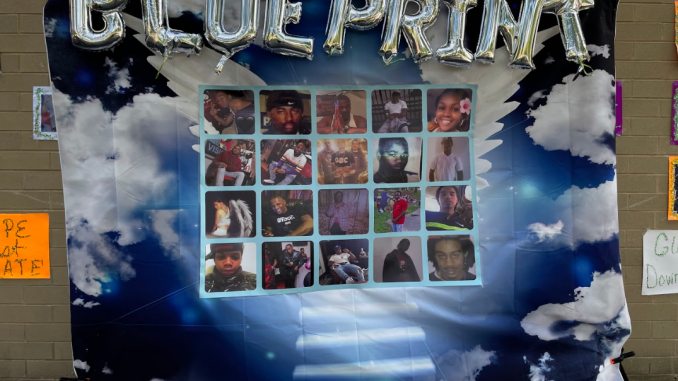 By Samia Afsar
   Brooklyn non-governmental organizations, D.R.U.M (Desis Rising Up & Moving), and BluePrint, held a back-to-school event to educate Flatbush's youth on the importance of community and gun safety on Saturday, Sept. 10. 
   "We put together this event to give out school supplies to kids and to let them have a day to enjoy music, eat food, dance, and let them have fun before school starts," said D.R.U.M's community coordinator, Stephen Thomas.  
   Held at the School of Science and Technology's community playground, located on Bedford Avenue, the back-to-school event drew families from around the neighborhood to indulge in a day of relaxation and remembrance, honoring those who have fallen victim to gun violence. 
   "Just look," said Thomas, as he pointed to the crowd of families dancing along to music, children playing games, and neighbors conversing. "How many times do you go to a park and see a community gathered like this?" he said.   
   As D.R.U.M's community coordinator, one of Thomas' many responsibilities includes overseeing the successful completion of such projects and events. Saturday's occasion was one he believed to be crucial in mitigating the increase in gun-related crimes Flatbush has seen in more recent times. 
   "By doing this right here, we're creating a change, so that when these kids grow up, they'll be able to communicate, as opposed to just seeing outsiders as a threat and immediately picking up a gun or trying to fight," Thomas said. "These types of events will always work because they enrich the community by having older people connecting with the younger generation. They work because we all guide each other to the right path."
   Shooting incidents increased by 13.4% for the month of July in comparison to the year prior, according to the NYPD's citywide crime statistics released last month. Similarly, murder rates increased for the same month by 34.3%, continuing a dismal trend. 
   "It's nice to see all the kids playing, dancing, and having fun, but it's even better knowing they're understanding the importance of keeping your community safe,"said 39-year-old  stay-at-home mom, Simone Williams. "I see the news and start to worry about my own kids. It's important to me to know they're being taught the difference between good and bad."
   D.R.U.M is a membership-led organization, founded in 2000, consisting of low-wage South Asian and Indo-Caribbean immigrants, workers, and youth in New York City. Their long-term vision is to build up the power of immigrant workers in the United States in unity with all workers and communities for human rights. Similarly, BluePrint describes itself as the "next generation non-profit," catering to the younger generation to promote social rather than technological advances in the nonprofit sector. 
   "The best words in the world are 'love yourself and love each other,'" advised Thomas to the neighborhood youth. "You'll have less drama, less negative energy, everything will be positive, and you'll be alright."