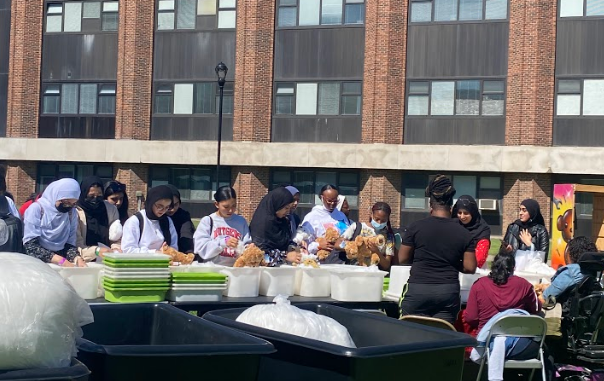 By Serin Sarsour
   Brooklyn College students, staff, and faculty were welcomed into the fall semester with a Bulldog Welcome Bash hosted by the Undergraduate Student Government, Student Affairs, and the Student Activities, Involvement, and Leadership Center this past Thursday, Sep. 15 during common hours. The event was initially set for Tuesday, Sept. 13, but due to weather conditions, it was postponed.
   "It's something fun… I feel like it brings out a bit of something different around the campus, something to do and to connect with people," said BC student Maria Manoloudi.
   The bash consisted of music, laser tag, games, such as the classic bean bag toss game, campus resources, giveaways and prizes, and snacks, including cotton candy made right in front of the guests.
   "I just like how everyone's here and just having fun, it's really nice," said Khairia, a BC sophomore who was waiting in a line to build her own bear.
   Kevin Ramirez was another BC student who attended the welcome bash at the West Quad.
"I think, similar to the job fair, it's a good way to interact with people, so it's a good thing Brooklyn College is doing this," he said. 
   Manoloudi expressed that the music was a good call as it "made everything a little bit more fun." On the other hand, Ramirez voiced that the laser tag game was one of his favorite aspects of the bash.