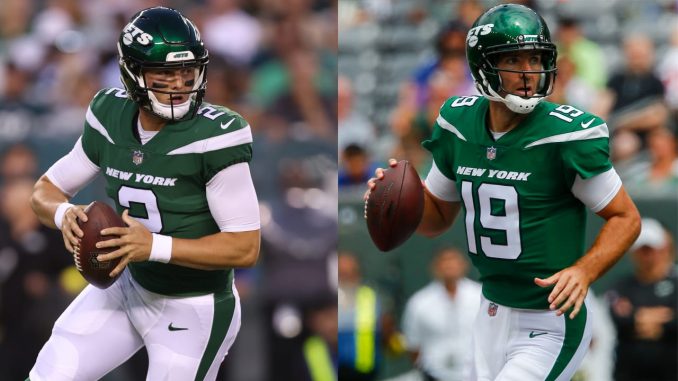 Owen Russell
   Jets fans and football viewers alike were stunned on Sunday, Sept. 18 when the ghost of Joe Flacco threw for 307 yards, four touchdowns, and an exceptional passer rating of 110.7, against the Cleveland Browns. At 37-years-old, backup quarterback Joe Flacco had not won a game since joining the Jets in 2020. To make the situation even more improbable, the Jets trailed by 13 points with 1:55 seconds left in the game. Despite a 99% chance to lose with 1:55 left, the New York Jets did something utterly uncharacteristic – they won.
   "I love the way this feels," head coach Robert Saleh told reporters after the game. "You've gotta find a way to stack them up. There's a lot of stuff we need to clean up. But I'm proud of these guys because we didn't quit." Saleh has every right to feel good about Sunday's outcome. Since Saleh took over the team in 2021, he's posted a dismal record of five wins and 14 losses. And for that reason Jets fans may be wary to celebrate a regular season win, especially since they got trounced opening weekend. But a shift appears to be on the horizon for Gang Green. 
   Robert Saleh laid down the gauntlet while speaking to reporters on Sept. 12 when he claimed that he and his staff were "taking receipts" on any and all negative comments thrown their way. The New York Jets have served as the NFL's punching bag for a while now. Despite one Super Bowl win back in 1969, the Jets have been historically bad earning the sixth worst winning percentage since entering the league, and the third worst record since 2010. Though Saleh and his team are surely aware of the bad energy swirling over their heads, they refuse to listen to any noise.  
   "We wanted to make a statement," Jets rookie wide receiver Garrett Wilson told reporters after the win. Wilson certainly led by example. The first-year receiver from Ohio State pulled in eight receptions for 102 yards and two touchdowns. Wilson's second touchdown came with 22 seconds left and secured New York's miraculous comeback. The rookie displayed great poise for just his second game in the pros.
   It is the combination of players like Wilson, and the attitude of Saleh, which will reinvigorate the struggling franchise. One key piece of evidence that Jets may be on the upswing came from an unlikely source, the Special Teams unit. The Jets ranked 31st in punting, and 32nd in kicking in week one's loss to Baltimore. New York's kicking units came into Sunday with something to prove. 
   Punter Braden Mann stepped in ways most punters could never. Sure, his punts were solid (net average of 44.0 yards), but his dazzling trick plays put people on notice. Mann converted an ever exciting fake-punt pass to keep a drive alive, which ended with a Garret Wilson touchdown. But most impressive was his onside kick. Trailing 24-30 with no timeouts left, Mann executed a perfect onside kick perhaps only achievable in Madden. "It was the onside kick." Robert Saleh told the press. "Once that happened, there was no doubt we were scoring…" 
   It may be foolish to look at one win and declare that change is in the air. Jets fans have been burned before. Whether it be the failed promises of Rex Ryan, or the firing of Bill Belicheck, the New York Jets have had not a whiff of luck. But that's exactly why Sunday's win means something. Just last season the Jets blew a 14 point lead against Tom Brady and the Buccaneers. What a difference an offseason can make. The Jets will hope to build on this momentum as the season continues. They host last year's Super Bowl runners-up, the Cincinnati Bengals, on Sunday, Sept. 25.