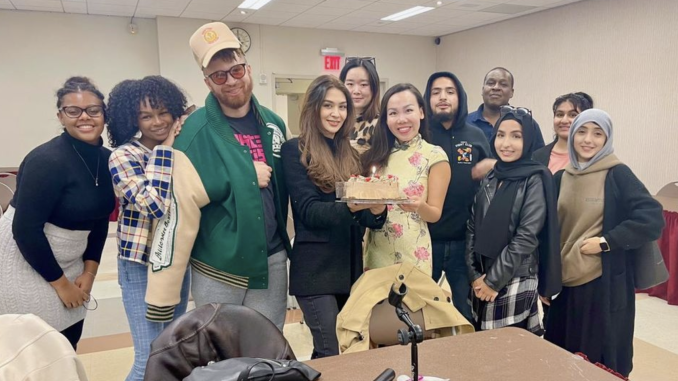 By Serin Sarsour
   As a melting pot of fashion, New York City stands out with visionaries and designers looking to make their mark in a growingly competitive industry. For Brooklyn College students looking to build and sell their brands, Professor Ngoc Cindy Pham is ready to share her knowledge of marketing, the fashion world, and her connections to New York Fashion Week, one of the globe's most famous runway events. At the heart of her mentorship for students, Pham seeks to uplift up-and-coming designers and women entrepreneurs. 
   "I feel like I can practice what I preach," Pham told the Vanguard. "[…] I love to see young females have a chance to dress up nicely and make it a career because society usually thinks pretty girls are not smart, and smart girls can't be pretty, but we can be both."
   Pham is very proud of the students who sit in her classrooms, as well as the alums who've left them. Samantha Chan graduated from BC in 2019, but she still attributes Professor Pham for showing her the ropes of the marketing and fashion industries. Today, Chan is an executive assistant to a popular social media/fashion influencer, along with being a freelance stylist and interior designer. She has also photographed for brand campaigns, such as Gucci, Toyota, and a Refinery 29 article. Chan's passion for fashion came from an early age, with Halloween in particular sparking the young creative's interest.
   "I've always loved Halloween and it's that one day of the year that we can be whoever, whatever you want to be. And I luckily had a pattern maker and my grandma helped me create my Halloween costumes, which was a memorable part of my childhood," said Chan. She also credits the show "Project Runway" for contributing to her fashion upbringing and giving her ideas for outfits to recreate with her grandmother, such as a dress made out of newspaper.
   For other creatives mentored by Pham, their start in designing came during the pandemic, when the fashion industry and others were forced to remain afloat despite physical constraints. The COVID-19 lockdown, for instance, allowed BC student Orly Argueta to explore and expand her fashion interests. At the time, she wanted to better herself and soon came to develop new forms of self-expression. Sewing eventually became very natural to Argueta and she began to use her new-found skills to cope and express herself through her designs' art and storytelling.
   "When I think of the brand I want to create, or at least when I am creating, I want to be honest with what I do. I am also interested in the sustainability aspect of fashion because fashion in itself, while it is very beautiful, there are also many aspects of it that aren't as environmentally friendly," said Argueta.
   Argueta has been working on developing her family's traditional handmade handbag and clothing line by using scraps of fabric. She recently finished a bag that she named "Frank." The name is meant to be taken in both a metaphorical and literal sense. For one, she is honest and frank in her work. Additionally, since her work is made out of scraps and has multiple parts, calling the bag "Frank" is a reference to Frankenstein.
   Though Argueta already has a unique vision, she is taking Professor Pham's BUSN 3125 (Principles of Selling) class this semester to learn how to promote her fashion line and brand, as well as to gain knowledge of how to fill out the paperwork that comes with it.
   Nigora Akhmedova is another BC student and fashionista Professor Pham has guided. After taking one of Pham's classes last semester, she received the opportunity to accompany Pham and participate in NYFW as a model where she got to meet different designers. Akhmedova is now the president of the International Business Association at BC.
   "I love to connect people with each other, whether it is the event or it's a space. Fashion also helps me to do that," Akhmedova said. She appreciates that her position in the IBA club allows her to hold events where she can bring people who have similar interests and talents together. For example, last week, with the help of Professor Pham, the IBA club held an event where young and local designers were invited to introduce and showcase their brands and art.
   Akhmedova and the rest of the IBA club plan to continue to host events revolving around fashion, music, modeling, and more on campus throughout the rest of the year, as well as women entrepreneur workshops.
   Multiple aspects of Akhmedova's life have taught her the skill of multitasking, such as motherhood, school, student life, work, and fashion.
   "I'm happy to have experience as a brand ambassador, which I am currently working as […] for different companies, and one of them was a pop-up gallery for Revolve," said Akhmedova.
   Besides handling all her responsibilities, Akhmedova also helps others grow their brands through modeling as she occasionally models for fashion shops and new brands trying to make a name for themselves.
   For each of these designers and future women entrepreneurs, their individuality and passions will continue to be expressed through their fashion.  
   "My favorite thing about fashion is that people can get super creative with it. And honestly, with style, you can't really buy style. It's like your own true reflection of who you are and your creativity. And that's what I love about it. Like, everyone's style is so different," said Chan.
   Although Chan, Argueta, and Akhmedova have different goals and interests within the fashion industry, they can all agree that Professor Pham has played a significant role in their knowledge and experience in the marketing and fashion industries.
   "And the second part of my achievement is, I would like to say, is [being] able to connect talented female students at Brooklyn College," said Pham. "For example, you can see three females here, from different backgrounds, different years at Brooklyn College […] I'm able to help my students to see their best and with my connections, I'm able to assist students who have the passion and talent in fashion to get closer to their dreams."