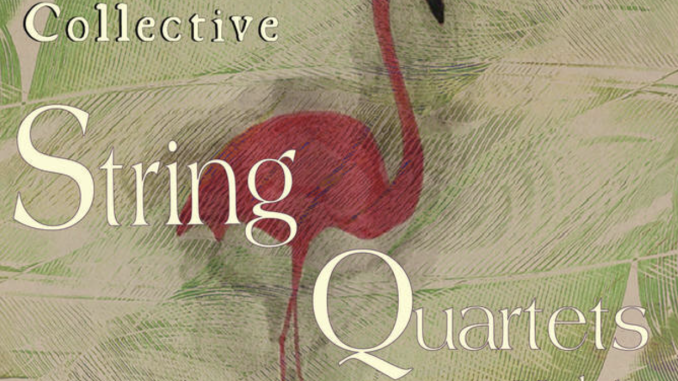 By Gabriela Flores
   Bringing musical ingenuity to listeners is no easy feat, but for a set of composers at Brooklyn College, the universality of their instruments and musical language are a calling they've passionately answered to. After running remote for nearly two years due to the pandemic, the Brooklyn Composers' Collective has returned to campus with the hope of not only showcasing their creativity in front of live audiences, but to continue growing a hub of talented performers, composers, and artists who want to let their musicality loose. 
   "For us now and in the future, I hope we can continue to foster a super comfortable zone where we welcome anyone to come and perform, almost to the point where we widen the definition of what a composer is," said Emmanuel Ortiz, the club's treasurer, a pianist, and electric bass player. 
   Since its inception in 2016, the group has made several strides. Members have formed a musical community that managed to release an album of six string quartets during COVID, created a nonprofit in 2020, and taken charge of curating and organizing their own concerts. Though the club typically includes music composition majors, its leaders are actively seeking to bring on the other key elements that breathe life into their written work – performers. 
  "Composing is kind of weird – when you're composing, you can't listen – it's on the paper, it's not music. It's not like a novel," said president Gidong Kim, a pianist and guitarist, who noted that a composer is incomplete without those who play their written musical intention. 
   In their upcoming concert on Monday, Nov. 7, the Collective is making its long-anticipated return to campus and live audiences. With a jazz ensemble in store and their own original music, Kim and Ortiz have plans of reintroducing their group very visibly in the atrium of the Tow Building to make it accessible for curious onlookers to trickle in and give their works a listen. Though the upcoming concert isn't personally their first since COVID struck, it is their first where they are taking the creative reins as a group. 
   "I think it's going to be nerve-racking, but I appreciate it a lot," Ortiz said. "A concert over zoom – I think maybe these elements exist for everybody – in a zoom session, you can step away from the camera or mute yourself. Your bottom half, your body language, isn't at play – which all changes when you're in front of an audience."
   Being composition majors, Kim and Ortiz have dealt with their fair share of adjustments. Kim, who joined the Collective as a freshman and enchanted audiences with his talents on the piano in 2019, only experienced BC for a semester and a half before the pandemic closed its doors. While he remained composing and performing remotely, Kim faced a significant challenge head-on that taught him about the musical tongue he's been practicing since he was six years old. After creating a piece for a string quartet, Kim didn't have any performers until his professor connected him with performers in Russia. Making its way to Moscow, the South Korean-born composer's music was later performed and recorded despite the different time zones and language barriers both parties dealt with. 
   "Because of that, I realized, 'Okay, the piece, the paper, the notes on the paper, […] this is the only language I can convey my intention, my word. So I realized how important it is to notate my musical ideas precisely on the paper so that anyone could play my piece and my intention in their way, even if they're in Moscow or wherever," Kim said. 
   For Ortiz, who transferred to BC in the thick of COVID, handling the limitations of learning music virtually made him appreciate the minutiae of live audiences. With his introduction to composing music stemming from his orchestra days in junior high, Ortiz has harnessed his musical wits over time with the help of tutors. At 16, his mother bought him a keyboard where he covered songs he enjoyed, and by 18 he was given a guitar. After struggling to find the balance between work life and his musical pursuit during his transfer to BC, Ortiz was eager to help with live performances as the college's Music Department made its return to campus. 
   "Although it may be nerve-racking for the rest of my career, I enjoy it because it makes you not only weary of the music you're portraying but also the body language you're bringing along, your posture, things like that – how you respond to the way your music sounds in person, in front of people compared to online," said Ortiz.  
   Now with Kim, Ortiz, and their Collective colleagues crossing paths on campus, they're taking back the intimacy between their music and audiences that the pandemic limited. Noticeably, the duo's study and dedication to music are rooted within their deep care for connecting with other fellow instrumentalists and listeners, extending beyond any physical space or stage. 
   "I just felt it's something that I had to do, something that I must do. I'm not religious at all, but I kinda feel a religious thing through the music," Kim said. 
    With less than two weeks till their performance, Ortiz and Kim are eager to showcase their efforts and that of their performing peers. Both are set to play piano accompaniment for singers that will interpret original songs that they composed. As they continue cultivating their musical community, Kim, who is set to graduate in spring, and Ortiz who is currently a junior, are also looking to cultivate their own portfolios for their futures as composers. But for now, they're looking to enjoy the musicality of their BC peers. 
   "Any moment where I meet a new musician, and they share with me what they have, is super exciting," Ortiz said.