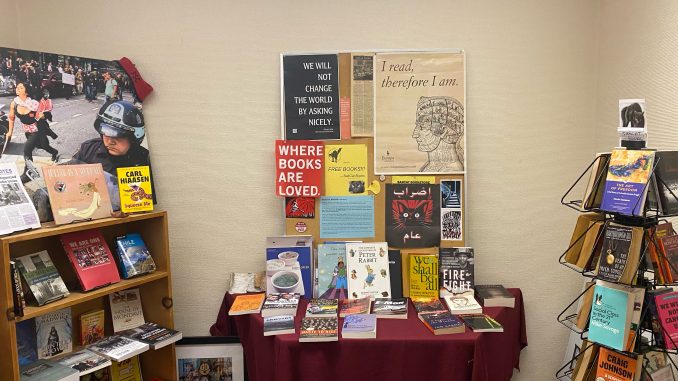 By Shlomie Katash
   Any student looking for a chance to relax on campus with a free book can head to the political science lounge in James 3414 and enjoy a cozy spot courtesy of SabCat Books, a program started by Brooklyn College Professor Ken Estey in 2013. SabCat Books gives students a chance to acquire books from countless different authors and genres. Since its return in spring after the COVID shutdown, Estey is looking to attract more readers. 
   "The first motivation [for starting SabCat Books] had to do with the books from my own that I wanted to give away so that they could find good homes," Professor Estey told The Vanguard. "But as time went on, I realized what a service this could be to students with yet other donations from other people."
   This realization led to Estey discovering what soon became SabCat Books' lifeline – the generosity of others. Thanks to donations from countless sources like Antidote Books, Terrace Books, BC faculty and administrators, and others, SabCat Books has been able to give away over seven thousand books since its inception. With the range of books that SabCat offers, nobody should have any trouble finding something that interests them. From political science, to romance, to fantasy, there's never a shortage of the program's variety.  
   "SabCat Books is about abundance. I never worry about running out of books because when people/donors hear about what we are doing, then they show up with books," Estey explained.
   What began as a table in the hallway of William James Hall became "a little gem here on campus" in fall 2017. The program's name is derived from the Industrial Workers of the World's symbol, the black cat called the "Sab-o-Tabby," which has become synonymous with workers' resistance against injustice. Now, the book hub is a rare area on campus where any student can enjoy peace, serenity, and a good book.
   Like everything else in life, SabCat Books was heavily impacted by the coronavirus pandemic. While the campus was closed and the vast majority of Brooklyn College students were at home over the past two years, SabCat Books lost almost all of its traffic. As the world continues to open up, however, SabCat Books has been working toward rediscovering itself.
   "Even last spring, when we partially opened the college, we still did not have many students and it has been a struggle since, so I have decided to ramp up our outreach and alert students in any way possible to this resource," Estey said.
   His hope is that SabCat Books is a way toward building a stronger appreciation for books and the value that they provide. He noted that this initiative could be a great first step in any student's academic or personal journey in reading. 
   "The only way to have a 'culture of books' is to cultivate books and make them freely available," Estey said. "Drop by and take some books!"