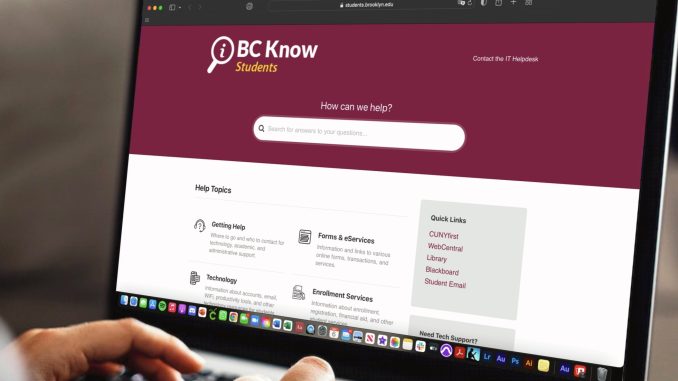 By Michela Aria 
   BC Know, an online platform recently launched by Brooklyn College, is offering a simplified way to navigate resources for students and staff.   
   "BC Know is a knowledgebase of common issues, questions, and guides organized by category," Alan Gilbert, Senior Vice President for Finance and Administration, told the Vanguard. "You can use BC Know to learn how to do things in CUNYfirst and BC WebCentral."
   The college has implemented the new tool in order to centralize accurate information about common questions many students and faculty have. There are two separate home base pages for students and employees, with each providing quick access to existing college resources, such as IT help, CUNYfirst, health and safety information regarding COVID-19, and more. 
   On the platform's homepage, categorization of the sections important to the BC community are labeled "help topics." Each topic highlighted then takes users to a list of FAQs per subtopic.
   "As the college re-evaluates its various digital communication tools, the need arose for a simple, comprehensive knowledgebase of college information for current/prospective students and employees," said Gilbert.
   The platform's goal is for students and staff alike to find answers without having to use different websites for information, or spend time standing in line to speak with various offices. 
    BC Know's content is divided between students and faculty to target the correct audiences, allowing each group to scroll through information relevant to them. 
     "Although it's easier for us to keep everything in one place, separating BC Know improves the experience for all users. Although this requires some content duplication, many articles covering similar topics need to be written differently for students and employees due to the different context," said Gilbert.
   Gilbert also highlighted that the college's prospective or recently admitted students were a main focus of BC Know's creation. After piloting the program at this year's new student orientation in August, positive feedback allowed for further advancements to the platform.
   "Prospective students, seeking more detail than the public website offers, can use BC Know to learn about Brooklyn College support services, technology, and processes," said Gilbert. "More importantly, they will see BC Know is a resource available to them should they choose to attend Brooklyn College."
   The college is  planning an orientation section for incoming students in the coming years. 
   As of now, the platform's website version for employees especially is still developing, but updated information and resources will continue to be added. For more student oriented information and the availability of resources, visit students.brooklyn.edu/.  Employees can find out more at employees.brooklyn.edu/categories/bc-know/.