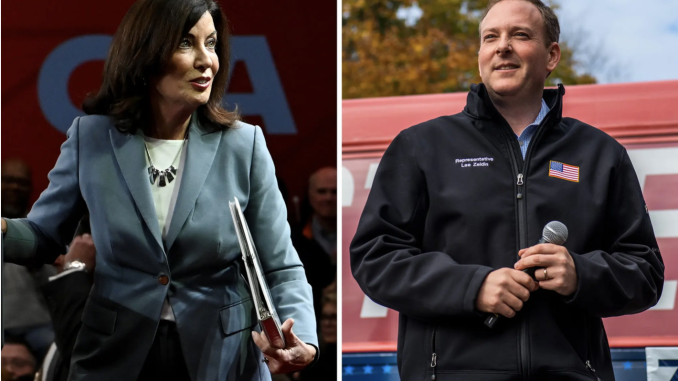 By Michela Arlia and Gabriela Flores
   Governor Kathy Hochul's stint in the governor's seat is far from over. As of press time, the incumbent governor of New York will be serving another term leading the Empire State. 
   In a tight race leading up to Nov. 8, Hochul won the popular vote with 52.8%. Her Republican opponent Lee Zeldin, congressman in the first congressional district, trailed behind by just over 5% of the votes. 
   With this win, Hochul will be making history by becoming the first woman elected to New York State governor. She assumed her title fifteen months ago after sexual misconduct allegations forced ex-governor Andrew Cuomo down from the position. 
   "Tonight. You made your voices heard loud and clear. And, you made me the first woman ever elected to be the governor of the state of New York," said Hochul as she celebrated her victory with supporters in New York City. "I'm not here to make history. I'm here to make a difference."
   As Hochul declared her victory late Tuesday night, opponent Zeldin was reluctant to concede, eventually doing so Wednesday afternoon. 
   In a speech to his supporters Tuesday night not acknowledging his opponent's victory, the Congressman addressed the votes still to be counted for final tally. 
   "We came to this with passion to have a debate of ideas for a better direction of New York and we're still totally committed towards seeing it through for the 1.4 million Election Day voters who have not yet had their vote tap cast and counted," said Zeldin. 
   As of press time, The New York Times reports that 94% of the vote in New York has been counted. 
   Zeldin, who had hoped to become the first Republican governor elected to the state in twenty years, ran a very close race with issues of high costs of living, inflation, and rising crime on the table for voters. 
   Other major elections in the state include the reelection of State Senator Chuck Schumer of the Democratic party, who won 55.8% of the vote against Republican opponent Joe Pinion. NY's District Attorney Leticia James also wins another term as the Democratic incumbent. 
   Most elections for the House and Senate are too close to call in three critical states: Arizona, Georgia, and Nevada. Democrats flipped a Senate seat in Pennsylvania with John Fetterman, who won a close race against Dr. Mehmet Oz of the GOP, landing 50.5% of the vote. 
    Each party needed voters to rally for their respective candidates to have Senate control. Democrats and Republicans are neck-and-neck, with each needing five seats to secure their hold over the Senate, as of press time. Georgia, with 95% of the vote counted, will go into a runoff Senate election between Democrat Raphael Warnock and Republican Herschel Walker.  
    The highly publicized election features Warnock, who won a 2021 runoff that helped Democrats gain control of the Senate, with 49.2% of the counted votes. Walker, a former football star backed by former President Donald Trump, currently has 48.52% of Georgia's vote.  
    With both unable to secure 50% of the vote, their runoff is scheduled for Dec. 6, the Associated Press reported. It may be weeks until the Senate's controlling party is called, according to Reuters. 
    The race for Congress control is looking to favor Republicans, who need at least 218 seats for a majority hold. Nonetheless, with 384 out of 435 seats called as of publishing, Democrats have lost seven seats, and Republicans have gained five by flipping seats in states including in New Jersey and Virginia. Democrats have been able to flip seats in the states of Ohio and Michigan. 
    One newly-elected Florida congressman, Maxwell Frost, won a House seat, making him the youngest in the chamber's history to be voted in at 25 years old. Florida's governorship will remain with Republican incumbent Ron DeSantis, who earned votes in historically Democrat-voting districts. DeSantis is speculated to run for the presidential Republican nominee for 2024, which could place him against former President Trump who is allegedly seeking a second term as president. On Election Day, Trump has threatened to release "unflattering information" about DeSantis if he announces his bid for presidency. 
    The Vanguard will continue reporting election results as they become available.