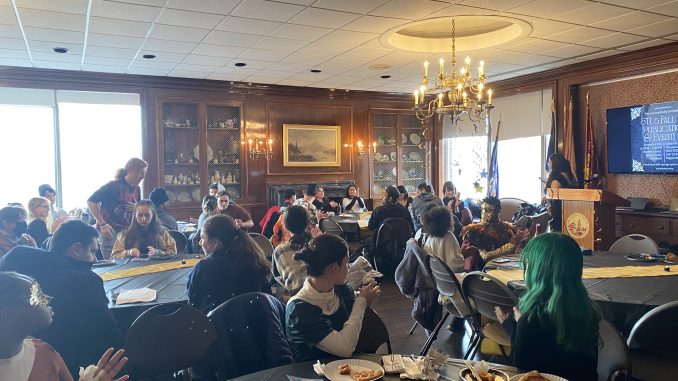 By Gabriela Flores
    In an afternoon filled with spoken word, jokes, and music, Brooklyn College's Stuck in the Library let students and their creativity run free. Celebrating the publication of their fall poetry magazine in masquerade fashion on Tuesday, Nov. 15, STL continued their traditional open mic. 
   "I think it's really good for people to have this creative outlet to express themselves and their individuality. It was really nice to see people out here and perform," said Melissa Morales, the club's vice president. "I just hope that STL continues to be alive and continues to be this creative space where people can connect and enjoy themselves." 
   From thought-provoking and reflective poems, to unfiltered jokes from a standup comedian, the latest STL event came in full swing with the community's creative wits. In the Student Center's State Lounge, participants embraced every performance, anxiety jitters, any hiccups along the way, and the vulnerability that many who recited their works powerfully embodied. Through it all, students supported, cheered, and listened to those who took the podium. 
   "I love seeing these creatives when they were singing, sharing jokes and poems – they were very brave because they could've gotten booed, they could've gotten bad backlash," said Nyanna Barkley, a first-year BC student. "Some of them came on very nervous and anxious, but they still gave these great poems."
   One of the event's opening pieces was delivered by Melanie Tapia, who read her short story that highlighted the challenges of being a migrant crossing the US-Mexican border. Over the course of six minutes, Tapia showcased Ernesto Lopez, a fictional protagonist that symbolized the migrants longing for the "sueño," or dream, of a better future. Lopez left his home in Mexico to financially support his wife and their unborn daughter. Through first-person narration, Tapia shared a riveting prose that did not sugarcoat the dangers, threats, and violence that migrants could face in their journey to the States. 
   Before beginning her work, Tapia prefaced with mentioning the growing number of migrants who died en route to American soil. 
   "Who determines the value of a human life? Who decides which bodies are counted and deserve recognition? This year, we've had some of the highest migration rates in history," Tapia said. "What causes an individual to leave their home? Their families? A dream, a better life, and hope."
   A slew of students followed Tapia with their original poetry. The listeners' attention hung on every word shared, some resonating with the narratives told. One of the many pieces that captivated students was Lexington Rivera's "Frankenstein." Despite the title paying oath to the creation brought to life by fictional mad genius Victor Frankenstein, Rivera's piece spoke to struggles with body image and the desire to change one's own appearance. Her literary comparisons to Frankenstein's tale and the living human body were unparalleled, leaving many to admire Rivera's writing. 
    "I want to build a body and live inside it/The one I'm in is all full of scraps," recited Rivera while at the podium. "[…] Like the Monster, I can't talk about what's wrong all I know is the pain of being myself/I want to build a body and live inside it." 
    Channeling the lens of the average Brooklyn College student, Wei Jian Zhen later took the stage with "In These Streets." Though he is not an avid poem-writer, Zhen's knack for storytelling through spoken word was recognized as early as fifth grade by his teacher. Drawing inspiration from the campus community and surrounding neighborhood spots, including Brooklyn Best Eats, he recited a piece that he intended to be relatable for many in the room.
    "More specifically someone who may live near Brooklyn College," Zhen told The Vanguard.  
    As the scheduled open mic line-up came to a close, other student creatives took the floor. Whether it was finding courage in bearing witness to others pushing through their nerves or the idea of having their work connect with others, students like Barkley ended the event with more unique pieces. In "A Monologue for an Angel," first-year student Rose Popal laid out the complexities of spirituality. 
    "This was my first ever Stuck in the Library event, and after seeing everyone come together – even people who were visibly anxious still doing their best to perform – I decided to go up randomly," said Popal. "What I consider god, or angels, or demons, are completely different from someone else's perspective. But maybe in my way of explaining how I feel about these divine objects, someone else can relate to that."
     Looking to the future, STL members will continue publishing and embracing the university's creativity through their events and printed editions. Though submissions for this fall are closed, STL's spring literary edition is drawing near for those interested in having their art, short stories, and poems published, according to the club's president, Skyla Medina. 
   "It feels great to provide a space for creatives to share work especially for people who aren't majoring in anything creative," said Medina, who is a psychology major. "STL was always a way for me [to have] a creative outlet since I don't really do that in my classes and I hope it's like that for a lot of other people."