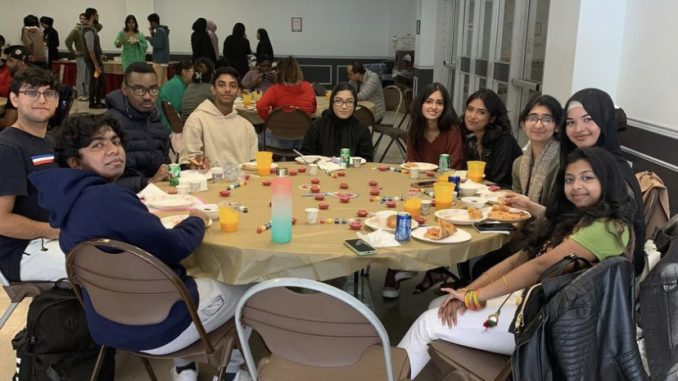 By Haritha Lakshmanan
   Diwali, commonly referred to as the "Festival of Lights," is perhaps one of the most important holidays in Hinduism. As such, the BC Desi Club and the Women's Center on campus co-hosted a Diwali Celebration on Thursday, Nov. 3.
   "[…] The main goal of this event was to create a safe space for everyone to celebrate or to understand Diwali and its related festivities," said Pooja Solayman, a senior and the co-president of Desi Club. "We wanted to have an event where everyone could come and hang out." 
   Diwali is described as the triumph of good over evil and there are many components that build part of the holiday. Like much of the regions of the world that celebrate Diwali, its traditions are extremely diverse. Through their event, the Desi Club wanted to give participants a rich range of festivities. 
   "We wanted to have various stations and to make this event a celebration, but also a learning event," said Stella Matthew, a senior and the co-president of Desi Club. These stations included henna, a plant-based dye that is used to create designs on the skin; diya painting, where participants decorated clay lamps; rangoli art, or colored powders that are used for pattern making; and typical Desi food, such as samosas, gulab jamun, mango lassi.
   At the henna station, there were several BC students who volunteered their time to put henna on fellow students. 
   "Henna is a typical part at most South Asian events as it represents happiness and beauty," explained Solayman. The diya painting station featured paint, paintbrushes, and unpainted diyas. 
   "A typical Diwali festival includes painting them and lighting the diyas to represent the victory of light over darkness," Solayman said. The rangoli station featured paper plates and colored powder where students were able to use the powder to create designs.
   The event's high turnout was one of the club's major successes, and one that many members did not expect. "We are glad that so many students could make time and enjoy this event with us," said sophomore Alana Abraham, Desi Club's secretary.
    In collaborating with the Women's Center, club members wanted to introduce BC students to the organization's resources. "Our club has several freshmen and sophomores who may not have had the chance to fully explore campus. We really wanted to highlight the Women's Center as a great asset and support to turn to on campus, so we reached out to them," said Solayman. 
   Overall, BC's Desi Club and the Women's Center consider their event a success attributed to all of the students who were able to make it. The club aims to continue being an inclusive space that fosters growth among students by embracing diversity.
   Desi Club will host a grand Desi Night in the spring, similar to the one they hosted last year, where members hope people regardless of race and gender can show up and have a great time.