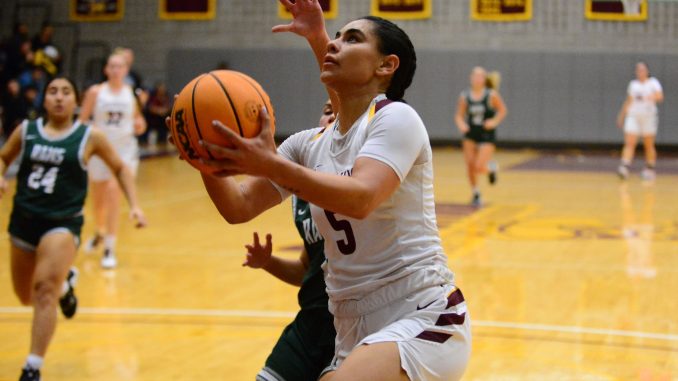 Women's Basketball Bounces Back
By Owen Russell
   The women's basketball team had a tough start to their season. Coming off of a successful campaign last fall, the Bulldogs started this year by dropping three of their first four contests. Heading into this week, Brooklyn boasted an unimpressive 1-3 record. How did they fare heading into December?
   On Monday, Nov. 28, the Bulldogs secured their second win after trouncing Rutgers-Newark. Brooklyn allowed the Scarlet Knights to jump out to a 23-22 first quarter lead. It looked as though Brooklyn could fall for their fourth straight loss. But the Bulldogs refused to back down. Brooklyn outscored Rutgers 61-36 over the following three quarters and finished the game with a win. Sophomore Mary Dolgin led the team with 17 points coming off the bench, while senior Nancy Pham scored 11 points and recorded 13 rebounds. The Bulldogs made sure to leave no points on the table, scoring 16 second-chance points.
   After a convincing victory on Monday, the Bulldogs hosted NYU on Wednesday Nov. 30. NYU came into the contest ranked number 3 in the nation for Div. III. Brooklyn had their hands full all night with the Violets. After all was said and done, Brooklyn lost 49-87. The Bulldogs could not stop NYU, allowing 21 points off of turnovers. Senior guard Gianna Gotti was the only Bulldog to score double digits, recording 10 points on 16 shots. The loss brought Brooklyn's record to 2-4.
   Friday, Dec. 2 marked Brooklyn's first CUNYAC matchup of the season against Lehman. Up until then, it had been tough sledding for the reigning CUNYAC champion, but Friday marked a turning point in the Bulldogs' season. Brooklyn handled their conference rival with ease, decimating Lehman 88-55. Brooklyn's bench contributed to the pummeling, scoring 30 points behind the starters. Gianna Gotti led Brooklyn again in scoring, this time dropping 27 points and swiping six steals. The win improves Brooklyn's record to 3-4, but it also gives them their first win in CUNYAC competition. If Brooklyn continues to play at this level against the rest of the conference, then they will have no trouble repeating as CUNYAC champions.
   Brooklyn's next bout comes on Tuesday, Dec. 6 at Drew University. They will have a chance to even their record at 4-4.
Men's Basketball Keeps Losing
By Owen Russell
   The men's basketball team has yet to find much success this season. After securing their first win in their second game of the season, the Bulldogs have yet to pick up another victory since. Coming into this week Brooklyn stood at 1-6. Did they turn it around in their two contests this week?
   On Wednesday, Nov. 30, Brooklyn hosted Drew University. Brooklyn jumped out to a seemingly insurmountable lead with the score standing 32-8 in their favor at one point. Despite the strong start, Brooklyn began to crumble. Drew University chipped away at the lead, and stormed all the way back to take the lead after a 21-point run to start the second half. Brooklyn never recovered. Drew won the game 63-46 on the back of a 43-point second half. Senior forward Elisha Park and sophomore guard David McFadden led the team with 11 points each; they were the only Bulldogs to score double digits.
   After the crushing comeback loss on Wednesday, the Bulldogs hosted Lehman College on Friday, Dec. 2. Brooklyn's game against Lehman marked their first CUNYAC contest of the season. Similar to their last contest, Brooklyn looked good in the first half. The Bulldogs wrapped up the first down 31-29, and looked poised to at least keep things close. But deja vu reared its ugly head and the Lightning went on a 20-6 run to pull ahead. Lehman won the game 71-52. Brooklyn dropped to 1-8, losing their sixth straight matchup.
   Brooklyn still has time to turn their season around. Their next game is on Thursday, Dec. 8. 
Women's Swimming Lands Another Loss
By Gabriela Flores
    After their meet against York College was postponed, the Bulldogs returned to the pool at William Paterson University on Saturday, Dec. 3. Coming off two losses this fall, the women's swimming and diving team looked to take home a win before 2022 ended. But they dropped their non-conference matchup 70-95, leaving them winless. 
    Despite the loss, junior Anastasia Kutuzova led the Bulldogs in the 200 yard individual medley, garnering nine points with a time of 2:23.33. Kutuzova didn't stop there. She led in the 100 yard breaststroke in 1:14.28. Sophomore Monica Prado Capon also made splashes, bringing in nine points to Brooklyn's total with her performance in the 500 yard freestyle. 
   When it came to the 200 yard freestyle relay, four Bulldogs secured 11 points together against the host. 
    Brooklyn will hit the water again on Jan. 5 against Lehman, where the team will open their conference play. 
Men's Swimming Falls To William Paterson
By Gabriela Flores
   This week was a gloomy one for the men's swimming and diving team. Since beating their host Sarah Lawrence College on Nov. 12, the Bulldogs have struggled to land another win. Brooklyn's most recent meet against William Paterson University on Saturday, Dec. 3 pushed the team 1-2. Falling to Pioneers 57-83, the Bulldogs came short of an end-of-year win. 
    Though the scoring was not in their favor, the Bulldogs shined in some of their performances. Adding 11 points to their scoreboard, the BC swimmers dominated the 200 yard medley relay with Max Bratkovsky, Devin Boodha, Christian Hoyek, and Ronaldo Barrios. The quartet beat the Pioneers in points, leaving them with only four. The win there, however, did not suffice for Brooklyn's total scoresheet. 
    Despite being outmatched in most races by the host, some Bulldogs showed out. Devin Boodha landed first in the 100 yard freestyle with a 51:56 finish. Fellow BC swimmer Max Bratkovsky led in the 100 yard breaststroke. 
   After their second consecutive loss, the Bulldogs will swim again on Jan. 5 against Lehman.