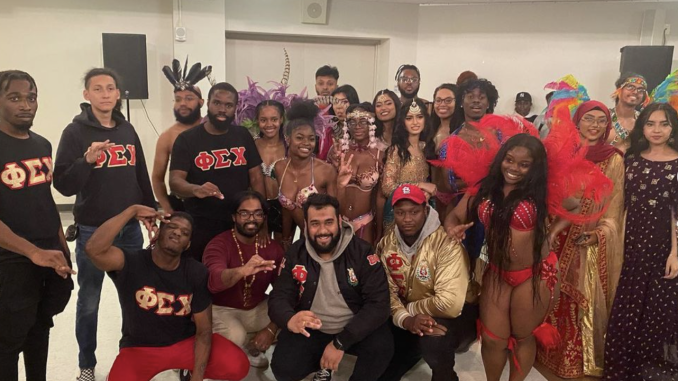 By Michela Arlia 
   Brooklyn College's Phi Sigma Chi fraternity and Caribbean Student Union teamed up to co-host a multicultural night packed with food, live music, and live performances on Nov. 17 to highlight and celebrate the diversity that radiates on campus. 
   The two main cultures represented at the event were Caribbean and Desi heritages. Performances by CSU, the Desi Cultural Club, and Phi Sigma Chi's National Stroll Team, an organized line dance created by Greek life chapters, allowed attendees an exciting experience into cultural performances and customs.
   "This is a continuous event that the chapter at Brooklyn College hosts as a way to support our national philanthropy mission of multicultural awareness," said Mohammad Tusar, the fraternity's vice president, citing the organization's goals and motivation for the event.
   As performances were set up like a fashion show runway, each student performer walked down dancing to a song of their choice while dressed in traditional garments from their cultures. 
    "CSU invited us to wear traditional Desi attire," said Stella Matthew, co-president of the Desi Club, noting the clothing is typically worn in celebrations like weddings and religious get-togethers "At our Desi Night event last semester, which is like our spring formal, everyone who attended wore traditional Desi clothes, so many of our pictures from the event showcase that. The outfits were owned by the individual models."
   CSU president Gabrielle Huggins noted that the event was the first time that the Desi Club modeled their cultural garments for a CSU event. Other students from the Carribbean also showcased their traditional style.
   "Some had more modest costumes and others had more revealing," said Huggins. "Music also played a big part in representing their individual islands… We wanted them to feel comfortable and have fun at the same time and they looked amazing!"
   Almost all of the Caribbean Islands were represented, including Trinidad, Jamaica, Panama, Barbados, Guyana, and the Bahamas. Student participants had full creative control over the ways they wished to represent their native cultures, from outfits, to performance style, to music choice. The event was the first in-person multicultural night for the Desi Club, something Matthew said she, along with other club members, were very excited about.
   "We loved this special opportunity and look forward to future collaborations with cultural organizations," she said.
   For Matthew, the sense of community and being able to learn from one another's cultural customs as students make BC's diverse representation of students special. 
    "Cultural diversity is something to be celebrated because there are so many factors in the world that can be divisive, but when we look to our unique cultures, we can see the differences and similarities between them," said Matthew. "Seeing the joy or pure emotion in peoples' faces when they partake in their culture and share it spreads those same emotions and can unite us despite our differences." 
   Tusar explained the main goal of the night was to highlight New York City's diversity and how it affects the diverse experiences on BC's campus.
   "I believe it's important to celebrate the cultural diversity at BC because this is what makes us great," Tusar said. "We have a rich variety of cultures on campus. Diversity and multiculturalism is the fabric of what this city is made up of." 
   Huggins expressed the importance of events, such as the multicultural night, for students on campus, so they are reminded that there is always a place where they can feel they belong and feel comfortable being themselves.          
   Phi Sigma Chi, CSU, and the Desi Club all have events lined up for the spring semester, including financial literacy workshops, Holi festivals, and the annual CSU week.