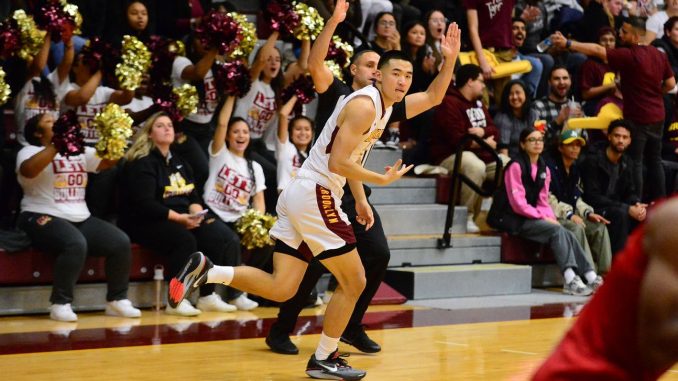 Women's Basketball Trails Behind 
By Michela Arlia  
   The BC women's basketball team were defeated by the Drew University Rangers 74-53 at the Tuesday, Dec. 6 game where Drew hosted the Bulldogs. 
   The thought of a positive outcome was present for the Bulldogs after taking a 4-2 lead in the first 1:30 of play, yet all thoughts of hope subsided when the team were only able to manage one point for the entirety of the quarter.  
    The Rangers were able to make a quick advance, leaving the Bulldogs trailing 37-20 at the half. 
   Despite the loss, guards Eriks James, Gianna Gotti, and Nancy Pham led the team, James with a team high 17 points from her three makes behind the arc, and Gotti and Pham with 8 points each.
   With hope for a rebound in their match against Smith College on Dec. 11, the Bulldogs were once again defeated 88-78. 
   A rematch of the NCAA Tournament Second Round game last year, BC trailed by 15 points by the third quarter, before making up the distance with a score of 65-58 by the end of the third. 
   Smith then took charge however, out-rebounding the Bulldogs 18-8 on the offensive board. Top scorers for BC were once again James and Gotti, with a combined 52 points and Gotti scoring a game-high 28 points. James, along with forward Aleah Rafat scored three three-pointers. 
    BC moves to 3-6 with this non-conference loss. Their next match will host William Paterson University Dec. 13 in the West Quad gymnasium. 
Men's Basketball Bounces Back
By Michela Arlia 
   The men's basketball team has had a strike of fortune after hosting Pratt Institute Dec. 8 and claiming a win of 83-74. 
   The Bulldogs were able to secure their first double-figure lead 14-3 with just under 15 minutes left in the first half. Events started to then shift when Pratt came back for a 24-20 lead with just 7 minutes to spare by halftime, but BC doubled down in the remaining six minutes of the half, to end off with a 40-27 lead. 
   The momentum continued in the second half as Brooklyn extended their lead by over 20 points, and solidified the win with free throws by the end of regulation.
   Forward Elisha Park had one of his most outstanding game performances, having shot 7-13 from the field, with 3-4 from behind the arc, as well as adding 6 assists. Also leading the team were guards Malik Dale with 17 points, Serge Thraysbule with 13 points and 6 assists, and David McFadden and Kayin Olajide, with 11 points each. 
   Brooklyn improves to 2-8 with this win. The Bulldog's next match is an away game on Dec. 13 against the Ramapo College Roadrunners for a non-conference tilt.