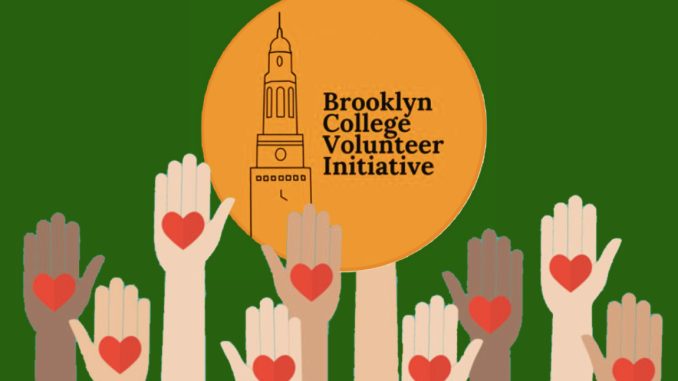 By Gabriela Flores
    Volunteering, no matter the cause, can have different impacts. Whether it be donating one's time cleaning up weeds in Brooklyn College's gardens or helping local shelters for the unhoused, students can lend a helping hand in more ways than one. By centralizing this plethora of opportunities on Instagram, the new BC Volunteering initiative headed by senior Samuel Shif is setting out to make volunteering more accessible and known. 
    "I hope that this account will take off in its own way and have a domino effect of people wanting to volunteer. I think that's the biggest thing, just having people asking me, 'When's the next volunteering event,'" said Shif, who founded and runs the information hub on Instagram. "I think that's the biggest complement this account can receive."
    What started as a marketing pitch in a selling class became a project that Shif launched about three weeks ago. Though just at its inception, the account is gradually gaining attraction and setting the groundwork for becoming the most  "easy-to-digest area" for students to stay in the loop of where and how to get involved in communal efforts. By sharing off and on-campus volunteering events, Shif hopes to give students a broad range of opportunities.
   "I think when people think of volunteering on a greater scale, it's almost always good things," Shif said. "And if people start volunteering, even if Brooklyn College's name is very subtly included there, they're going to start associating Brooklyn College as, yes, a commuter school, but also a school that is making some sort of impact."
    As a marketing major, Shif pays close attention to what BC students want out of volunteering, how many engage with his initiative's page, and overall, how he could improve on getting the word out about how to help on campus and beyond. 
   Within the past week, he joined the BC Sustainability Club to rid the college's gardens of weeds. In the near future, he hopes to embark on causes that directly impact communities and collaborate with other local groups, including possibly a cat rescue. By doing so, he intends to continue focusing on hands-on efforts rather than monetary donations. 
    From the get-go, when the initiative stemmed from a class assignment where Shif proposed a hypothetical beach clean-up that would draw more eyes to Brooklyn College, he has had the support of Professor Ngoc Cindy Pham of Business Management, who connected him with her contact at the cat rescue. 
   "She really inspires people to want to build something, to want to feel good about something in their life. And mine just so happens to be this account. Now whenever I look back, she really wanted me to succeed with this," said Shif, noting she even sent out his survey asking BC students about their volunteering experiences. 
    Being the brains behind the growing volunteering operation, Shif has his own moments donating his time and efforts. From currently serving as the president of the Hillel Club at Brooklyn College to aiding in different causes here and there, Shif has aided others in several capacities. While under the Summer Youth Employment Program years ago, Shif served those in a nursing home. Though he technically didn't volunteer, he realized the importance of taking the time to connect with those who are otherwise overlooked, such as the aging. 
   "I think the impact from that kind of opened my mind to what donating your time really means for other people," Shif explained. "Because yes, there's a feeling that you get from it. But I think that feeling stems from the feelings they show, the feelings they portray – 'Wow, somebody cares to sit down and talk with me.'"
   After his undergraduate run comes to an end this spring, Shif will likely leave the account's reins to the Student Activities, Involvement, and Leadership Center. In the meantime, however, he's looking to hear ideas from other students, extend his account's outreach, continue promoting volunteering gigs, and possibly host a volunteering event of his own initiative. 
   "I think students should – even if they don't think they'll enjoy volunteering – at least try it once and get your foot in the door. Again, college is all about building connections, and I think the people you want to be building connections with are people who are willing to donate their time and give back to the community," said Shif.