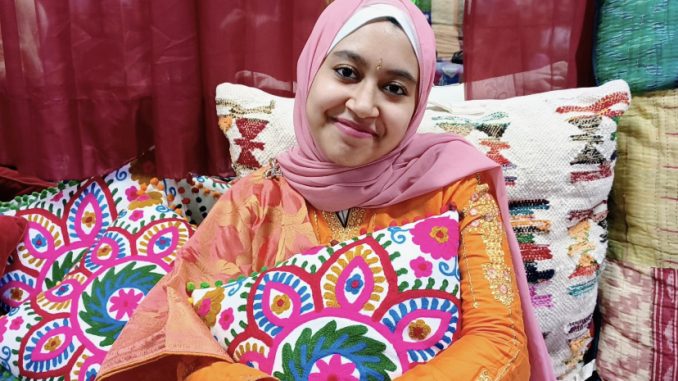 By Serin Sarsour
   Brooklyn College sophomore Nitu Farhin juggles school and her love of art, all while being the cartoonist for The Vanguard.
   Farhin first made her mark at the paper through her series "Vanguard Gazette" at the beginning of the fall semester. Not following traditional cartoon styles, Farhin started to progressively draw in a less realistic way as an artist, making her work stand out from the designs of others like The Vanguard's previous cartoonist, Mo Muhsin. 
   "When I saw Mo's cartoons, they were very like comic book strip vibes and that was so cool. I was like, 'How do I sort of not imitate this, but get the same vibes with my own art style?' And so it's like a hodgepodge of comics and Nitu, too, now," Farhin said.
   Since getting an iPad, Farhin has begun to transition to and gravitate toward digital art instead of traditional art made with a pen and paper in hand. Nonetheless, she enjoys partaking in both forms. With school and other responsibilities applying time constraints to when she can create art, Farhin found that digital art is more accessible, easier, and quicker to do because traditional art is messier, taking more time to prepare and clean up.
   "I don't know if there was a specific age, but I think I've always been into art," said Farhin. "I don't have like a collection of my old art at home, but here and there with the scraps that my mom didn't throw away, I can see that there's been a progression in my journey in art."
   Farhin's artistic interests stem from elementary school, but truly blossomed in middle school because she attended M.S. 51 William Alexander, where each student has to choose a talent or subject they want to specialize in throughout their years in attendance there. Farhin chose art.
  When she graduated from her art-focused middle school, she attended Midwood High School, where her focus shifted to research pertaining to medicine to help prepare herself for the pre-med track. Although Farhin is not as involved with art as she was in middle school, her love and appreciation for the creative outlet are still present in her life.
   "I like that I can create things out of the blue," she said. "Instead of putting individual pictures together like scrapbooking, I do it in my brain, so it comes out like a weird little picture, but it's all in one style, so it seems very seamless."
   One of Farhin's favorite projects is a self-portrait she did in middle school. She used her hijab as a focal point in the piece, where she used pastel colors and wrote words within the space on the hijab. With the presence of Islamophobia and other issues around the world, Farhin believed it was important to incorporate empowering messages about the hijab through her art. Although she did not win a competition her teacher entered her in for the self-portrait, Farhin was proud that she could represent herself.
   As for her comics for "Vanguard Gazette," Farhin has serialized and created a story to them, advising viewers to avoid reading them out of order. The idea to put her comics in sequential order originates from when she used to write short fiction.
   "After I create the episode for the week, throughout the week I start to think about what could come next naturally. I then sit down and make a storyboard with notes that sort of details what's gonna happen in the next scene, who's talking, and like what I'm going to visually represent," said Farhin.
   Her love for Korean dramas also acts as an inspiration in her work. "I feel like I don't just watch them for just enjoyment. I research while I watch them and see what maybe the director is doing or what they're doing to evoke a certain emotion, which helps me sort of implement that into my own work," Farhin said.
   Aside from art and being The Vanguard's cartoonist, Farhin created her own major at BC called "women in health" instead of double majoring in public health and gender studies to pursue pre-med. She hopes to find internships and work for nonprofit organizations that work with women, while also still making the time to work on her art.
   "Moving forward, I'd like to have a space in my life where I create art consistently because, with school and everything, I'm struggling to make space for art. I joined BC Vanguard to give myself that time to create art," said Farhin.