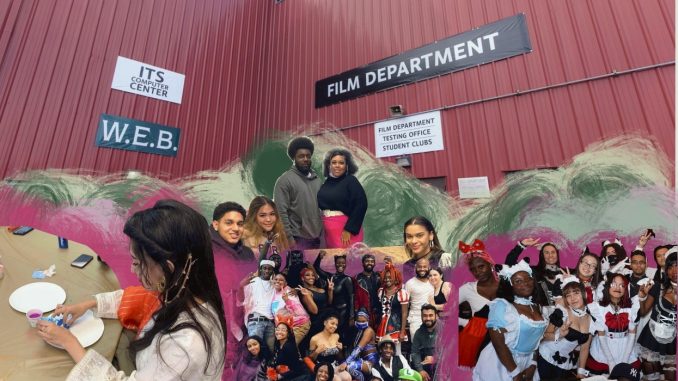 By Serin Sarsour 
Reporting Assistance Gabriela Flores
   In the heart of Brooklyn College are student clubs that created communities in their respective spaces on the first floor of the West End Building (WEB). As the spring semester commences, WEB clubs reflect on their successes during the fall and what they hope to achieve in the new year.
   "We definitely built a community with the events that we did, and it was just a very, very fun time," said Amara Minott, a BC senior and the president of the BC Anime and Manga Club.
   Last fall, BCAM hosted a Halloween party, a Maid Cafe event where students were served by other students dressed as maid cosplay, a panel discussing anime controversies, and much more.
   Minott expressed that anime helped her gain confidence in herself and wants to help others love themselves more through anime. Confidence is often a struggle to obtain for those who identify as "geeks" in the anime community, she explained, and she aims to continue empowering members to stand up for others when needed and embrace themselves.
   "I'm still so focused on body positivity and just to make sure that people feel confident in their own skin and people are able to express themselves the way they want," said Minott.
   BCAM is planning another Maid Cafe event for this spring, along with a fashion show, another panel on anime controversies where members will be discussing the toxicity of certain fanbases, a movie night, a masquerade-themed ball, and other events.
   "I wanna do a lot of things before I leave so I could just be like, 'Hey, I did so much before I left. My legacy,'" Minott said.
   For the National Association of Black Accountants also housed in WEB, it is important for junior and club president Jessica Vaivao that there is a space for Black, Indigenous, and students of color to come together and be able to find opportunities on and off campus throughout the business field.
   Vaivao has always been interested in business, but her love of helping others also achieve their goals within the business industry first arose from her volunteer work around Bushwick, where she helped the less fortunate during the height of the COVID-19 pandemic.
   "From my experiences volunteering, I realized the importance of closing the gap for Black and BIPOC individuals and helping guide them to be the most successful person they can be," said Vaivao.
   NABA helps provide BIPOC students with networking opportunities, scholarships, internships, full-time jobs, and connections with several different accounting companies, including the top four largest accounting firms in the world: Deloitte, PwC, EY, and KPMG.
   NABA is satisfied with the work they have done this past fall, but members plan to accomplish a lot more this semester. "We were in the re-establishing period for fall semester 2022, but now we're in game mode and fully re-building and expanding stage in spring of 2023," Vaivao said.
   Although Vaivao did not want to spoil everything that NABA has planned for the spring, she revealed that the club will be hosting two panels for Black History Month about Black excellence in collaboration with the Black History Month Committee and Black Latino Male Initiative in February alone. One of the panels is for entrepreneurs in NABA's current student body and the other is a career panel featuring alumni.
      NABA will also be hosting a headquarters day trip, which they held last semester for PwC. Additionally, they are also going to host their first Gala since 2018/2019 alongside the Black History Month Committee and the S.A.I.L Center as the closing event for Black History Month.
   The club is also currently figuring out the logistics of the ability to take all national members to the yearly National NABA's convention in Louisiana, New Orleans in June where they could gain skills, network, and be recruited by companies.
   "Everyone in NABA has been nothing but kind, the e-board are an amazing group of individuals who are very motivated, career-driven, and community-vouching individuals," she said.
   Other clubs are also housed in WEB, such as the Dominican Student Movement, Women of Color, Caribbean Student Union, Bangladesh Students Association, and other organizations. With each being in close proximity to one another, they all interact fluidly and embrace each other's initiatives. 
   "If you're gonna be a president of one club, you're basically a leader to all the clubs in a way because all the clubs just interact so fluidly. Like I always, even though I'm the president of the Anime club, I don't just chill in my room even though I love my room to death," Minott said, noting she hopes this fluidity and space for everyone becomes stronger in WEB.