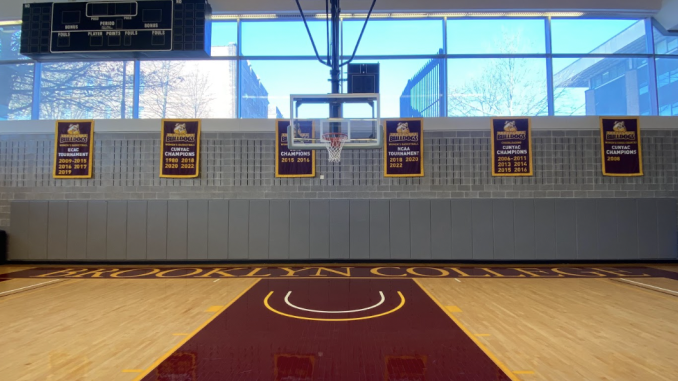 By Damien Ovalle
   With a rich history in sports, Brooklyn College has been a dominant CUNYAC team for decades and that dominance is displayed by its various CUNYAC titles, ECAC Championships, and its plethora of star-studded athletes. But another side of Brooklyn College Athletics that doesn't share the same spotlight, but has a part in the college's successes, is the Broadcast Team. 
   Starting in 2011, a group of past and present students broadcast BC's basketball games. This turned into a year-long commitment backed by the college to create a community that comes together whenever the Bulldogs play.
   Johnathon Pariente, class of 2013, is one of the three people to start the broadcast along with Zach Budnick and John Schiavone.
   Pariente's role at the radio station inspired him to pursue broadcasting. Starting in 2010, Pariente and his partner Schiavone began the radio show "Downtown Sports." While the show began gaining traction, the two noticed an issue: a lack of basketball coverage. To solve the problem, the pair wanted to take the radio station to the games and cover them live to begin a legacy.
    "We didn't have a lot of people at the time and weren't sure how it was going to work in the beginning," said Pariente. The initiative all started with students who had ambition and wanted a way to sharpen their skills within the broadcasting sphere by not only adding to their expertise but helping the college with their connectivity. Little did Pariente and his colleagues know how much would evolve from their idea and the community that would transpire from the broadcasts.
   "Over the next couple of years, it evolved and more people wanted to do the broadcasts. […] We started to Livestream on YouTube, which was one of the most successful things we've done with home games. It's just about commitment and wanting to do it," said Pariente. Besides showcasing the sport, Pariente set a goal for himself to grow the broadcast family, bringing in new members as the years went by.
   "Over that period, we built a repertoire amongst the players, Bulldogs, and parents to tune in and listen to us," Pariente noted.
   The Broadcast Team was picking up momentum until COVID-19 struck and shut down everything imaginable. Sports and the broadcast teams were put on pause as colleges abandoned in-person activities in their entirety. "It was tricky. All the momentum we had came to a halt. The concern I then had was when the broadcast came back were there still going to be people or new ones interested to do games," said Pariente. As people remained home for time on end, the broadcast was postponed until further notice.
   As restrictions started to lift and few people gained access to games, the next problem that arose for Pariente was finding personnel. "Getting people to get back out there, even to this day," he explained.
   The Broadcast Team and Pariente look toward the future of not only sports but the crew, which is dependent on many factors: commitment, determination, and a genuine want to make the broadcasts successful. "If more people want to do broadcasts, I want to see it expand to volleyball, swimming, and soccer. I want to see this program evolve," added Pariente.  
    Brian Munguia, class of 2015, was a student who joined with a passion for sports and broadcasting. The group was a match that aligned perfectly with what Munguia sought for his future career. "We did it in the West Quad Gymnasium, and before we were on the floor level so it felt like you were really a play-by-play guy," said Munguia. Being a part of the team for most of its start fueled what would later become a branch of Brooklyn College sports. 
   Those beginning years were critical in building the foundation of broadcasting for Brooklyn College. Munguia became crucial to making the broadcast run smoothly. But good things always come to an end. Once Munguia graduated from Brooklyn College in 2015 as an undergraduate, he navigated through his work at ESPN and the broadcast team.
   "I was interning for WBCR radio station, so they asked me if I wanted to do play-by-play so whenever I was free as a student I could do the games […] I left but came back in 2017 for one or two games," said Munguia. While the transition from student to alum surely wasn't an easy task for Munguia, returning for games in his alum years displays just how strong the connection and dedication are for Munguia and the rest of the crew.    
   Throughout the pandemic, Munguia took a step back from the broadcasting team as sports and many other physical school activities were canceled. Deciding to focus on other matters in his life, Mungia and the broadcast drifted from one another. As the 2022-2023 season approached, he decided to head back.
   To continue the broadcast tradition and legacy, according to Munguia, "it all relies on the students, former Bulldogs, and alumni. Just having a rotating crew, it would be cool to see this happen."
   Patrick Brown, class of 1990, was a graduate who was brought in from the outside and made his mark as a key member of the crew. Back in 2018, Brown was called up by former Athletic Director Bruce Filosa and was offered an opportunity he couldn't pass.
   After an initial meeting between Filosa and Brown, they hit it off and began the broadcasts for Brooklyn. At the time, both men's and women's basketball teams were championship caliber. They found their styles and found the perfect mix with one another. 
   "Once we found out how our styles matched and worked the intricacies out, it was awesome […] the experience was eye-opening," Brown said.
   While they were mixing greatly and finally getting into a groove with one another, COVID stopped them in their tracks. Similar to Munguia, Brown took a step back from the broadcasts. "At the time of COVID, I wasn't vaccinated, and they weren't sure if there was a season, so that whole year I was out," Brown explained. 
   But things would change as time went on. Restrictions loosened for games, and sports would finally come back in their entirety. Soon after, the broadcast team would regroup and start going live just as they had before the pandemic. "The first game, the atmosphere was so electric it's like we picked up right where we left off," Brown said.
   Putting the past aside, Brown and the crew look to the future. 
   "It's about the people who can't get to the game. We want them to experience it; that's what we love to provide. The community is everything, we feed the community, and they feed us," said Brown.  
   Time, legacy, and sports are the main descriptions of the Brooklyn College Bulldogs Broadcast Team. It's a community, brotherhood, and family that only increases year in and year out. And overall, it's a group of guys that just want to have fun.    
   "Brooklyn College is a family, even when you graduate," said Pariente.