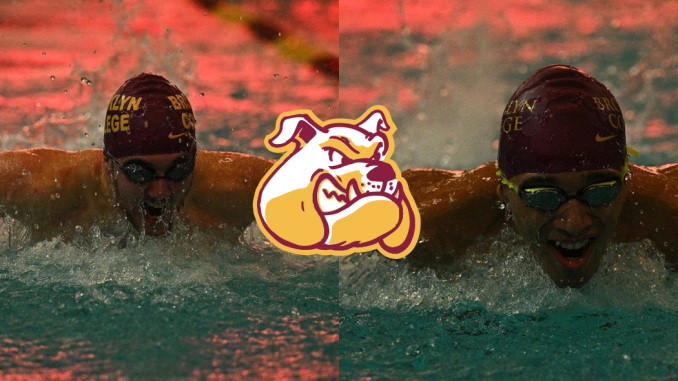 By Gabriela Flores
   Coming off their CUNYAC Championship run, the men's swimming and diving team accomplished what they set out and more. Beyond a third-place win, the Bulldogs built a family-like bond over this season, forming a connection that will be remembered fondly by those graduating from Brooklyn College's pool. 
   "I have nothing but good memories and respect for this sport overall. I just hope the team will continue to grow and get better because I'd love to see BC take first place at championships in the near future," said Ronaldo Barrios, one of the team's captains who is set to graduate this May. 
     In their three-day performance at Lehman, the Bulldogs did not shy out. Coming off a COVID-induced hiatus, it was game on for all swimmers, both old and new. Seasoned members like Barrios and Christian Hoyek, the team's other captain, continued the fight for gold that began before the pandemic halted the world. Alongside them at Lehman College on the fateful championships that began on Jan. 27 were budding swimmers, who were either looking to revive or start their knack for the sport. 
    "My mindset was to try to beat my personal record and to try to be the best," said Issac Zambrano, who marked his first year as a collegiate swimmer with the Bulldogs. Time and time again, the Bulldogs collectively pushed to overcome their obstacles and improve their performances, with swimmers like Hoyek extensively preparing to take on BC's CUNYAC rivals in their best shape possible. Besides having new faces of their own, the Bulldogs' competition was made up of freshman and sophomore competitors who were beasts of the pool (allegedly). 
   "The thought of versing them in the pool was scary, but my team was rooting for me, and I got up on the block anyways to perform," said Hoyek, who is set to graduate this spring. "I knew every time I get up on that block, either the current coach Vlad or the previous coach Brian would be standing up from their seats, ready to see me fight and give it everything I got."
    Rising to the moment, the Bulldogs did not disappoint. Hoyek closed out his undergrad swimming career with his second silver medal of the championships and a third individual medal overall for his 1650 freestyle opener on the campaign's third day. Barrios also rose to the occasion with two silver medals for the weekend and earned his third individual medal of the weekend in a 200-yard breaststroke event.  
   With all the successes they garnered this past season, the Bulldogs initially faced a shortage of swimmers when they came back from their COVID pause. Some former swimmers stopped their pursuit of CUNYAC gold after they moved back home to other states and boroughs, lost access to pools for practice, or graduated from Brooklyn College. Had the pandemic not taken over day-to-day activities, the Bulldogs would have been on track to bring home first place. 
    "It made us appreciate the pool just a little bit more than we did before. Not only that but it felt great being able to do something we were all passionate about again," said Barrios. 
    Joining the few veteran swimmers left were newcomers who had the itch to get into the sport. With new swimmers having outnumbered the experienced ones on the latest roster, the team faced its challenges in racking up wins this past season. Nonetheless, having more swimmers, according to Hoyek, is "the best thing any swimming team can have."
    "The new swimmers, when they joined, now want to come back and get better. Some wanted to get better than me and I promised them in a year or two that I would come back to race them in the pool to see if they got better," said Hoyek, noting that students looking for a real challenge should join the swimming and diving team. "I'm going to be their personal boss battle, and I can't wait to see them one day fully beat me in a swim race."
     Out of the pool, these swimmers are students who are juggling it all. From handling research for their pre-med studies to working a gig for their expenses, the Bulldogs have overcome much. Looking to the next season, new members hope to continue pushing themselves further in competitive swimming. 
     "Regardless of the ranking and outcome we all pushed ourselves and did a great job. Many of us hit their personal record or set a new personal record, which is spectacular," said Ayatallah "Yuki" Elkotby, who began competitively swimming this past season in November 2022. 
     As for those that are ending their undergraduate years in pursuit of their future beyond Brooklyn College, they'll always cherish their team's bond. 
    "We all have seen each other suffer through practice and been able to overcome almost impossible challenges," said Barrios. "I'd say we all started to get to know each other a little bit more through those experiences and it helped us grow as a team and individuals."