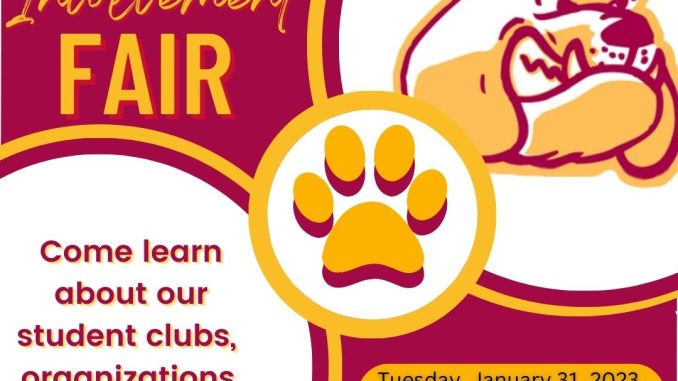 By Serin Sarsour
Reporting Assistance By Gabriela Flores
   Brooklyn College students got the opportunity to learn about different student clubs, resources, and organizations on campus during the bi-annual Involvement Fair last Tuesday, Jan. 31. Tables were lined up throughout the Student Center's floors, with club leaders looking to connect with potential members. 
   "My club's initiative is to open the opportunity for CUNY students, regardless of major or study, to be able to express themselves through their creative writing in our magazines," said Skyla Medina, the president of Stuck In The Library.
    Although STL was thrilled to take part in the Involvement Fair and spread the word about their club, Medina felt as though the fair could have been organized better. "We had very last minute notice about everything and since we are a magazine, we do need time to print things," she said. "Also, the check in shouldn't have been at just one entrance since most clubs weren't going through the main entrance since we had carts."
   This semester, STL will be coming out with a literary magazine that has three prompts: mental health, mythical, and the color purple. CUNY students are welcome to submit a prose or short story, a poem, and art or photography to go along with their writing. The club also plans to organize and host a publication event for the magazine sometime in April. 
     The Caribbean Student Union was another club who had a table set up at the Involvement Fair. CSU's main initiative is to encourage, celebrate, and inspire diversity on the BC campus.
   "I honestly don't know what I would have done if I hadn't joined CSU. I've been to so many events. I met my boyfriend at this club, gained study buddies and people that I can enjoy my college experience with," said Jainoir Richardson, CSU's club connector. Richardson shared that the club is planning to host several parties and social events in collaboration with other BC clubs this spring. 
    Many students showed up to the fair, which Richardson attributed to people wanting to socialize more and be more involved on campus after COVID.
   "I loved that there was a directory on each floor. I just wished that the clubs were placed together by category. For example, all the culture clubs would be together or all the educational clubs together," Richardson said. "But overall, the fair was great!"
   The Bangladesh Student Association also agreed that the fair could have been organized differently. Instead of being organized alphabetically, Farzana Noshin, a BC senior and the president of BSA, suggested that the clubs could have been organized by how large or well-known the clubs are.
   Heading into the spring, BSA aims to continue celebrating Bengali culture at BC. Their biggest event will take place in March with a Bengali New Year and Independence Day of Bangladesh celebration. At the event, attendees will be dressed in vibrant colors, saris, and Punjabi outfits. 
   "When COVID came and all that, we [BSA] were like dead for three years after I had joined my freshman year and when the club had just started in 2019, and then I became the president when we came back," said Noshin. "I had to take the initiative and I have a great team. I'm trying my best to like keep the BSA alive and then try to keep it going after I graduate."
   BC's Tanger Hillel also attended the Involvement Fair. For Samuel Shif, the president of the Hillel Club and a BC senior, one of his favorite parts about being in this club is making connections, noting that it can be difficult to do so at a commuter school like BC.
   Although Shif was excited to see some new faces and promote the Hillel Club at the fair, an issue he noticed was how everything was so spread out in the Student Center. "It was kind of hard to get the same turnout for the second floor and the sixth floor because they were so far apart. And the elevators would take like 20 minutes," Shif said, noting that the people running it were not at fault.
   The Jewish-based organization is planning a blood drive for early March, along with hosting a Shabbat dinner later this month on Feb. 24. The dinner is open to everyone regardless of religious faith and background.